Elizabeth Warren, U.S. senator, former presidential candidate, and longtime Harvard Law School professor, will be this year's speaker for the Class Day ceremonies at Harvard Law School, the class of 2021 class marshals announced today. Class Day, which will take place on Wednesday, May 26, will be virtual this year because of the ongoing pandemic.
Recognized as one of the nation's top experts on bankruptcy, Warren is currently the Leo Gottlieb Professor of Law, Emerita at Harvard Law School. She first joined the HLS faculty in 1992 as the Robert Braucher Visiting Professor of Law and was named Leo Gottlieb Professor of Law in 1995. In 1997 and 2009, she received the Sacks-Freund Teaching Award in honor of her teaching ability, openness to student concerns, and contributions to student life at HLS. Before coming to Harvard, she taught law at the University of Pennsylvania, University of Michigan, University of Texas, University of Houston, and Rutgers University.
During her nearly 20 years at HLS, Warren was a vocal critic of predatory lending practices of the mortgage and credit card industries, and of government policies that she believed benefited Wall Street but not everyday consumers.
In a 2007 article in Democracy, "Unsafe at Any Rate," she outlined her ideas for the creation of a Consumer Financial Protection Agency, modeled after the Consumer Product Safety Commission. Just as unsafe toys and toasters are illegal, Warren said in 2009, unsafe financial products should be, too, because they're not only dangerous to individual buyers, but they can also create a massive domino effect that leads to widespread economic chaos.
In 2008, Warren was appointed to a five-member bipartisan congressional oversight panel to monitor the Treasury's economic rescue plan — a $700 billion economic bailout package, known as the Treasury Department's Troubled Asset Relief Program, or TARP. She is widely credited for the original thinking, political courage, and relentless persistence that led to the creation of the Consumer Financial Protection Bureau, which she helped stand up and which has successfully protected millions of consumers from financial traps often hidden in mortgages, credit cards, and other financial products.
After teaching at Harvard Law School for nearly two decades, Warren launched a bid for the U.S. Senate seat for Massachusetts in 2012. A first-time political candidate, she cast herself as a fighter for the middle class, an economic activist, and a champion of women's causes. She won the election and assumed office in January 2013. She was re-elected to the Senate in 2018, capturing 61 percent of the vote.
Warren is a member of the Senate committees on Banking, Housing and Urban Affairs; Finance; Armed Services; and the Special Committee on Aging.
In February 2019, Warren announced her candidacy for the Democratic nomination for president of the United States, staking her campaign on fighting corruption and changing the rules of the economy. When she ultimately suspended her campaign in March 2020 after a hard-fought set of primary contests, she promised to "stay in the fight for the hard-working folks across the country." And HLS students left post-it note messages on her faculty portrait in Wasserstein Hall, thanking her for her campaign and sharing how it impacted them: "You inspire me to push for policy for the people!" said one note. "You're my shero," said another.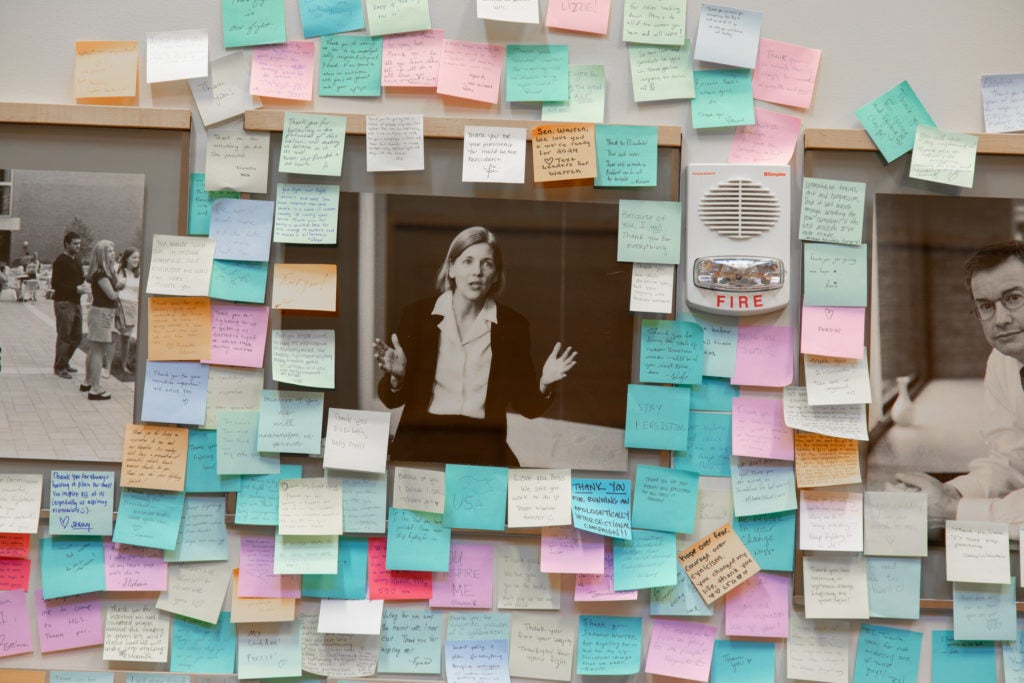 Warren has written more than a hundred scholarly articles and 12 books, including bestsellers "The Two-Income Trap" (Basic Books, 2003) and "All Your Worth" (Simon & Schuster 2005), both co-written with her daughter Amelia Warren Tyagi. Time Magazine has named her one of the 100 most influential people of the year three times, and the National Law Journal recognized her as one of "The Decade's Most Influential Lawyers."
A native of Oklahoma, Warren received her J.D. from Rutgers Law–Newark and her B.S. from the University of Houston. In 2008, she was made a fellow of the American Academy of Arts & Sciences.