How attorneys advance civil rights work in their practices, both at private public interest law firms and through pro bono work, was the focus of discussion at two panel events at Harvard Law School last week. The discussions were hosted as part of "Pro Bono Week 2022: Protect! Participate! Pro Bono!," an annual celebration highlighting the many avenues through which lawyers can help empower their local communities.
Models for Change: Private Public Interest Firms
At "Models for Change: Private Public Interest Law Firms," the panelists agreed that there is no uniform definition of what constitutes a private public interest firm.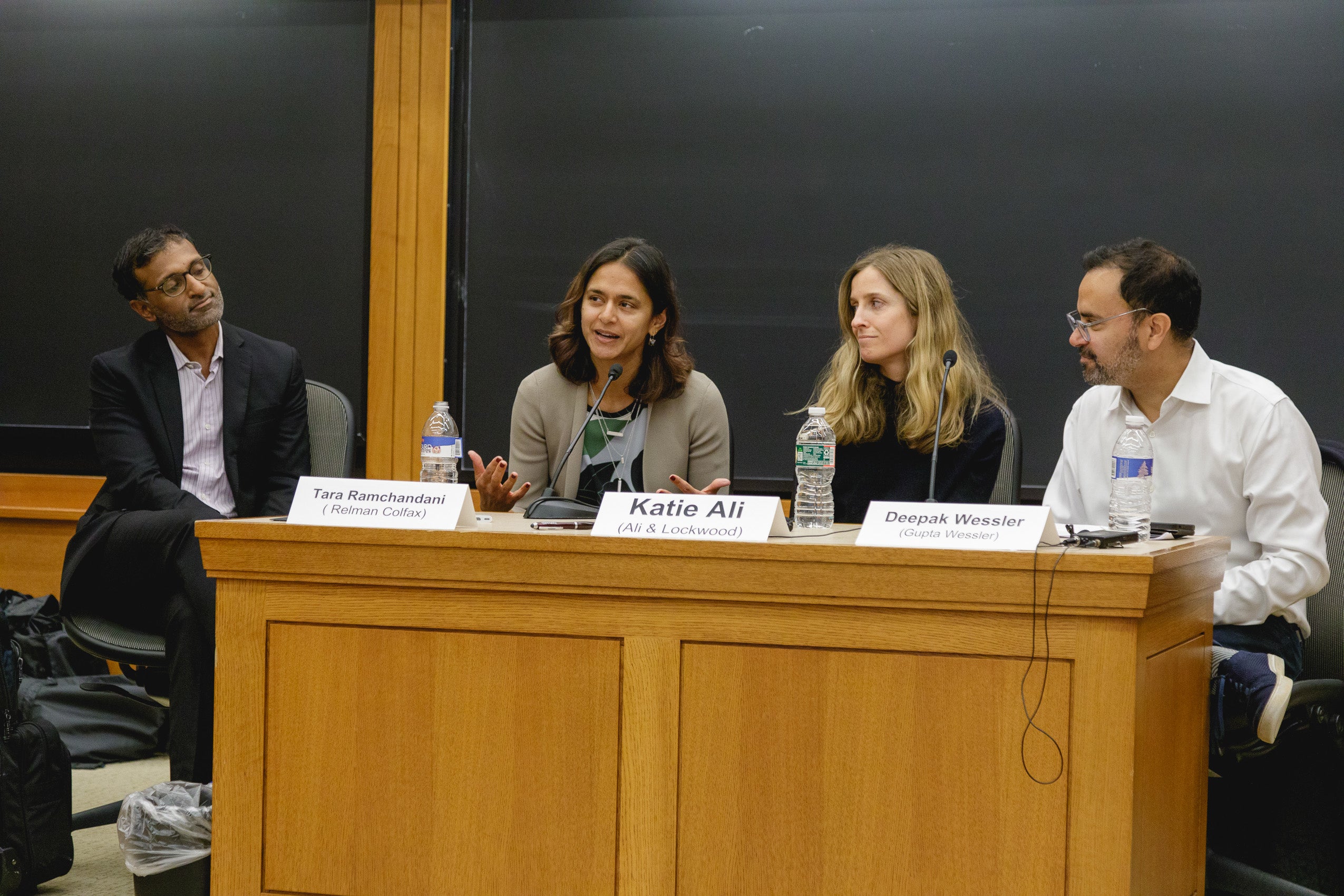 Tara Ramchandani '08 sees a private public interest firm as a "mission-driven place that is funded by its work." A partner at Relman Colfax, where she has worked for twelve years representing individuals and organizations in housing, lending, and public accommodations discrimination cases, Ramchandani said when she chose to start her career at the firm, she had one goal in mind: "In my career, I wanted my legal work to be 100% civil rights work, and that's what I get to do."
In her practice, Ramchandani values the diversity of cases she can work on within the civil rights sphere. "Right now, on my docket, I have a sexual harassment case, a zoning case, a fair lending case – I get to do all of these different pieces, and it's pretty rare to do that breadth of work even as you get more senior," she said.
As a partner at Loevy & Loevy, panelist Anand Swaminathan '06 is also glad to work on a variety of civil rights cases. After graduating from Harvard Law School, Swaminathan knew that a private public interest firm was the right fit. "I wanted to be a litigator, and I felt that the private public interest setting was the best way for me to be a civil rights practitioner and do it in a way where I was going to get the most opportunity, develop the most skills, with the most mentorship."
Moderator Deepak Gupta, a partner at Gupta Wessler who is teaching a reading group at Harvard Law this semester on Entrepreneurship in the Public Interest, noted that the panel represented three generations of private public interest firms: Relman Colfax was founded in 2000; Gupta Wessler and Loevy & Loevy were founded about 10 years ago; and Ali & Lockwood, a firm founded by panelist Katie Ali '11, was established four months ago.
Ali, a former partner with deep experience in pro bono work, left Hogan Lovells to start her own civil rights boutique firm with a former colleague. "It never in a million years occurred to me that I would start a law firm," she said.
After some careful research and planning, the partners have carved out a practice with a particular focus on criminal justice reform cases. Ali believes the private public interest model is a good way to take on long-term cases, especially in areas like prisoners' rights, in which reaching a successful conclusion can involve an extended and time-intensive process.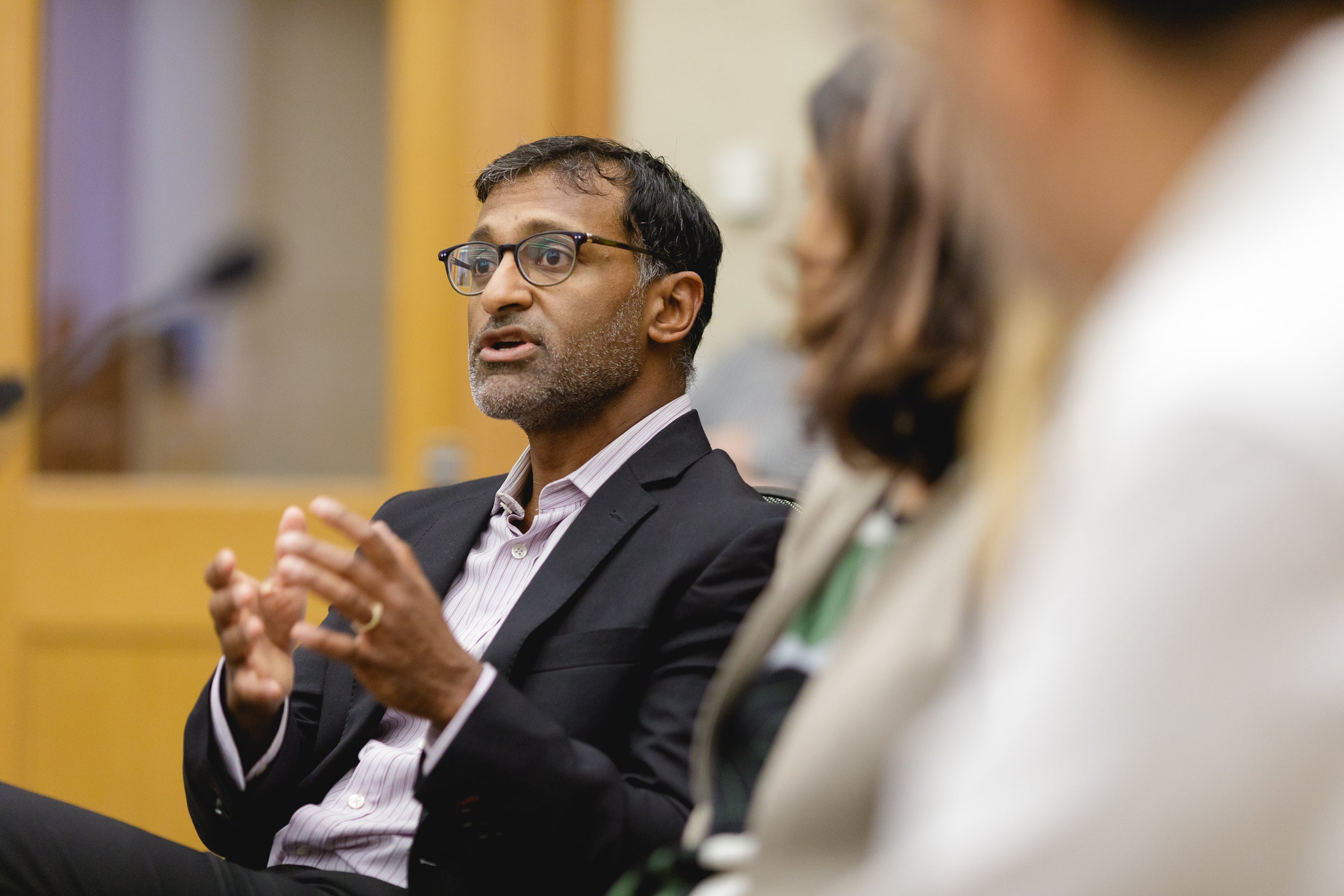 The model offers firms flexibility in determining which cases will ultimately reach the attorneys' dockets. Gupta outlined his own thinking when considering cases: "Is it righteous? Is it meritorious? Is it potentially lucrative? It doesn't have to be all three of those things," he said. "Usually if those first two things are true, the third will end up being true as well."
Before they join the litigation-heavy environment of a firm, Swaminathan encouraged law students to ruminate on what they enjoy in terms of both method of practice and substance of practice: "It's a matter of trying things out, getting lucky, and finding the right fit. Doing clinics and other things to give you exposure to different skills and topics is important."
Law Firm Pro Bono: Protecting Civil Rights
At a panel called "Law Firm Pro Bono: Protecting Civil Rights," participants discussed their representation of both individual and organizational clients and their work to advance social change and community progress more broadly.
"Each of us has a bit of activist in us," said Lawrence Wee '94. "That's why we're here." As partners at Paul, Weiss, Wee and Jennifer Wu have led the firm's pro bono involvement in anti-Asian violence cases.
After witnessing months of growing anti-Asian hate, Wu was taken aback by the murder of Yao Pan Ma, a 61-year-old Chinese immigrant who was attacked in New York City in the spring of 2021. Wu's feeling of connection to the victim spurred her into action, and she called Wee to join her in this burgeoning area of the firm's pro bono practice. "There was something very personal about seeing someone who could be my parent, my sister, my brother, dying on the streets, and nothing being done," Wu said. "I thought, 'this is a moment in our community where we need to do something.'"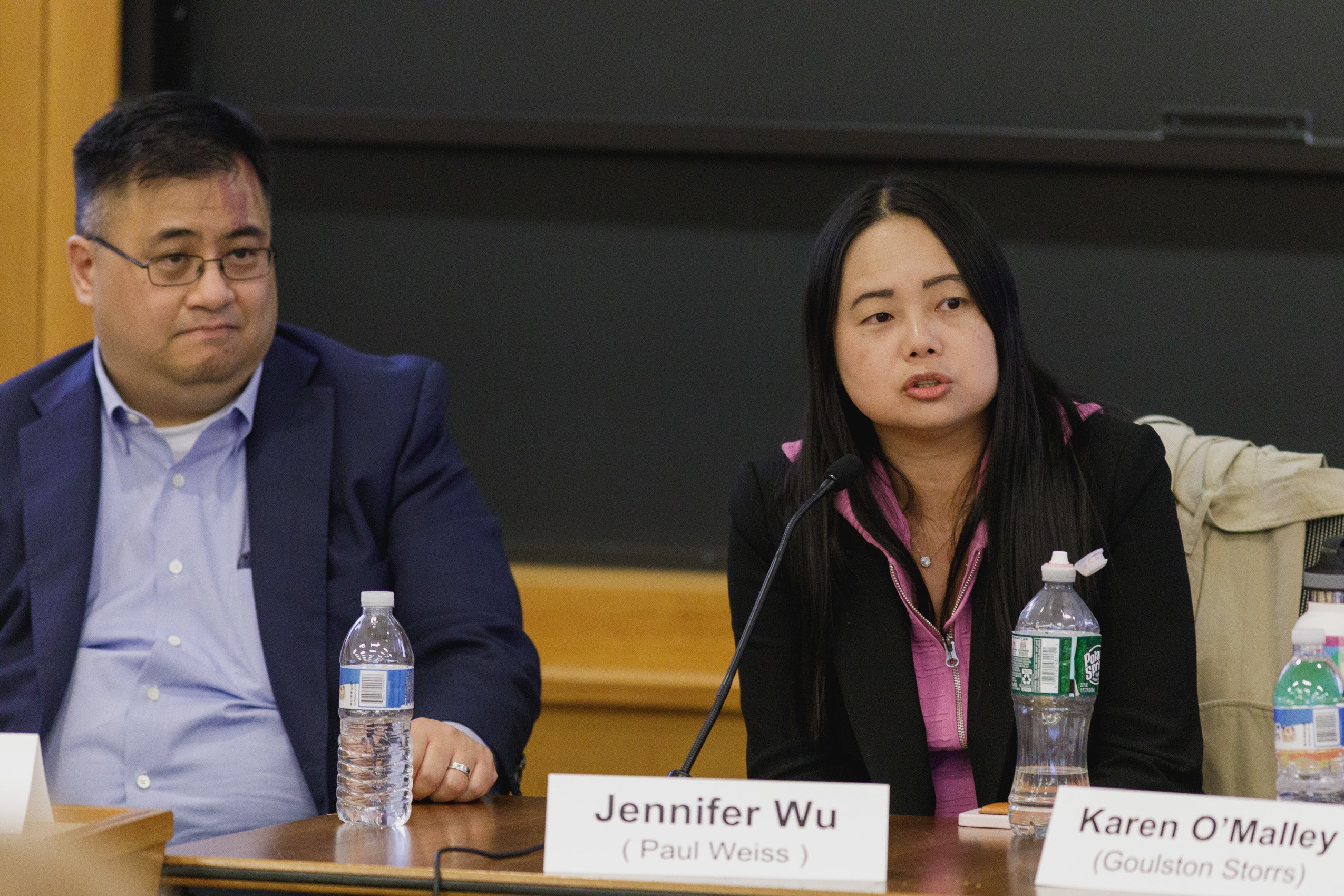 Since then, the pair have grown the firm's pro bono practice in this area, now representing all the anti-Asian hate crime cases in New York City. Both encouraged law students in the audience to build trust among the community in which they practice their pro bono work and to set aside adequate time to ensure their pro bono cases receive equal preparedness and quality of work as their other work.
"If you care, if it calls to you, if you are passionate about it, then you should get involved. Pro bono is not a resume-builder. When people around you are dying, there is a call as a human to make our community a better place," said Wu.
When people around you are dying, there is a call as a human to make our community a better place

Jennifer Wu, partner Paul Weiss
Karen O'Malley leads the pro bono committee at Goulston & Storrs, with a particular focus on advocating on behalf of domestic violence survivors and reproductive rights. When she was a student volunteering at Boston Area Rape Crisis Center, she saw that access to legal counsel is one of the gaps in services provided to rape survivors. Since then, her passion for advocating for women's rights has remained strong.
"In my day job at Goulston & Storrs, I'm a transactional lawyer," she said. "I do large leases and large real estate transactions, and I have the privilege of leveraging what I know to serve reproductive rights. One of the organizations I work with in reproductive rights needed a lease done; I did their lease, and it grew from there. It is really true that you can do pro bono work wherever you are and leverage your experience to make a big difference."
Diane Lucas '07 is the Pro Bono Counsel for Racial Justice Initiatives at Davis Polk, which is in her words, "a title that I didn't know could ever exist."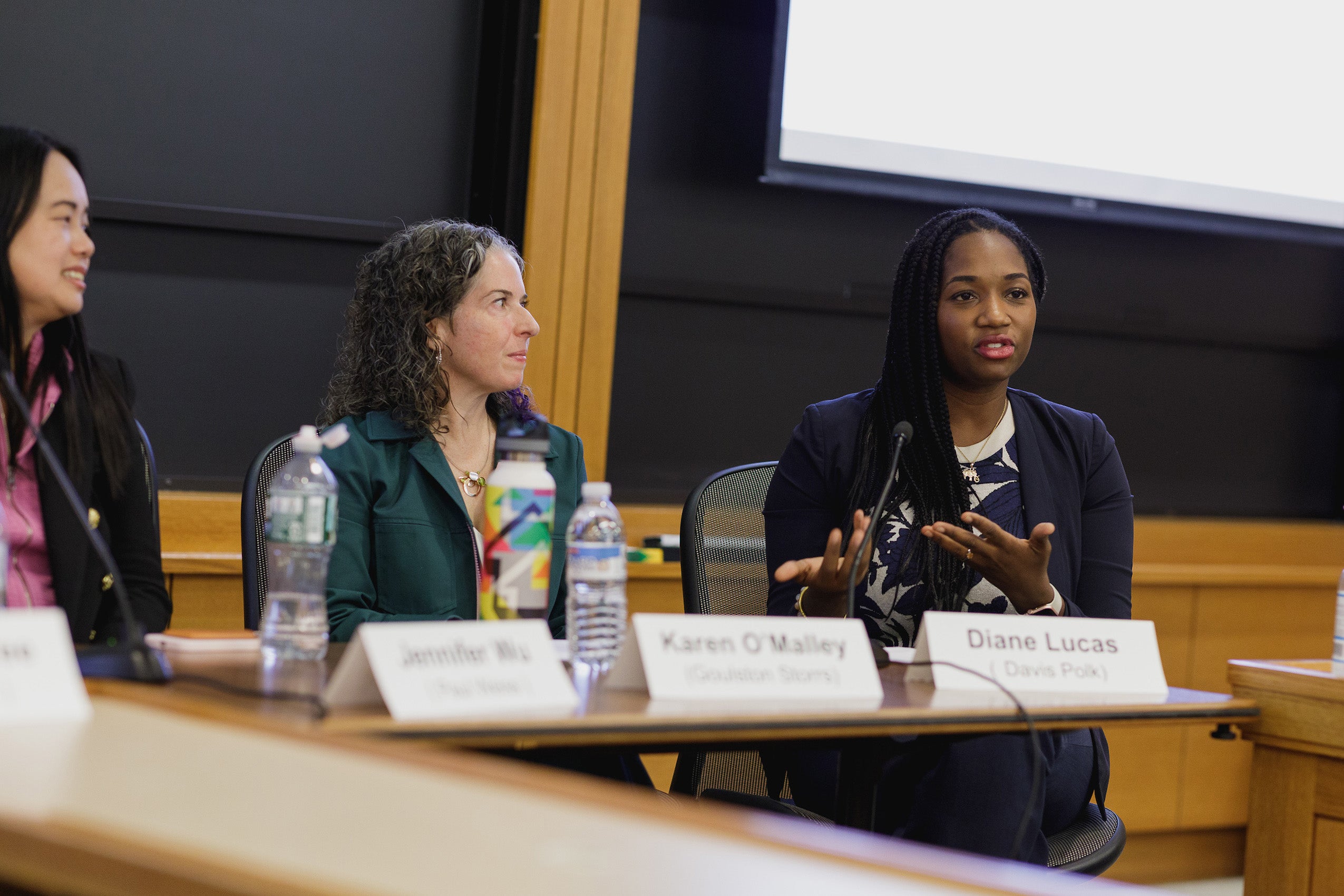 After the murder of George Floyd in 2020, "some law firms were thinking about what they could do to make civil rights work something that's longstanding, so that when it's no longer trending, it still exists," she recalls. Davis Polk created Lucas's position, and she was eager to work on systemic racial justice issues, leveraging the resources of the law firm to advance "transformational work."
One of the largest cases Lucas has worked on was a judicial inquiry on behalf of Eric Garner's family. The inquiry was predicated on a mechanism under New York City's charter that hasn't been used in over 100 years; by bringing Davis Polk's resources to the table, Lucas and the other attorneys working on the case were able to achieve "the closest thing to a truth and reconciliation forum" as could be.
Having had a range of public interest experiences before entering transactional law, O'Malley says, "There's a tremendous amount you can get done within a law firm setting, and you can leverage what a law firm can bring to solve an issue."
When asked what advice the panelists have for law students eager to have a pro bono practice in their careers, Wee and O'Malley encouraged the audience to do their research about the firms' support of pro bono and the culture surrounding it.
Wu encapsulated the pathos of the panel with her final words: "Keep your humanity and seek justice."