"You have got to be willing to take … risks, because in taking the risk, you change yourself and you change the world around you," said Elizabeth Warren, U.S. Senator for Massachusetts, at a Harvard Law School Commencement celebration for the Classes of 2020 and 2021 today.
Warren, who is also the Leo Gottlieb Professor of Law, Emerita at Harvard, was speaking with Elizabeth Papp Kamali, the Austin Wakeman Scott Professor of Law and deputy dean. Their conversation was part of a weekend-long series of on-campus events for returning graduates from the previous two years, whose in-person Commencement exercises had been postponed due to the COVID pandemic.
Use your law degrees to "open your lens on the world, not narrow it," Warren advised the 456 members of Harvard Law's Class of 2020 and 318 members of the Class of 2021 who returned to Cambridge with their families and friends for the festivities.
On Saturday, the graduates met up with old friends, attended reunions, and enjoyed a "Last Lecture" by Naz K. Modirzadeh '02, professor of practice and Mark Wu, Henry L. Stimson Professor of Law. In the evening, they donned their finest outfits for a special Barristers' Ball, complete with music, munchies, and mingling.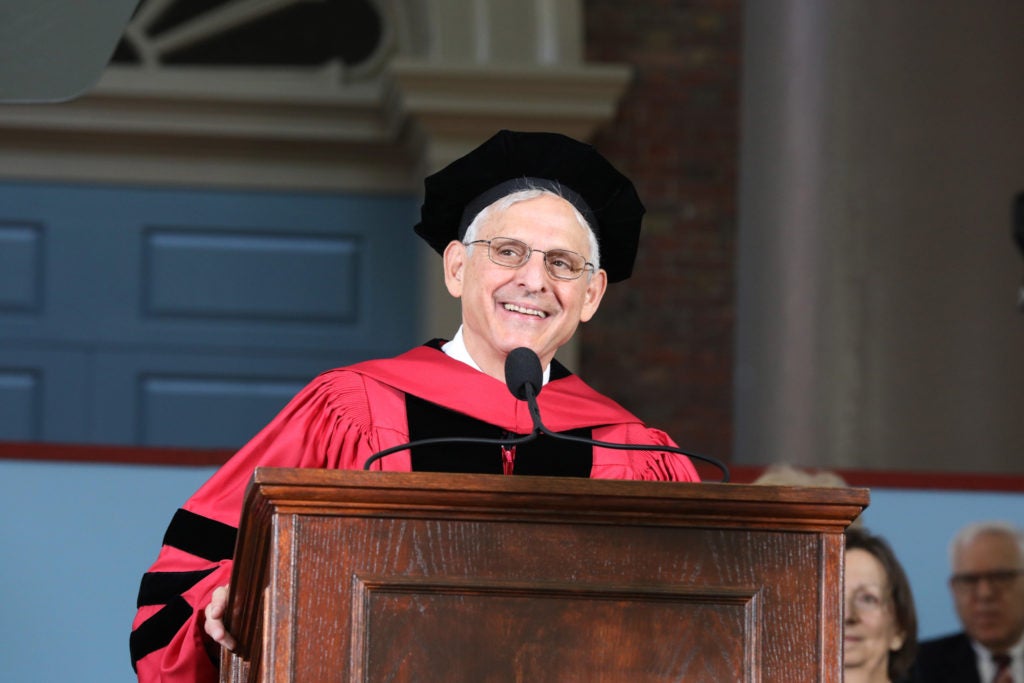 They then rose with the sun to meet at Harvard Yard for the University exercises in Tercentenary Theatre, during which the featured speaker, U.S. Attorney General Merrick Garland '77, praised Harvard Law's longstanding eviction defense program, and encouraged those in attendance to dedicate themselves to service. "Don't let your generation be defined by the pandemic — let it be defined by public service," he said.
'Be willing to say yes'
Back at Holmes Field, John F. Manning '85, the Morgan and Helen Chu Dean and professor of law, welcomed the Classes of 2020 and 2021 back to campus and wished them a "heartfelt congratulations" for all they had achieved "even with all the headwinds you faced."
Dean Manning, who addressed the graduates virtually after testing positive for COVID, also introduced the conversation between Kamali and Warren. The pair discussed Warren's life and law school experiences, the roles of activism and the rule of law, and her advice for the recent graduates.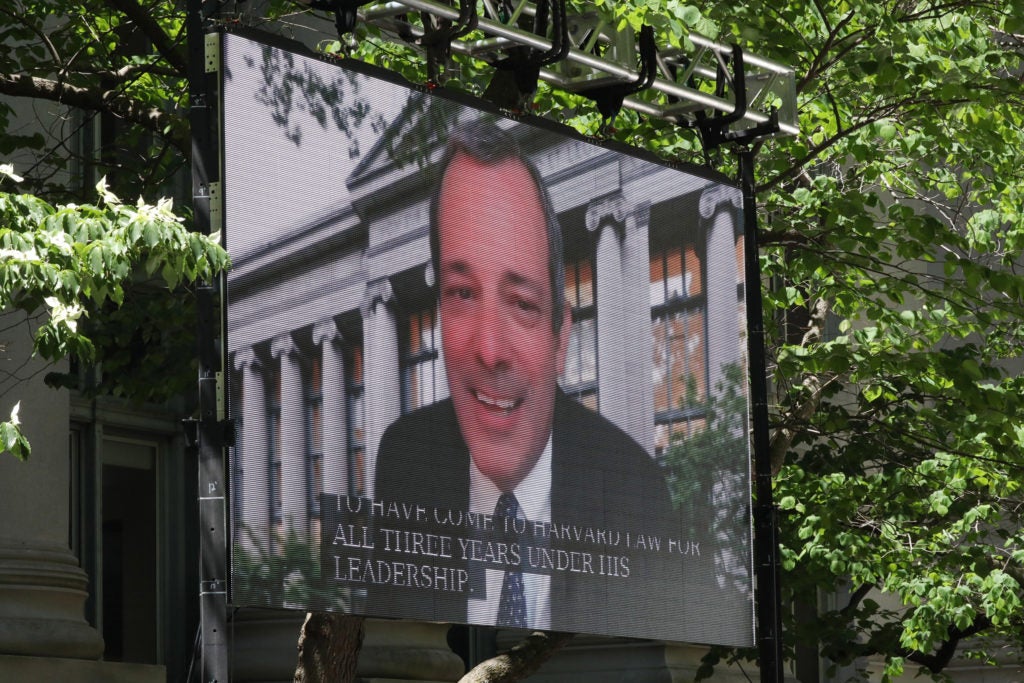 "I grew up in an America that had a lot of constraints, and a lot of constraints particularly on little girls about what we could and couldn't do," began Warren. Her second grade teacher was her "pivot point," she said — the person who convinced her that she could, and should, pursue her dreams.
"You've already hit some pivot points in your life. Thank somebody who put you on the path," she said, addressing the graduates. "And be that pivot point in someone else's life."
Kamali, who said that she, like Warren, had begun law school with a young child, wondered how having a toddler affected her educational experience.
"I always thought I had an advantage over my classmates who didn't have children," Warren replied. "Because for a couple of hours every day, no matter what exams, craziness, scary stuff that happens in law school, I was focused on something other than how I was doing."
"It made for a challenging 1L fall, I'll put it that way," agreed Kamali, speaking of her own experience. "I do think it's the best time management strategy."
Turning to the role of law in society, Warren referenced the recent mass shootings in Uvalde, Texas and Buffalo, New York. "The question is not one of law," she said of efforts to reduce gun violence. "It's 'what is our will together to make change?'"
"We are so torn apart politically that we stay with a status quo that is literally killing people we love," she added. "I see this as a moment when it is the job of the lawyers to continue to put forward the alternatives."
Warren pressed those who wanted to make change in any area to "organize, get in the fight, stay in the fight — and actually make it happen."
Kamali pointed out that it can be difficult to know how to talk to, and convince, those who might not agree with us. How did Warren work across differences?
Bring issues down to their specifics, replied Warren. When speaking recently to someone who disagreed with her position on student debt relief, "I just reminded him of the challenges his own daughter faced trying to make it through," she said.
Finally, acknowledging the uniqueness of the weekend's Commencement celebrations — and noting that many members of the Class of 2020 and 2021 are already one or two years into their legal careers — Kamali asked Warren to speak to the significance of law school on her life and career.
"Law degrees are like the coolest thing on earth," she said. "And I'm convinced they're the coolest thing because they change how you think or see the world" in many positive ways.
They also open up doors, ones "you have to be willing to say yes to," she said. And don't be afraid of failure, she added. "I ran for president, and — spoiler alert — I lost," she said. "Knowing what I know now, I am 100% happy that I ran for president" because "I got to talk about stuff I care about every single day."
Above all, she urged, do not feel locked into one particular career path. "Life is way too short to spend it doing things that you don't love," she said. "Don't spend your life doing things that don't move your soul."