Experts gathered this week to discuss the ethical, social, and legal implications of technological advancements that facilitate the early detection of dementia.
"Detecting Dementia: Technology, Access, and the Law," was hosted on Nov. 16 as part of the Project on Law and Applied Neuroscience, a collaboration between the Center for Law, Brain and Behavior at Massachusetts General Hospital and the Petrie-Flom Center for Health Law Policy, Biotechnology, and Bioethics at Harvard Law School.
The event, organized by Francis X. Shen '06 Ph.D. '08, the Petrie-Flom Center's senior fellow in Law and Applied Neuroscience and executive director of the Center for Law, Brain and Behavior at Massachusetts General Hospital, was one of a series hosted by the Project on Law and Applied Neuroscience on aging brains.
Early detection of dementia is a hopeful prospect for the treatment of patients, both because it may facilitate early medical intervention, as well as more robust advance care planning.
Panelist Bruce H. Price, co-founder and co-director of the Massachusetts General Hospital Center for Law, Brain and Behavior, framed the stakes: "The idea is, can we detect anatomic changes in the brain years and years and years before we can detect specific cognitive and behavioral functions?"
Price continued, "If we can detect earlier, if we can intervene earlier, can we bend the curve? And can we better the outcome?"
But the question is laced with thorny details. For example, what exactly is dementia?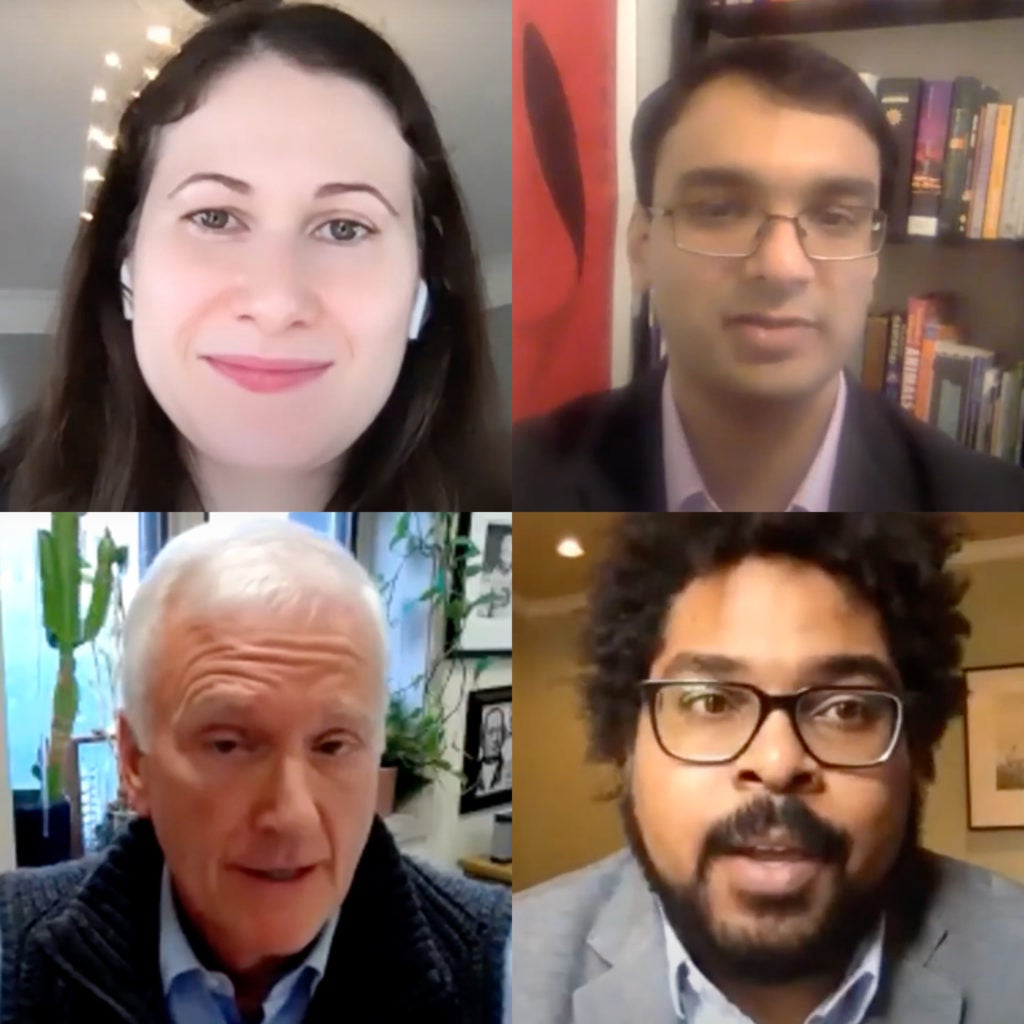 Jonathan Jackson, founding director of the Community Access, Recruitment, and Engagement (CARE) Research Center at Massachusetts General Hospital and Harvard Medical School, explained: "When we 'detect dementia'… do we rely on behavioral signs of dementia—the forgetting, and the getting lost, and the personality changes—or do we rely on stuff that we can measure in the brain—the amyloid plaques, the tau tangles, the atrophy of neurons? Do we base dementia, in other words, on the brain or on the mind?"
Either measure, Jackson explained, is flawed. "If we're to learn from our own history, we have to acknowledge that the wrong kind of bias—however we choose to define the term— is almost certain when it comes to detecting dementia," Jackson said.
According to Jackson, Black people in the U.S. are two to four times more likely to develop dementia than their white counterparts. However, Black dementia patients are less like to have certain biomarkers of dementia in their brains, such as amyloid plaques and tau tangles. On the other hand, basing a dementia diagnosis on behavioral markers can also hold different forms of race-based bias.
"We have to work from the perspective that however well-intentioned we are, the odds are overwhelmingly against us developing a bias-free instrument, device, or algorithm," Jackson said. "The only way forward in all three arenas of law, medicine, and technology is to design as inclusively as possible and to incorporate the voices and perspectives of marginalized communities at every decision point."
Ipsit Vahia, medical director of the Geriatric Psychiatry Outpatient Services at McLean Hospital and the McLean Institute for Technology in Psychiatry, highlighted the importance of technology not just in early detection of dementia, but also in detecting potential concerns in late dementia care. Vahia is currently developing tech-based tools to provide better care for dementia patients, one of which creates a "digital phenotype" for dementia patients.
The concept of the phenotype is used in genetics to describe appearance—blue or brown eyes are the phenotypic expression of the genes that encode eye color (those genes are called the "genotype"). The concept of the phenotype can be applied to the digital realm, as devices pick up real-time data that reflect important aspects of an individual's appearance.
Vahia's technology uses radio waves to map the movement of dementia patients. The resulting information can reflect important behavioral changes, such as pacing, restlessness, and agitation.
"If we were to find a way to stop the disease in its tracks today, there would still be the 50 million people that have the disease," Vahia explained. "Is there a way that you can monitor some of these people, or get data that lets you see what's happening in real time, to pick up on behavior change and preempt some of these decompensations around hospitalization?"
Moderator Carmel Shachar J.D./M.P.H. '10, executive director of the Petrie-Flom Center, highlighted the promise of technology both in dementia care and early detection.
"Advances in neuroimaging, genetics, and mobile health apps create unprecedented opportunities to detect subtle brain changes that may predict the onset of Alzheimer's disease and other types of dementia," she summarized.
For Shachar, the matter is not only theoretical, but also personal. "As I think about this, I can't help but think about what advance notice might have done both to help my grandmother achieve everything that she would have wanted to achieve in her final years, as well as to help her daughters and their families prepare."