Russian President Vladimir Putin's goal is to attack Ukraine and Ukrainians, but also to make the idea that "might makes right" into "the organizing principle of international legal relations," said Stavros Lambrinidis, the European Union's ambassador to the United States, at a discussion at Harvard Law School last week. "And it is a battle the U.S. has to win too — not just Europe."
Lambrinidis, who has served in his role since March 2019, was speaking at an event hosted by the Harvard International Law Journal that was moderated by Mark Wu, Henry L. Stimson Professor of Law. In a wide-ranging discussion, Lambrinidis spoke about the shifting alliance between the U.S. and Europe, and emphasized the need for the West and its partners to work together to address the world's most pressing issues, including the war in Ukraine, trade, climate policy, and more.
There has long been a strong — and reciprocal — relationship between the U.S. and Europe, Lambrinidis began. "Part of [my] job is to create that sense that this relationship is not a one-way street," he said. "That is hugely important for U.S. interests as well. And maybe that's what Russia showed us now."
When he assumed his ambassadorship during the presidency of Donald Trump, "The first thing that I wanted to accomplish was … playing defense. Trying to make sure that this [relationship] didn't get worse, but also trying to make sure that we could reply in kind if illegal measures were taken against us," he said, adding that he aimed to show that the E.U. is both an economic superpower and "not the enemy of the United States."
"The feelings that Europeans have for the United States are deep and positive," he said. But "realizing that the feelings that Europeans had — that this was an indispensable, deep, unshakable relationship, [albeit] with difficulties, with troubles — could be read by some on this part of the Atlantic as a disposable, if not unfriendly and unhelpful relationship … That's something that a lot of Europeans didn't expect."
The Trump administration's sentiments toward Europe convinced many there of the need to strengthen the continent's defense capabilities. "When article five of NATO was questioned by the previous administration, many Europeans said, 'it is imperative, it is a matter of life and death, that Europeans develop a military capability that is quite independent of a NATO."
Today, under President Joseph Biden, "everyone wants to work with me now on everything, which is actually a different kind of challenge, because you have to find out what to prioritize of all those things," said Lambrinidis. He counted international trade, democracy and human rights, climate policy, and the Russian invasion of Ukraine, as among the most important issues for the U.S. and Europe to work on together.
Indeed, the current crisis with Russia and its invasion of Ukraine, and tensions with President Xi Jinping of China, have "awakened us up to the fact even more urgently now that" a liberal international order "is not a foregone conclusion," said Lambrinidis. "I think that the transatlantic relationship after this crisis is without a doubt strong, including the focus that we are placing on the values that we were taking for granted."
"Democracy and open society, human dignity, doesn't necessarily win — we have to work for it," he said, pointing out that only around 40 countries have sanctioned Russia for its "blatant violation of international law, its brutalities, violation of international humanitarian law, or the law of war."
Yet, while countries that have declined to issue sanctions don't necessarily approve of what Russia is doing, "The fact that they don't like Russia does not mean that they don't at the same time resent us in some way," he said, adding that the U.S., Europe, and its allies had to understand and appeal to these nations in a different way to bring them into the coalition.
Lambrinidis also recognized that both the U.S. and Europe have faced criticism about human rights violations, but he was forceful about the role each had to play in promoting them globally.
"If the litmus test for human rights is perfection, no one passes it, because no one is perfect," he said. "But that is not the litmus test for human rights. I submit to you the test is not whether you're perfect, but whether you have independent institutions in place in your country to ensure that you cannot shove your imperfections under the carpet. In other words, whether or not you have what it takes to try to be more perfect than you are."
Institutions like independent courts, the rule of law, and the existence of a free press, he said, allow violations to come to light, and "I am doing what I can do to make sure that those institutions in Europe are free, and are effective, and function, because this is my calling card around the world."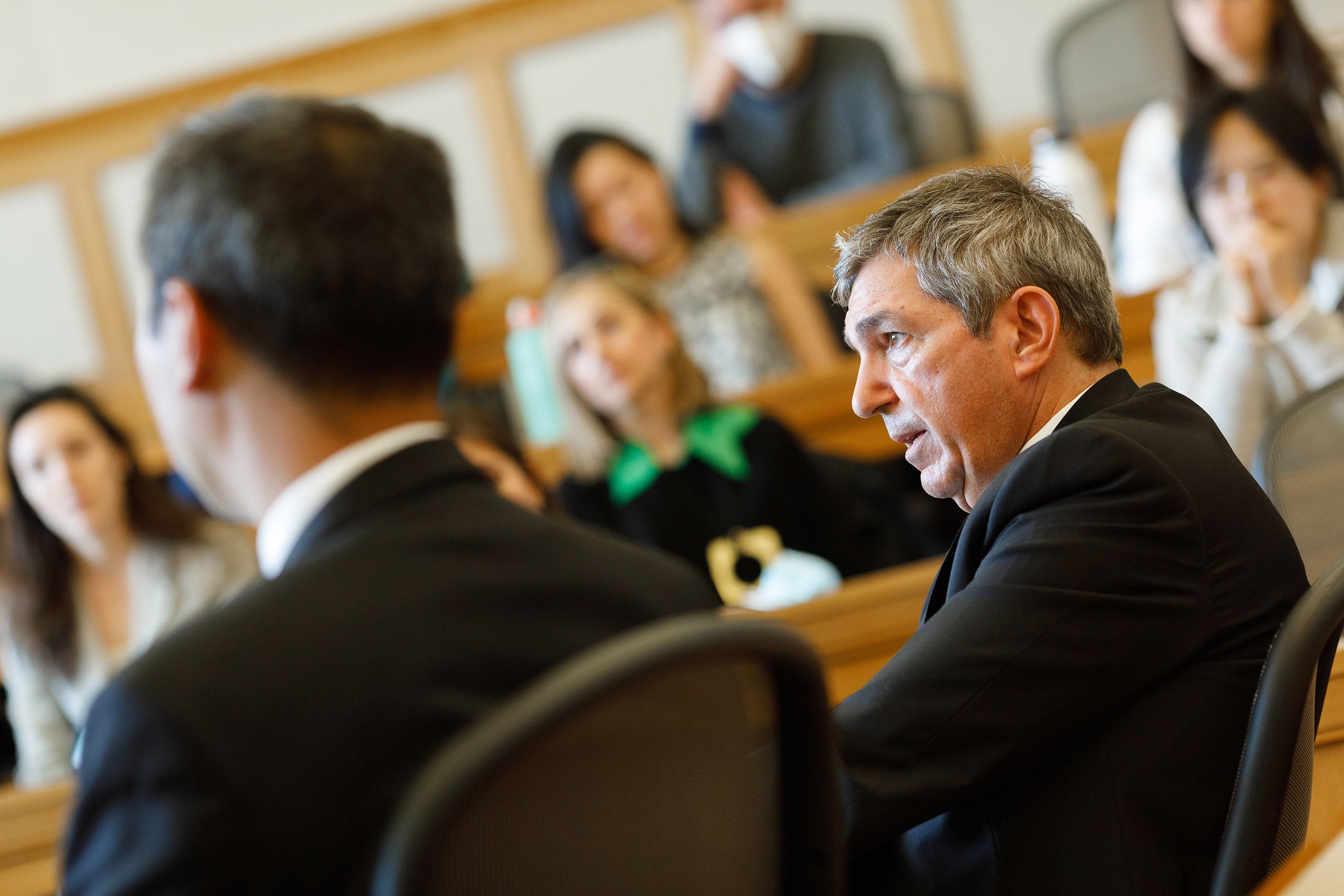 Turning to the war in Ukraine, Lambrinidis was forceful in his condemnation. "What Putin is doing is black and white. He has decided, in a very calculated way, a very unilateral way, and for reasons that are both strategic and personal, psychological that he thinks Ukraine should not exist as a country. And then he moved to violate every norm of international law that even Russia had signed, to extinguish it as a country."
Putin is trying to assert dominance over diplomacy, and "Today, there are too many bullies in too many parts of the world that are more than happy to use that principle to create really serious instability," he said. "And if we get to that world, our security as Americans or Europeans is going to be fundamentally altered, and we will not be able to wash our hands clean from all this."
Lambrinidis also touted the E.U.'s leadership on other pressing issues, such as data protection. Although the E.U. General Data Protection Regulation initially faced opposition from internet companies and free speech groups, Lambrinidis said it had proved prescient. "We've gone from that, to today, having people competing on who protects your privacy more. But that took the European Union to come in and say we were going try to legislate this."
Lambrinidis ended the discussion by offering a few words of advice to students on how to build a career after law school, imploring them to understand their greater motivations for whatever it is they choose to do. "Your 'why' is going to be the most important question you have got to answer," he said, adding that ambition was not a good enough goal on its own. "I have no respect for ambition, none, unless your why is good. But if your why is good — be ambitious. … If you figure it out, if you follow a path that takes you instinctively to that why, you're going to be okay."