Hours before Hillary Clinton and Donald Trump clashed over taxes, trade, and the economy in the first presidential debate Tuesday, a different kind of discussion took place at Boston's historic Faneuil Hall.
Dubbed the debate before the debate, the Faneuil Forum drew hundreds of people who packed the hall, sometimes called the Cradle of Liberty for the role it played during the American Revolution, to take part in a lively civic dialogue led by prominent Harvard Professor Michael Sandel on the future of democracy.
After being introduced by NPR host Robin Young as "the most relevant living professor and philosopher in the world" and a "rock star moralist," Sandel, who teaches "Justice," one of the most popular courses at the College, started the discussion by asking the audience to ponder the purpose of democracy.
"We're not going to debate about tax policy, Syria, emails, or the wall," said Sandel, the Anne T. and Robert M. Bass Professor of Government in the Faculty of Arts and Sciences. "Instead, I'd like to propose that we have a discussion about what democracy is for, with the hope that this discussion can help us begin to figure out how to repair the tattered state of democracy in our country."
Sandel's lecture is a signature event of HUBweek, Boston's civic festival of ideas and innovation that runs until Oct. 1 and is now in its second year. Founded by Harvard University, the Massachusetts Institute of Technology, The Boston Globe, and Massachusetts General Hospital, the festival showcases scholars and their cutting-edge research during public forums, discussions, hands-on demonstrations, and lectures, all of which celebrate the intersection of science, technology, arts, and ethics.
With thought-provoking questions, Sandel enthralled his listeners, who voiced their opinions in front of a microphone or evinced their agreement or disagreement by raising green or red signs.
Some of the questions he raised explored ethical dilemmas, from vote swapping to "space savers" to buying and selling citizenship, all of which he said illuminate "the big question of what is democracy about, and why does it seem to be ailing these days?"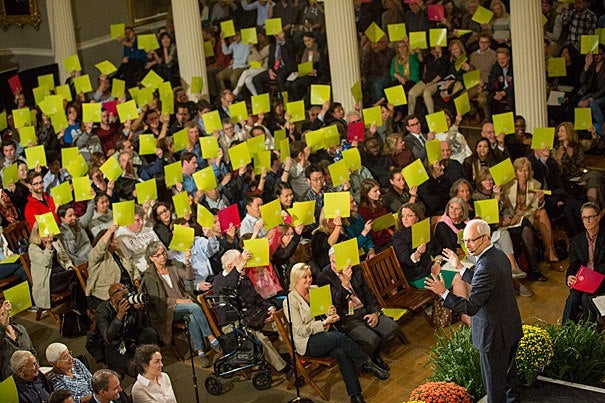 "Should people be free to buy and sell votes? Should vote swapping be permitted? Should there be a free market for votes?" Sandel asked the audience. And although the audience showed its disapproval of vote swapping, some members favored a free market for votes because it might lead to more voter participation. Others called that a "slippery slope."
One of the strongest opponents to buying and selling votes was Boston Mayor Marty Walsh, who was in the audience. Asked by Sandel to join him on the stage, Walsh called the proposal "a big mistake."
"People died for our right to vote," he said. "It's our obligation to go out and vote. If we have to incentivize people to vote by paying them, I'm not sure their vote is actually worth it in the first place."
When asked about the "moral dilemma" posed by "space savers," used by Boston residents in the winter to lay claim to a parking spot they've shoveled out after a storm, Walsh said it's the biggest decision he has to make every winter. Boston's current policy allows people to use space savers for 48 hours after a major snowfall.
"If we can get everyone to work together to shovel out the space and be courteous to each other, we'd have a better society," he said. "If we can get to a point in which people can respect each other and help each other by shoveling the snow, that's the way to go and the place we need to get to. I don't know if Boston is ready for that now."
Sandel also delved into immigration, a controversial issue in the presidential race, and probed the morality of selling the right to immigrate and putting a price on citizenship. Most listeners favored the idea of selling the right to immigrate, though some worried that could lead to a less egalitarian system.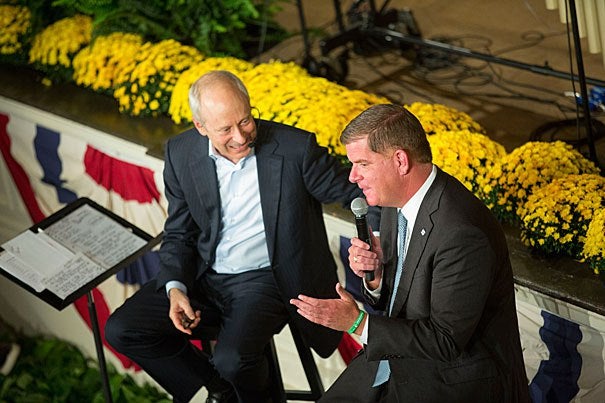 "It's quite tricky," said a woman in the audience. "If you have the money, you can come. If you don't, you exclude a huge number of people who could contribute."
At the end of the debate, Sandel told the audience to be mindful of embracing a market-driven vision of democracy, in which votes and citizenship can be had for a price, because that cheapens democracy and civic life.
"We only just scratched the surface of the question with which we began," he said. "What really is democracy for, and what is civic life about? And is it tainted, or corrupted, or diminished, or degraded if it merges with the market? Do we need to separate the markets on the one hand from the activity of buying and selling on the other for democracy to flourish?"
Sandel said he was concerned about the state of democracy and civic life in the United States, where a "certain impoverished understanding of what democracy is for" has taken hold, including the ideas that "democracy is just a way of registering our own economic self-interests every four years" and citizenship "just a matter of being a shareholder in a prosperous society."
"We've come to think that democracy is economics by other means, and we've come to treat citizenship as a kind of extension of market relations," Sandel said. "In ancient Athens, Aristotle said the point of political community is not just residence in a common site, it's not just for the sake of easing exchange in economic relations. The point of democracy, he thought, was to create a setting in which citizens will deliberate with one another as equals, and, in deliberating, they would learn something and will become better citizens and better human beings than they would otherwise be."
Reluctance to adopt a thoroughgoing consumerist conception of citizenship and democracy can only help democracy, said Sandel.
"As we hesitate to embrace a market-driven vision of democracy, we still affirm with part of ourselves, at least, that ancient democratic idea, the idea that the point of democracy is to deliberate together, in common, in gathering places like this, about justice, about the common good, and about what it means to be a citizen."
---
This article was originally published in the Harvard Gazette on September 27, 2016.