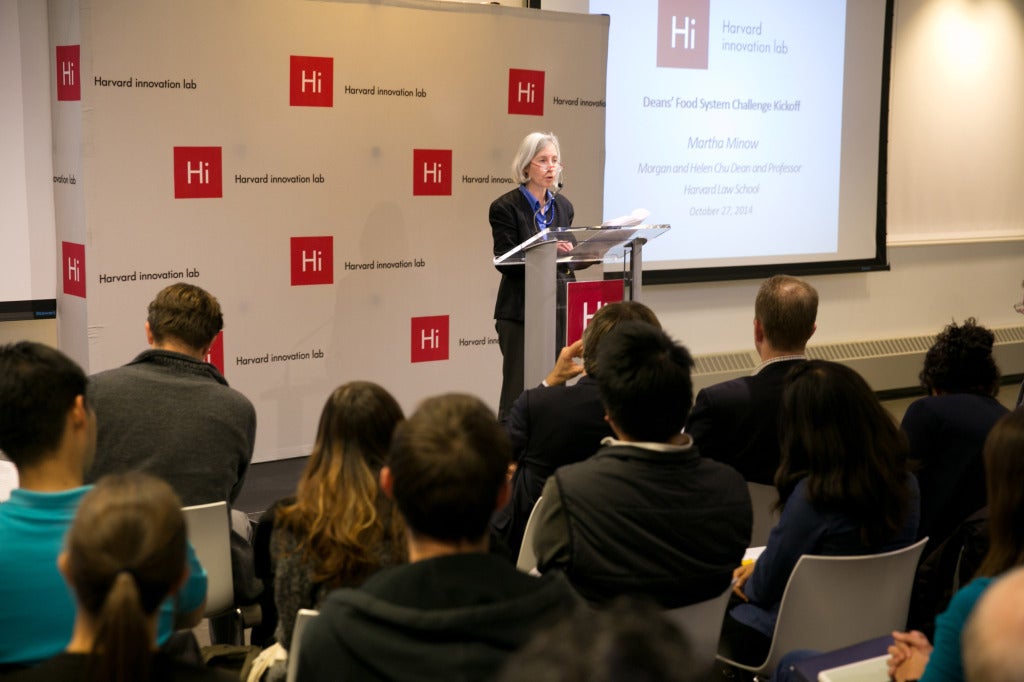 This Fall, Harvard Law School Dean Martha Minow and Julio Frenk, dean of the Harvard T.H. Chan School of Public Health, issued a challenge to students across the university to come up with fresh ideas for solving complex problems facing our food system in the United States and around the world.
Participants were encouraged to form interdisciplinary teams and develop projects that address one of four topics: food production, distribution and markets, improving diet, and reducing food waste.
At a kickoff event in late October, Dean Martha Minow said: "We need novel, innovative solutions to the complex problems facing our food system. Students who care about the environment, poverty, health, and human rights — all are invited to the table to join this important conversation about envisioning and achieving a more healthy, sustainable, and equitable food system for the future. I look forward to sampling the innovations that emerge!"
In April, five finalist teams were announced and each team received mentorship and $5,000 to put toward developing its proposal.
The five finalists are:
BioFarMarket. BioFarMarket will bridge the existing distribution gap between organic farmers and consumers in Central and Eastern Europe and beyond.
Coolify. Coolify is a micro-cold storage solution that improves post-harvest agriculture supply chains and reduces spoilage.
FOCUS Foods. FOCUS Foods is an urban aquaponics farm that will be a self-sustaining symbiotic fish and produce system serving the local Philadelphia community.
Icebox. Icebox is a system of modular networked cold storage for healthy, sustainable food distribution.
Waste to Feast. Waste to Feast repurposes commercial leftovers to feed homeless children and families.
On April 29, finalists will present their projects. $50,000 will be distributed among one winner and up to four runners-up.
Each year, the Harvard Innovation Lab holds a range of university-wide competitions sponsored by Harvard schools asking students to address problems in a given area of focus. The Deans' Food System Challenge, the first sponsored by HLS, was developed in collaboration with the school's Food Law and Policy Clinic.