The three distinguished panelists at Harvard Association for Law & Business symposium had three things in common: All were HLS graduates, and all went on to top-level positions in the financial world. And all did it without the benefit of an M.B.A.
The Feb. 26 panel, exploring the possibilities of crossing over from a legal to a financial career, opened HALB's seventh annual symposium. In the past the panels have occurred over one day, but this year there were five noontime roundtables on a range of subjects, and a week of panels covering startups, entertainment law, technology and the achievements of women lawyers.
"Fifty percent of this year's panelists are women," said event co-organizer Richad Hirani '19. "We thought that the best part of Harvard Law School is the diversity of the students that are here, so we thought we'd cater to that with the different themes. And we thought we'd start with these finance powerhouses."
As HLS professor and panel moderator David Wilkins '80 noted, a panel like Monday's would never have happened when the panelists were undergraduates, when law-school graduates were less inclined to pursue financial careers. "Given these panelists' career paths, I think they would have welcomed the chance to look at a set of careers that were never really being discussed." With that he asked the panelists, all of whom worked for legal firms after graduating, how they made the transition.
In each case it came down to a matter of strong personal interest— and without doubt, talent to match. Stacy Selig '99 became a partner at Goldman Sachs after working at the firm of Davis Polk & Wardwell. "Before Harvard I studied math, and game theory as it applied to human behavior," she said. "I started at Davis Polk as a tax attorney, and my interest wasn't so much in tax law as in being able to practice across the whole spectrum of corporate deals. One thing that excited me at Goldman was that I got that much closer to the deal making. In the law firm people would deliver me something and say 'Please opine on the following'. But now I could find out how it got to be that way."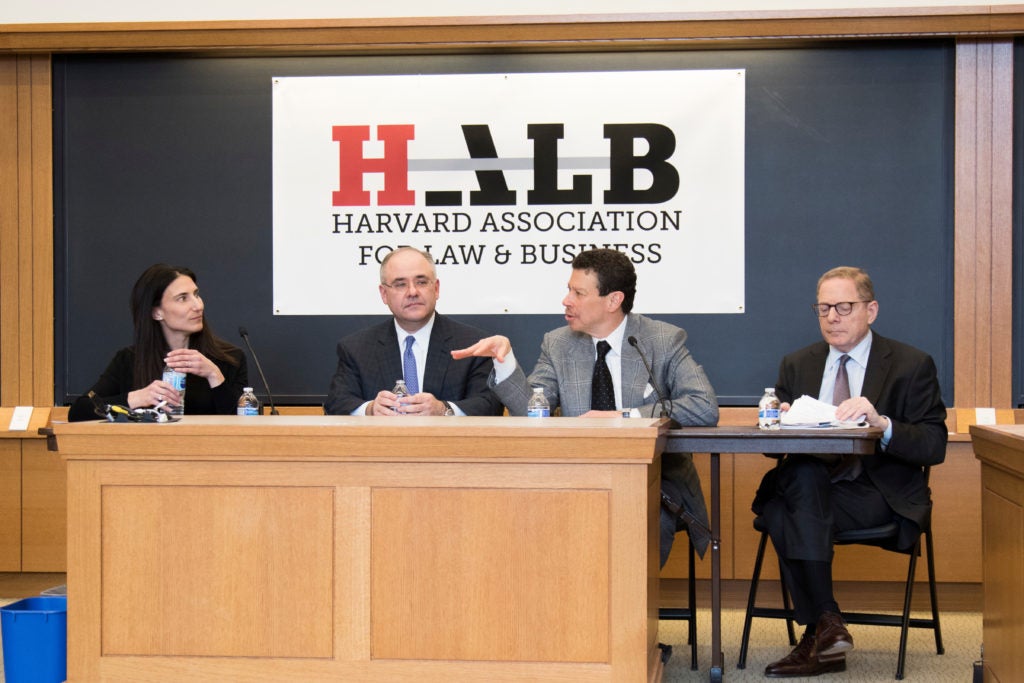 Kevin Buehler '90, now a senior partner at McKinsey, likewise found himself drawn to the financial world, studying economics as an undergraduate. "I practiced corporate law [at Cravath, Swaine & Moore], and some of my favorite memories were the most intense—like negotiating an agreement between IBM and Apple. That may not have gone very far, but I got to see the Apple people show up in coats and ties, and the IBM in shirtsleeves." When he joined McKinsey he got what the company called a "mini-MBA," learning all the basics in an intensive four-week seminar. "That gave everyone a shared vocabulary and comfort that was quite useful. So I found the transition a smooth one. We now have a lot of attorneys at McKinsey, we used to hire mainly MBA's but now we go deeper into the talent pool. We look for problem-solving skills, and you learn a lot of those in law school."
According to Blackstone General Counsel John Finley '81, who joined the firm from Simpson Thacher & Bartlett, major financial institutions have increasingly relied on in-house legal departments. "I like being involved in decision-making, guiding and applying judgment. That role is well fulfilled at Blackstone because our senior leadership very rarely talks to outside counsel. GCs have taken on that counselor role that outside senior partners traditionally used to have with businesses."
The audience questions often zeroed in on social concerns, first with a question about financial firms taking environmental responsibility. "For LP's in Europe, that's become an important part of how they invest," Finley said. "It's an imperative that the clients insist on."
The panel was also asked if their companies had worked toward equality in hiring women and minorities. Selig said that she benefits from having a gender and racially diverse team. "All of our organizations take diversity very seriously—not just because it's important, but because it leads to better business results. Once you have diversity it builds on itself—I have a great pick of talent, and once that happens you never go back."
Each day of the week-long HALB Symposium focused on a different law and business topic.
On Tuesday, Feb. 27, Jerry Ting '18, a co-founder of Evisort which uses artificial intelligence to help lawyers draft and manage contracts, moderated a panel focused on startups. Panelists included: Erin Abrams '06, vice president for Legal Affairs at Via, a technology startup in the on-demand shared ride space; Sydney Brie Schaub '07, general counsel of Rent the Runway, an online service that provides designer dress and accessory rentals; and Jonathan Truppman '10, general counsel of Casper, a direct-to-consumer business model that allows consumers to purchase mattresses online.
A conversation on the entertainment industry with Chad Ho '97, senior vice president, general counsel and secretary of Hulu, a subscription video on-demand service, was the focus of Wednesday's event. Harvard Law School Professor of Practice Scott Westfahl '88, director of HLS Executive Education, moderated. On Thursday, Harvard Law School Professor Holger Spamann '09 hosted a discussion on technology with Phil Rothenberg, vice president for legal, for Tesla. Nigel Travis, Dunkin' Brands Chairman and CEO, delivered a keynote address on Thursday evening.
The conference wrapped up with a panel discussion on women in business with general counsel from Paypal and Walt Disney. Harvard Law School Lecturer on Law Heidi Gardner moderated the discussion with panelists Suzanne Wilson '90 deputy general counsel of Walt Disney, and Louise Pentland, general counsel of PayPal.
This year's symposium was held in partnership with: Dean of Students Office, Harvard Business Law Review, Harvard Law Entrepreneurship Project, International JD Society, China Law Association, European Law Association, Asian Pacific American Law Students Association, Harvard Journal of Law and Technology, and the Harvard Women's Law Association