A month ahead of elections in Myanmar, the International Human Rights Clinic (IHRC) and 18 organizations released a major report documenting and analyzing the role that hate speech, rampant misinformation campaigns, and ultranationalism have played in the resurgence of oppression and human rights violations in the country. "Hate Speech Ignited: Understanding Hate Speech in Myanmar" highlights how those in Myanmar's government and military have aligned to aid in the proliferation of hate speech. The report urges Myanmar to tackle the problem ahead of elections and put in place measures in line with international human rights standards and with robust and inclusive participation of civil society.
In the last year, investigations by the New York Times and Reuters and cases in the International Criminal Court and International Court of Justice have drawn attention to rampant rights abuses against ethnic and religious minorities in Myanmar. Still, far less attention has been paid to root causes.
For years now, hate speech has been allowed to proliferate in both online and offline spaces. In analyzing the trends and patterns, the report identifies a number of mutually reinforcing constructed narratives aimed at advancing Buddhist-Burman dominance at the expense of minorities in the country. As the report notes, "Hate speech in Myanmar is not simply the product of individual bigotry and intolerance … Rather, [it] has been systemati­cally promoted and disseminated by powerful interests that benefit from the constructed narratives and the resulting division and conflict in society."
The report findings stem from the analytical insights and experiences with hate speech of the 18 local Myanmar civil society organizations (CSOs) working to advance the protection of human rights for all peoples and communities in Myanmar. Over the past year, the International Human Rights Clinic at Harvard Law School assisted in capturing the local group's knowledge and experience in writing.
"Hate speech in Myanmar has been designed to provoke, incite violence, discrimination and hatred that has in turn fueled violations of its ethnic and religious minority communities' human rights and in the case of the Rohingya, it has enabled genocidal violence and atrocity crimes. Unfortunately, the government has repeatedly failed to address hate speech," said Yee Htun, clinical instructor and lecturer on law in the International Human Rights Clinic at Harvard Law School. "Not a single domestic case has been brought against known disseminators of such hate speech."
In contradiction, while hate speech has been permitted to proliferate, the voices of those seeking to speak out against injustice have been stifled and targeted. Most recently, various charges have been brought or are in the process of being brought against over 30 students who have been protesting the intensifying armed conflict in Rakhine State and ongoing internet shutdowns. Authorities have applied restrictive laws, such as those limiting peaceful assembly and protest, in a matter that is inconsistent with international standards. In addition, many women, particularly human rights defenders, activists, and journalists who speak out about the rights of minorities continue to be targets of hate speech and experience threats of sexual violence and gendered vitriol, which their male counterparts do not experience.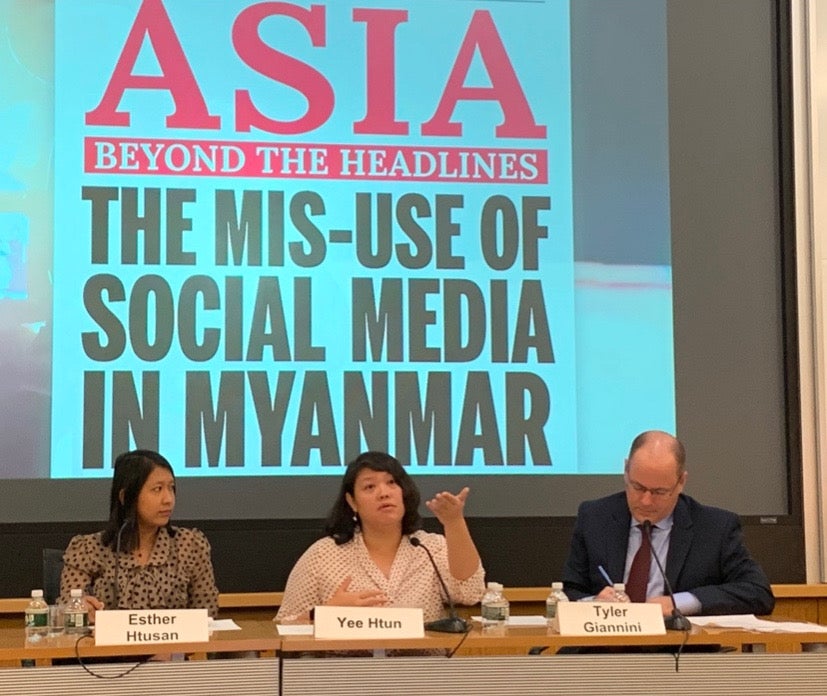 "Myanmar's domestic laws, their misapplication, the complete lack of judicial independence, and abuse of state power have been weaponized against [human rights defenders] and activists' legitimate forms of speech infringing on their right to freedom of expression," said Htun. "While state and non-state actors have been able to spread hate speech, activists must contend with: lengthy pre-trial detentions, protracted long trials without bail, expensive monetary fines. Myanmar needs to rectify these rights violations and not subject those expressing legitimate forms of speech to criminal, civil or administrative sanctions."
Htun worked with students over the course of the last year to produce the 100+ page report with local partners, including Progressive Voice and Burma Monitor. The work commenced in January 2019 with students Paras Shah '19, Delphine Rodrik '20, Ginger Cline '20, Chloe Do '19, Eun Sung Yang '20, and Ji Yoon Kang '20; the students traveled to Myanmar to consult with local partners and researched throughout the spring. During the 2019-2020 year, Minsun Cha '21, Rupali Samuel LL.M. '20, and Audrey Ortiz '21 continued the research and drafting; clinic intern Sondra Anton '22 helped finalize the report during summer 2020.
"The students were so integral to the process — from those that did the legal background research to helping run participatory workshops in Myanmar. The students were equal partners and brought their own fresh and personal passions to the report: they believed in the project and cared about the impact," said Htun.
The report builds on a longstanding focus on law reform, peacebuilding, and international accountability in Myanmar for the Clinic, work that is collaboratively led by Tyler Giannini and Htun.
Moving forward into the elections, the authors make an array of recommendations for tackling the problem of hate speech in Myanmar, including calling for an end to impunity, strengthening institutions, and repealing oppressive laws.