Two Harvard Law School alumni received the 2009 Harvard Medal during the annual meeting of the Harvard Alumni Association (HAA) in conjunction with Harvard Commencement on June 4. Jack Cogan, Jr. '52 and Patti Saris '76 were recognized for their extraordinary service to Harvard University.
A longtime benefactor to Harvard, Cogan is a distinguished alumnus of Harvard College and Harvard Law School. He served as co-chair of the HLS campaign and co-chair of its international advisory council. He also served as chair of the HLS 1989-95 campaign. Cogan has been a member of the School's visiting committee since 1985 and is a member of the dean's advisory board executive committee.
Cogan is presently of Counsel to the Boston law firm Wilmer Cutler Pickering Hale and Dorr LLP, having joined the firm as a partner in 1957, becoming managing partner in 1976, and chairman from 1984 to 1996. He is also currently vice chairman of Pioneer Global Asset Management S.p.A. (Milan), president of the Pioneer Group of Mutual Funds, and a fellow of the American Academy of Arts and Sciences.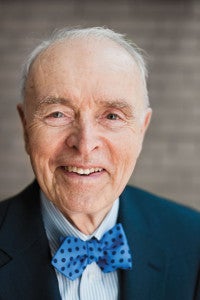 Saris is a judge on the U.S. District Court for the District of Massachusetts and has held teaching appointments at Boston University Law School and at HLS. She is a graduate of Harvard College, and served on the Harvard Board of Overseers. She served as president in 2005-06 and was a member and former chair of the HAA committee to nominate candidates for overseer and elected director.
Long active in various Harvard alumni organizations, Saris has chaired several HLS reunions. She was elected chief marshal of her 25th reunion class in 1998, and has served on visiting committees to the College, the Harvard Graduate School of Education, and HLS.
The Harvard Medal was first given in 1981 with the principal objective of recognizing extraordinary service to Harvard University. Extraordinary service can be in as many different areas of University life as can be imagined, including teaching, fundraising, administration, management, generosity, leadership, or innovation.