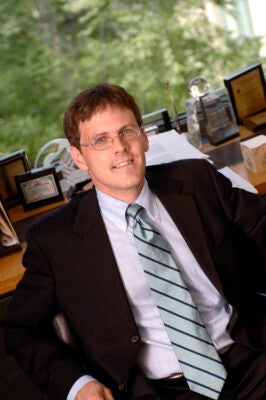 Harvard Law Professor John Coates has been named a fellow of the European Corporate Governance Institute (ECGI). Coates, the John F. Cogan, Jr. Professor of Law and Economics at Harvard Law School, also teaches at Harvard Business School and serves as the research director of Harvard Law School's Center on the Legal Profession. He is one of five new fellows added this year to the distinguished ranks of the ECGI.
Fellows of the ECGI are drawn from academia in Europe, North America and Australia and elected by their peers, the existing fellows of institute. The committee responsible for the process is currently chaired by Professor Steven Kaplan, Neubauer Family Professor of Entrepreneurship and Finance, University of Chicago Graduate School of Business.
The Institute awards the title of fellow of ECGI to individuals who have demonstrated scientific excellence or other outstanding achievements in the area of corporate governance. Previously appointed fellows include Nobel Laureates Jean Tirole, Oliver Hart and Bengt Holmström. Collectively, the new appointees have published their research in the top academic journals worldwide and have consulted for government institutions and numerous respected bodies while maintaining an impressive range of international credentials and appointments. Their work is commonly cited and has inspired new research in the field of corporate governance.
In addition to Coates, the other appointees this year are: Professor Renee Adams, Professor of Finance, Commonwealth Bank Chair in Finance, Australian School of Business, University of New South Wales; Professor Francesca Cornelli, Professor of Finance and Director of Private Equity, London Business School; Professor Alex Edmans, Professor of Finance, London Business School; and Professor Eilis Ferran, Professor of Company and Securities Law, University of Cambridge Law Faculty and Centre for Corporate and Commercial Law.
Before joining Harvard, Coates was a partner at Wachtell, Lipton, Rosen & Katz, specializing in financial institutions and M&A. At HLS and at Harvard Business School, he teaches corporate governance, M&A, finance, and related topics, and is a Fellow of the American College of Governance Counsel. He has testified before Congress and provided consulting services to the U.S. Department of Justice (DOJ), the U.S. Department of Treasury, the New York Stock Exchange, and participants in the financial markets, including hedge funds, investment banks, and private equity funds. He served as independent consultant for the Securities and Exchange Commission (SEC) in one of the first "Fair Fund" distributions (an enforcement action regarding payment for order flow), and one of the largest distributions ($306 million relating to market timing and late trading), and is currently the Chair of the Investor-as-Owner Subcommittee of the Investor Advisory Committee of the SEC. He has served as an independent representative of individual and institutional clients of institutional trustees and money managers, and currently is serving as a DOJ-appointed independent monitor for one of the Global Systemically Important Financial Institutions.
Coates joins Harvard Law Professors Lucian Bebchuk, Reinier Kraakman and Mark Roe, who are all current fellows and research members of ECGI.
The research work of ECGI fellows and research members, relating to corporate governance, is published in the ECGI Working Paper series, which is available on the website of the European Corporate Governance Institute (ECGI). A full list of ECGI Fellows is also available on the website.