Foregoing a week on a warm beach with friends or in front of a screen with Netflix on loop, five Harvard Law students instead spent their spring break on a pro bono trip in Chicago. We are all taking away from the experience a deeper understanding of community lawyering and activism in pursuit of social justice.
---
"Community lawyers play an essential role in addressing the kinds of structural problems low-income communities face. The trip is over, but the life lesson remains."

-Andréa R. Lavourinha LL.M. '15
---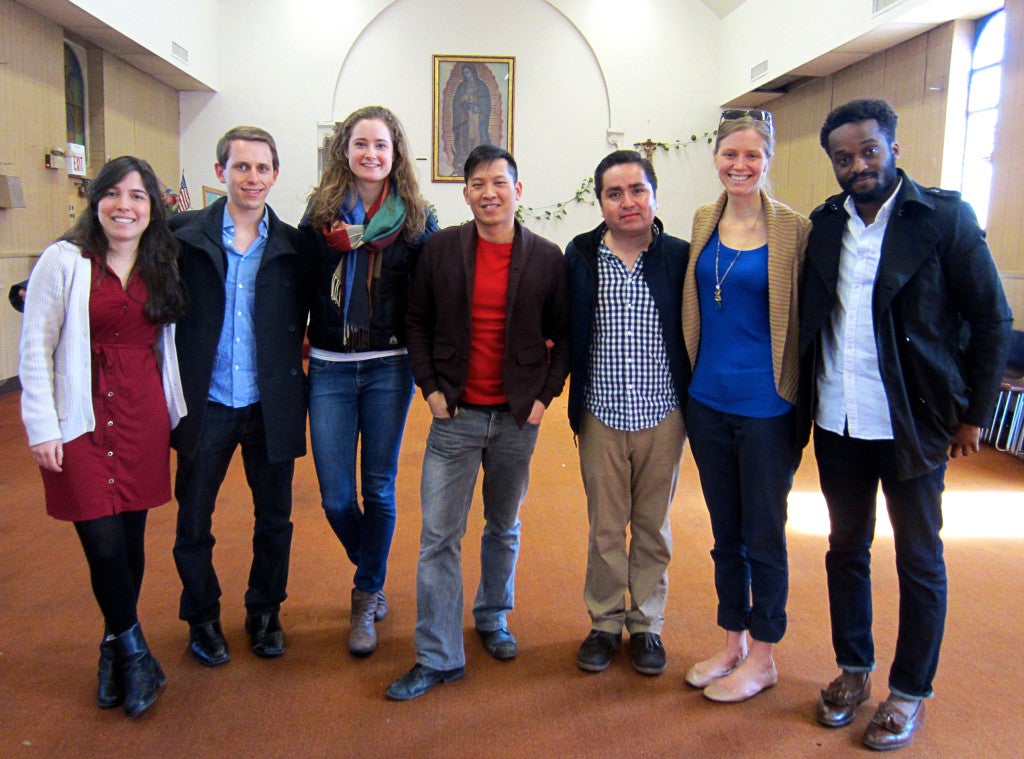 Our Host: Community Activism Law Alliance (CALA)
We were in Chicago to support the work of the Community Activism Law Alliance (CALA). Founded in late 2014 by HLS alumnus Lam Ho'08 with a seed grant from Public Service Venture Fund, CALA endeavors to bring free legal services to some of Chicago's most disadvantaged communities. CALA practices "community activism lawyering," which prioritizes meaningful collaboration with and grassroots activism in the communities it serves.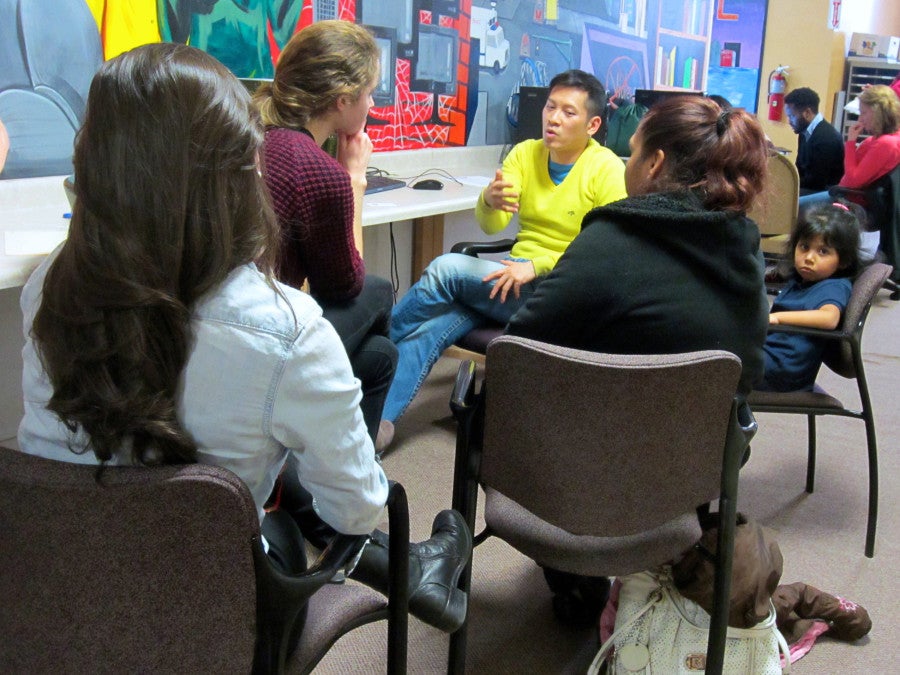 CALA currently runs three legal clinics through its partnerships with several community organizations, including Enlace Chicago, Centro de Trabajadores Unidos (CTU, an immigrant workers' project), Sex Workers Outreach Project (SWOP-Chicago), and Organized Communities Against Deportation (OCAD). These clinics are targeted at undocumented immigrants, day laborers, and sex workers in the Little Village and South Chicago neighborhoods. CALA also offers a variety of community legal education workshops to teach community leaders about how to navigate the legal system and advocate for themselves. CALA currently employs two staff attorneys (a third – an 2015 HLS graduate – will join them this summer) and has a number of regular volunteer attorneys.
In the sixth months since CALA was founded, it has provided direct legal services to more than 200 families and legal education to another 200 families. Its rapid growth has surely only been possible because Lam and his co-workers, Nebula Li and Timothy Myers, bring boundless energy and relentless dedication to serving clients. We were all blown away by their passion for community lawyering and learned a tremendous amount from watching them at work.
Our Work and The Legal Background:
Over the course of the week, we worked in four clinics and workshops to support clients with their applications for consideration of Deferred Action for Childhood Arrivals (DACA) and with preparing for the program's expansion.
In late 2012, President Obama announced that the Department of Homeland Security would not deport some undocumented children who had been brought to the country as youngsters. Under this new Deferred Action for Childhood Arrivals (DACA) program, these children are granted temporary permission to stay in the U.S. – "deferred action." DACA recipients receive social security numbers, work authorizations, and, in most states, driver's licenses. DACA is not a pathway to citizenship or a permanent visa.
Two years later, in November 2014, President Obama announced an expansion of the DACA program to include certain undocumented parents of U.S. citizens and parents of lawful permanent residents, as well as a wider class of undocumented children. Deferred Action for Parental Accountability (DAPA) is expected to provide administrative relief for up to 4.4 million people. However, due to a federal district court's order, this expansion of DACA is currently on hold. U.S. Customs and Immigration Services is not accepting applications from people who qualify under DAPA, only from those who qualify for DACA in its initial form.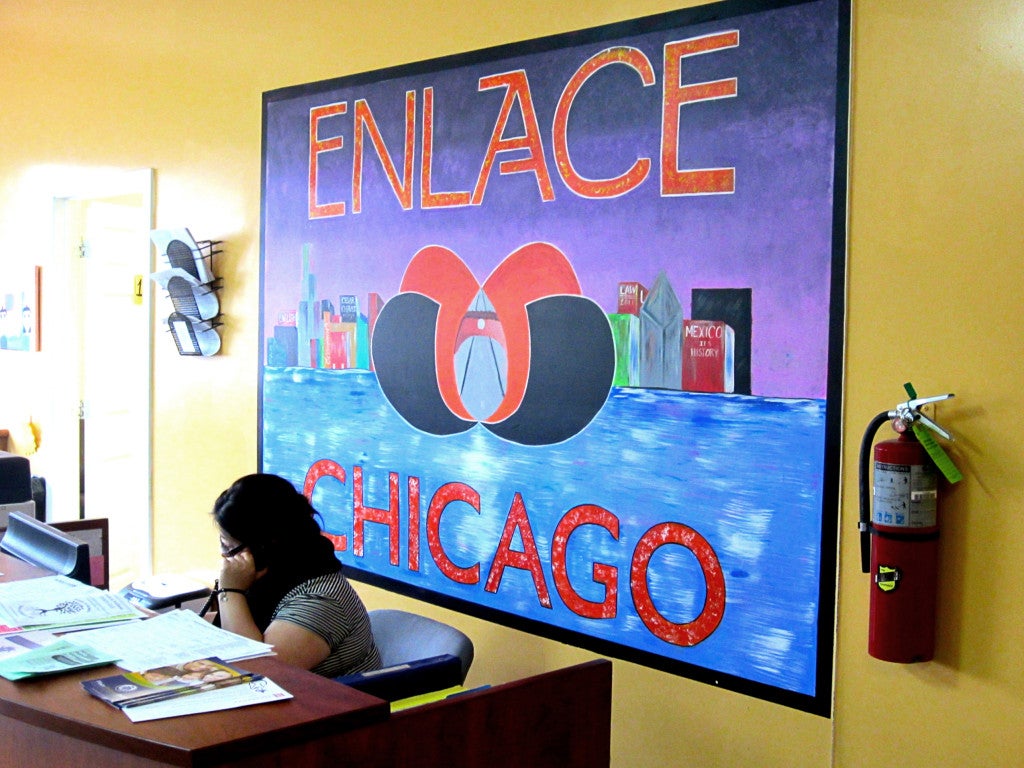 We had several tasks at the workshops and clinics. First, because receiving DACA is not a long-term solution, we screened clients for other legal status options, such as U visas (for victims of crime) or adjustments of status based on Violence Against Women Act petitions. Second, we either helped clients prepare their DACA application forms or we readied clients to apply for expanded DACA or DAPA when those applications are available by reviewing their documents. Each one of these consultations took roughly an hour and a half. We sometimes worked alongside translators (community volunteers) as we fielded our clients' questions and made sure they left our meetings with concrete action steps.
Other Highlights of the Week:
Lam and his team made sure that we balanced out long hours at the workshops with time to explore Chicago and learn more about the communities in which we were working. One highlight was CALA's community lunch. Held at the law offices of a CALA board member, we heard from representatives of CALA's partner organizations and its board members about the impact of CALA's work. We were also able to meet and have conversations with several other CALA supporters, including funders and mentors.
Walking tours and many Mexican meals (we're all tamales oaxaqueño converts!) also helped us develop a sense of place in the Little Village and South Chicago neighborhoods. In our off time, we explored Navy Pier and the Art Institute, took a few selfies in front of the famous Bean, and met with HLS alumni at a happy hour sponsored by the Harvard Law Society of Illinois.
Our Reflections:
I have asked a few of my teammates to describe their impressions of our week with CALA and am not surprised to read that they found the experience to be as meaningful as I did.
Naomi Campbell '17 writes: "This past week was completely reenergizing. CALA and the community organizations in Little Village and South Chicago are wonderful examples of community-led activism and it was great to see such a strong partnership between lawyers and organizers. I really valued putting names and faces to policies and ideas and learning more about the barriers undocumented people face on a daily basis. Their drive to advocate for themselves and for their families was inspiring. Thank you to Lam, Raymundo at CTU, and Lulu at Enlace Chicago for hosting and teaching us so much."
Dami Animashaum '16 echoes Naomi's sentiments: "I am very grateful to have spent spring break working with Lam, CALA, Enlace, Knowledge Hookup, and CTU. These organizations and the many individuals, from dedicated staff members to community volunteers that keep them afloat are a blessing to the communities they serve and a model for other legal services organizations to aspire to. These organizations are directly situated in communities where access to legal and other social services are most needed, and through collaboration and coalition, they are making great strides to satisfying that need. A testament to the communal nature of these organizations is how seamlessly we were able to fit in; every single person was incredibly welcoming and made us feel like valued members of the team. The three DACA and DAPA workshop we staffed were extremely successful, we assisted over 80 people in completing or renewing their DACA application and preparing to apply for DAPA. I am sure this experience will inform the legal work I do in future."
Finally, Andréa R. Lavourinha, an LLM from Brazil, reflects on her experiences: "Community lawyers play an essential role in addressing the kinds of structural problems low-income communities face. The trip is over, but the life lesson remains. Among workshops, clinics and sightseeing, the spring break clinic at CALA was an amazing opportunity to get in touch with the wonderful work developed by Lam Ho and his team. Also, we became aware of the various skills a community lawyer must develop in order to address the immigration and legal problems these communities face. Not only applications were filled up. Lam Ho, together with Nebula Li, and incredible community leaders – as Raymundo Valdez – help inform community members. They bring awareness of individuals' rights. Weekly, they change the lives of a vast group of community members. It was an unforgettable experience to take part in this change during a week."