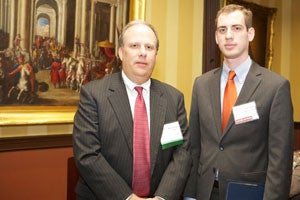 A few months ago, as he stood in a Boston courtroom just moments before a hearing was to begin, Andrew Childers '11 found himself in an ethical dilemma.
His client was charged with violating probation. To bolster his client's case, Childers – a student in Harvard Law School's Criminal Justice Institute (CJI), which represents indigent criminal defendants — had asked her to obtain letters of support from community service organizations. That morning, the client's daughter handed Childers two such letters. But as he read them, Childers suspected they weren't authentic.
Childers stood up and argued passionately on behalf of his client, emphasizing the many hours of community service she'd performed that he had been able to verify. But he did not introduce the letters. Ultimately, the judge issued a disposition that made the client very happy—and Childers was happy with his decision, too.
Last month, based on this and another case with a difficult ethical dimension, Childers received a 2011 Law Student Ethics Award from the Association of Corporate Counsel—Northeast Chapter. At an awards dinner in Boston on April 21, at which Judge William G. Young of the U.S. District Court in Massachusetts was keynote speaker, Childers and 10 other students from area law schools were lauded for upholding the highest ethical standards of the legal profession as student lawyers.
"We are so proud of the commitments and thoughtful approaches of our students who know that ethics require active engagement and a perspective larger than the current moment or the easiest path," said Dean Martha Minow, in recognizing Childers' work.
Exposure to the real world of legal practice – including tackling thorny ethical problems – is why clinical education is so valuable, said HLS Clinical Instructor Kristin Muniz, Childers' supervising attorney at CJI. "It's one thing to be in classes where you sit and ponder consequences, but in reality, you're often confronted in the heat of the moment with having to make a quick decision that's both ethical and consistent with defending your client," said Muniz, who nominated Childers or the award. "Balancing those two is often really tricky, and he did a great job."
In her nomination, Muniz also cited a case in which Childers faced a different ethical quandary. His client was so mentally ill that Childers had difficulty getting his help in developing the case. Childers believed the man was not competent to stand trial, but his client disagreed. After many hours of meeting with the client and consulting with mental health experts, Childers decided to bring the matter to the court's attention, and the client has been committed to a mental health institution. "Andrew accomplished this difficult task with great thoughtfulness and concern for both his client and for his ethical duties to the court," Muniz wrote in her nomination.
Childers had no idea he'd been nominated for the ethics award until notified that he'd received it. The case of the mentally ill client was particularly challenging, he said. "That was a very difficult situation," recalled Childers, who has been interested in criminal justice work since he was a 1L. "It's one of the few times you can go against a client's wishes."
Each recipient of a Law Students Ethics Award received a $1,000 check from the ACC-Northeast Chapter. Lawyers from a number of Boston law firms attended the dinner, and Muniz, who attended with Childers, said they were very interested in discussing with Childers his career plans: next year, he'll be an appellate lawyer at the Equal Justice Initiative (EJI) in Alabama, handling death penalty cases and representing juveniles sentenced to life without parole.
Although appellate work will be different than his courtroom experience at CJI, Childers said his HLS clinical training has been very valuable. "I've learned a ton," he said. "It's been very stressful, in a good way." Childers said he witnessed first-hand the problems of under-resourced public defender offices and other challenges in the system: "You see how much the odds are stacked against defendants and how much power prosecutors do have, and how you can do everything you can for your client and they still get shuffled through the system." His clinical experience took him to various areas of Boston to meet clients and investigate cases, which he said he enjoyed.
"He's a compassionate and ethical defender," said Muniz. "He cared deeply about all of his clients."
Students in the CJI receive intensive training in trial practice and then represent criminal defendants in actual cases under the supervision of experienced attorneys. CJI is one of the more than 28 clinics in the HLS Clinical and Pro Bono Programs, the largest legal clinical education program in the world. Nearly 900 students this year participated in the HLS clinical program, representing thousands of clients with legal problems in areas ranging from housing foreclosures to immigration, from international human rights to government prosecution.