If there is power in numbers, then the numbers initially look strong: Today, Latinos constitute 18% of the United States population, and accounted for half of the country's population growth over the past ten years. In 2021, Congress gained two new Latino senators and six members of the House of Representatives, and Latinos helped propel President Joseph Biden to victory last November.
Yet Latinos continue to experience discrimination in ways both overt and subtle, says Nina Perales of the Mexican American Legal Defense and Educational Fund, also known as MALDEF. And as their political influence grows, so too do efforts to curb that power. As vice president of litigation at MALDEF, Perales has spent 25 years fortifying and advancing civil rights for Latinos, and this semester, is teaching a course at Harvard Law School about their ongoing struggle for equality in the United States.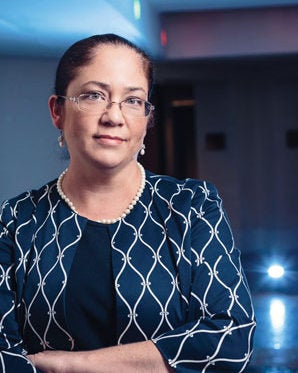 "There are many parallels in the U.S. between the Latino civil rights movement and the African American civil rights movement," says Perales. "Particularly in the southwest, Latinos experienced segregation in education, public accommodations, and housing that was very similar to the segregation in the deep South. In addition, Latinos were also targeted by racially motivated violence and lynchings."
Raised with a strong sense of social justice, Perales knew she wanted to pursue a career in public service from a young age. Later, in college and then in law school, she noticed the dearth of students with her background, and it solidified her desire to focus on Latino civil rights.
"It wasn't because of a lack of ability that there were so few Latino students," she says. "It was lack of opportunity."
In 1996, after five years at the Puerto Rican Legal Defense and Education Fund in New York City, Perales joined MALDEF's San Antonio, Texas office, where she initially focused on voting rights. She says that while litigating those cases, she came to appreciate that voting rights are preservative of all other civil rights.
"The right to vote has been described as fundamental to the exercise of all other rights," says Perales. "Without the ability to have a voice in government, you lose on a lot of other fronts, including public education and immigration policy. Particularly for the Latino community, the ability to translate our demographic growth into a voice in politics is central to our entry into American life."
Today, Perales manages the day-to-day litigation activity of MALDEF's regional offices spanning California to Washington, D.C. The organization focuses on education, employment, immigrants' rights, and political access for Latinos across the country.
One particular issue, redistricting, or the redrawing of electoral district boundaries, has become a big part of Perales's life's work. At least once every 10 years, incumbents at both the state and federal level jockey to shape districts that favor their interests. Perales says this can sometimes involve drawing lines to dilute minority voting strength, or the unconstitutional use of race in drawing district lines (known as racial gerrymandering).
"Folks in power don't really want to see new people coming along and voting, if they think those people will not vote for them," she says. "And that sentiment can come from either political party. I litigate about half my claims against Democrats, and half against Republicans, because any incumbent could be uncomfortable with more Latino voters in his or her district."
Perales has taken MALDEF's fight to the U.S. Supreme Court. In League of United Latin American Citizens v. Perry (2006), she argued and won the country's first vote dilution case pressed by Latino voters, when the justices ruled that a Texas redistricting plan violated the Voting Rights Act. In 2013, Perales and MALDEF convinced the Court to strike an Arizona law that required voters to show documentary proof of citizenship when registering to vote. And in 2018, Perales and her team were once again in front of the nation's highest court with a new racial gerrymandering case in Texas. Her claim, one of many in the case, was the only one to succeed.
"It has made me feel very proud to represent clients who have been community activists for decades, and help them be heard in court in a way that advances our voting rights," she says.
Advocacy, compassion, collaboration: These are the lessons Perales hopes her students are learning in her current Harvard Law School course, which explores the ongoing fight for Latino civil rights by reading significant current and past cases—some of which Perales worked on firsthand.
"It's always been a great experience to work with HLS students. They ask great questions," says Perales, who was also an HLS Wasserstein Fellow. "I've also worked over the years with a series of really amazing summer interns from Harvard Law who come all the way to San Antonio to work for MALDEF. Some of my very best interns have come from Harvard."
Looking ahead, Perales says she and MALDEF are paying close attention to the results of the 2020 U.S. Census, and their effect on the upcoming redistricting cycle. She and MALDEF are also actively defending the Deferred Action for Childhood Arrivals initiative, commonly known as DACA, which former President Donald Trump attempted to terminate, and which is challenged by nine states and continues to work its way through the courts despite a new administration.
"Regardless of who is president, our goal is the same: to protect and defend DACA," she says. "We now hope that the Department of Justice will take a second look at its refusal to defend DACA under the Trump Administration, and they have promised to do so."
While Perales is gratified by the progress she and MALDEF have continued to make over the years, she says there is still much to be done to address discrimination, achieve equality, and establish Latinos' rightful place in the story of America's history and the chapters yet to be written.
"Going forward, the specifics of our cases will change," she says. "But even as the details evolve, our mission will remain the same."