On Saturday, November 20, family, friends, students and colleagues of the late Harvard Law School Clinical Professor David Grossman gathered at HLS to celebrate his life, honor his community activism and support his fight for social justice at the second annual David A. Grossman (DAG) Fund fundraiser.
Grossman, who passed away in 2015 after a long battle with cancer, was a passionate and tireless advocate for low-income residents in Boston and beyond who were threatened with displacement from their homes. An expert in housing law, he dedicated his career to fighting on behalf of struggling tenants, homeowners, and communities.
As the managing attorney of the Housing Unit at the Legal Services Center of Harvard Law School and later as the faculty director and managing attorney of the Harvard Legal Aid Bureau, Grossman fought for the rights of underprivileged Bostonians who could not otherwise afford legal counsel to challenge unfair housing practices, while mentoring and inspiring hundreds of law students at Harvard Law School to do the same.
In honor of his commitment to protecting those in need, Professor Grossman's widow, Stacy Grossman, founded the DAG Fund for Social Justice in 2015 to support first-year HLS graduates using the power of the law to advance social justice and effect positive community change.
"The DAG Fund's aim is to extend my husband's professional legacy by providing an annual fellowship to a law graduate seeking to build a career as a community lawyer," Mrs. Grossman said as she welcomed more than 250 attendees, including keynote speaker Rep. Joseph P. Kennedy III '09, to this year's event.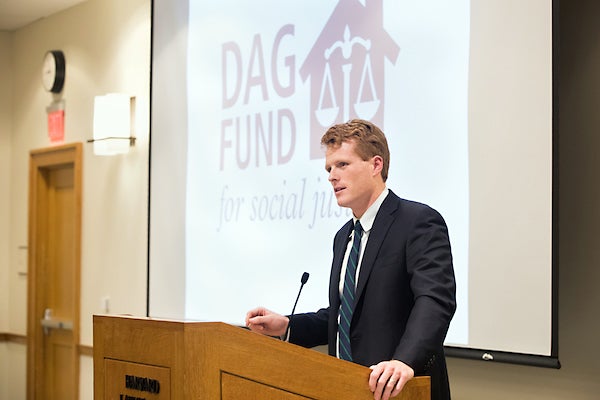 Kennedy, a member of the U.S. House of Representatives for the 4th district of Massachusetts and a former student of Professor Grossman's, spoke at the event, delivering a touching, personal keynote address that brought to life Professor Grossman's renowned legal scholarship, fearless dedication to social justice, and heartfelt compassion for those he protected.
At one point, Congressman Kennedy described how, as Grossman's student and a member of the Harvard Legal Aid Bureau, he had walked down the streets of Dorchester with Grossman at the lead. "We were a privileged group walking the streets of folks who were anything but," he remembered. "But what I remember to this day is how at ease Dave was. He was with his people. That connection does not come easily with a community one seeks to serve. But Dave had that trust. And he had earned it the hard way, the only way, by showing up day after day, case after case, demonstration after demonstration. And it was the first big lesson that he taught us, by his example."
Mrs. Grossman also took time during the event to recognize the inaugural DAG Fund fellow Joey Michalakes '16, who worked this past year as a lawyer in the housing and employment units in Greater Boston Legal Services (GBLS) developing strategies to combat displacement in gentrifying neighborhoods in Greater Boston. Along with a team of pro bono lawyers, Michalakes worked to make claims against a landlord for inhabitable living conditions and ultimately won a case in bankruptcy court that allowed tenants to continue to live in their affordable housing units for another 50 years. Watch a video about the case.
"It's so wonderful that there are resources available for people to do this kind of work, especially at a time when legal services funding as a whole is under threat" said Michalakes, who was recently offered a full-time job at GBLS. "We need all the help we can get, and having funds specifically to help lawyers build power in marginalized communities is extremely powerful. For any lawyer who wants to make a difference and potentially change the world, it's an incredible opportunity."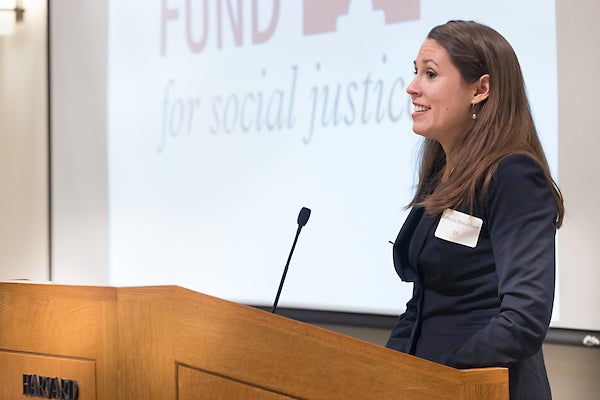 Every $50,000 raised by the David Abraham Grossman Fund for Social Justice will support an additional fellowship, and the fund's ultimate goal is to raise $1 million to permanently endow a fellowship. This year's 2017-2018 fellow is HLS graduate Rebecca Donaldson '16. Rebecca is working in her hometown of Milwaukee with Legal Action of Wisconsin. There, she is leading a pilot project focused on victims of violent sexual crimes. Oftentimes, victims are required by law to provide their mental health records which, if given, can be used to discredit them. But if the victim refuses to comply, she cannot testify in her own defense. Rebecca will provide direct civil representation to survivors while helping to build a movement that empowers victims to have a voice without diminishing their access to justice.
Read more about Professor Grossman's fight for social justice and learn from several former students and clients why the David Abraham Grossman Fund for Social Justice is crucial for the health of our communities.
View a video of the full event