Brooke Davies '21 and Daniel Oyolu '21 have been awarded the 2021 Andrew L. Kaufman Pro Bono Service Award. Davies and Oyolu were recognized as a student team for their partnership and exemplary service in the alternative dispute resolution (ADR) space, particularly for their groundbreaking Harvard Dispute Systems Design Clinic project "Power, Protest, and Political Change."
The Andrew L. Kaufman Pro Bono Service Award is granted each year in honor of Professor Andrew Kaufman, who has been instrumental in creating and supporting the Pro Bono Service Program at HLS. The award is given to a J.D. student or team of students in the graduating class who exemplify the pro bono public spirit and an extraordinary commitment to improving and delivering high quality volunteer legal services to disadvantaged communities.
"[Brook and Daniel's] enthusiasm for bringing ADR into the classroom, conversations, and communities is magnetic … and almost certainly responsible for encouraging other students to take up … service as a vital component of their law school experience," said Sara Del Nido Budish, assistant director and clinical instructor at the Harvard Negotiation and Mediation Program (HNMCP). "Peers consider them consistent shoulders to lean on, consistent supporters of justice, and visionaries on building a better world."
The Clinical Work
In the wake of national protests following George Floyd's murder in the summer of 2020, a catch-up call between Davies and Oyolu became a conversation about how they could put their skills, interests, and experience in the ADR space to use.
"We both share a passion for ADR and negotiation, and so we quickly landed on the idea that we wanted to explore how nonviolent resistance movements can most effectively negotiate with their political leadership, given the vast power imbalance between them," said Davies.
That fall, Davies and Oyolu proposed an idea for an independent clinical project to staff at HNMCP, asking the questions: "If you want to make change as an organizer, how do you build power to get into the negotiating room, and then how do you wield that power effectively once you've sat down at the table with your political leadership? How do you overcome that vast power asymmetry between you as one individual and your entire state or national government?" The plan was to create a public-facing, freely accessible resource guide for activists and movement leaders around the world.
Davies and Oyolu spent the semester interviewing a broad range of community organizers and activists. They interviewed individuals from movements such as Black Lives Matter, the Sunrise Movement, and March for our Lives, to local jail support groups in Charlotte, North Carolina and community services movements in Houston, Texas. They interviewed both nationally and internationally, speaking with civil resistance experts at the U.S. Institute of Peace and Freedom House, ambassadors of opposition governments living in exile, high-ranking officials in transitional governments, and activists across six countries, including Yemen, Belarus, Tunisia, Syria, Sudan, and Venezuela.
"… it was inspiring to speak with young people from around the world fighting for their communities and pushing for change," said Oyolu. "They passionately shared all that they had done and were willing to do to ensure they lived in the societies of their dreams. Regularly speaking to leaders who dedicate their lives to freedom, liberation, love, and peace inspires me and is something that will stay with me as someone privileged to study law, ADR, and Dispute Systems Design"
Davies recalled the "tenacity and bravery" of many of the activists she spoke with during her research at HNMCP: an organizer in North Carolina who had been working on criminal justice issues for almost four decades, an activist from Syria who has been imprisoned, tortured, and then exiled to the United States. Another from Belarus who continued to translate and share banned protest materials from Europe even after multiple threats to her life.
"I can go on and on, because there were just simply so many people we met who had put their lives and livelihoods on the line to secure their freedom, their equality, and their dignity," she said. "I can only hope to have an ounce of that courage, and so I draw on their stories when I need inspiration."
Their work culminated in nearly 100 pages of practical, implementable, and freely accessible guidance titled "Power, Protest, and Political Change" benefitting human rights activists and movement leaders globally. Published in December 2020, this work has since drawn attention across the field of negotiation and peacebuilding, at home and abroad.
"In their time at Harvard, Brooke and Daniel both centered oppressed communities and individuals made marginal, exploring how they may best navigate systems often designed to disadvantage them, and how these groups can effectively counter powerful structures and actors with power of their own," said HNMCP faculty and staff. "Brooke and Daniel have consistently demonstrated immense dedication to both the field of ADR and serving the public, going above and beyond in every role they have played in the clinical space."
---
Brooke Davies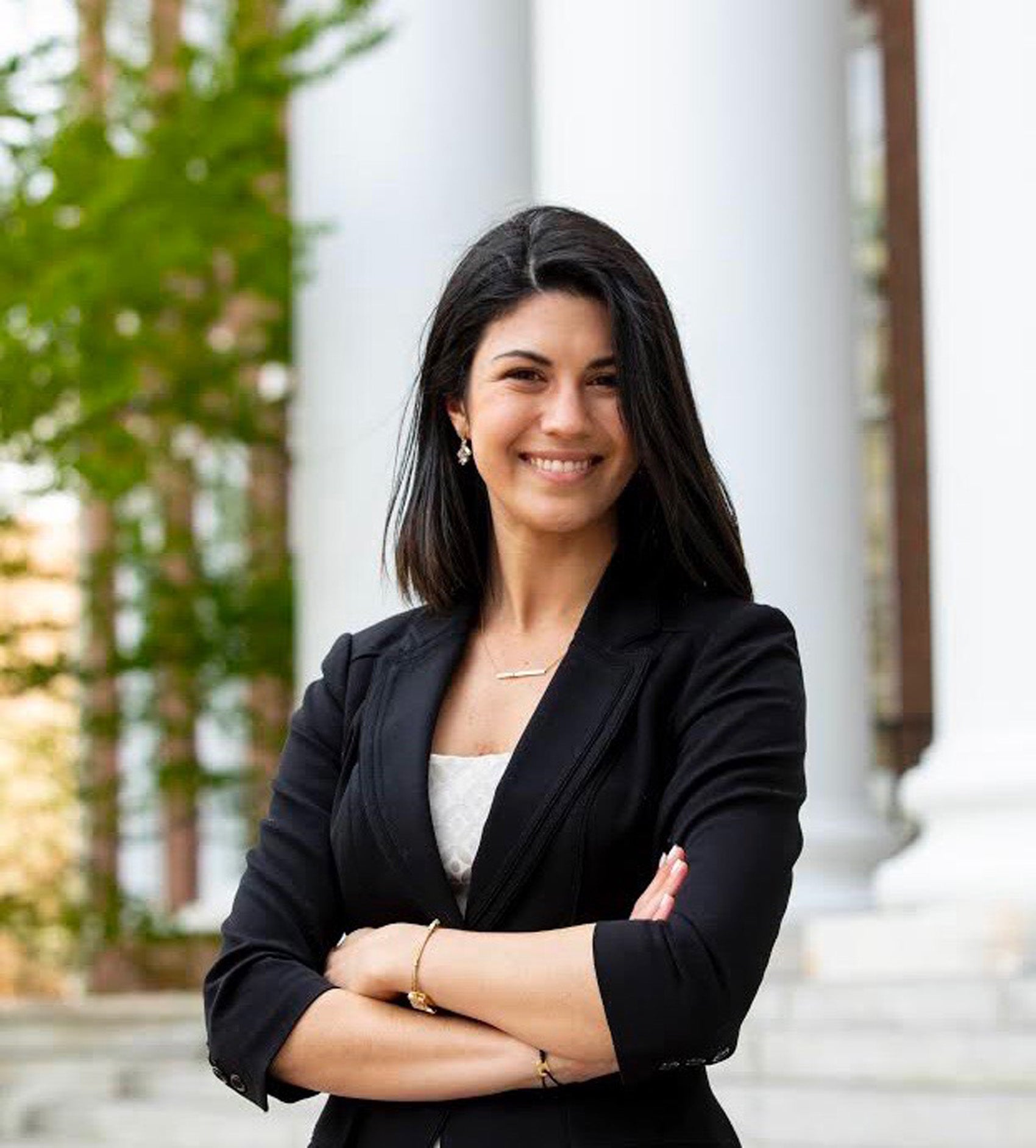 In addition to her work with Oyolu, Davies was a clinical student with the Dispute Systems Design Clinic her 2L year. There, she was a part of a three-student team that provided their client, a global pro bono law firm, with advice and guidance around coalition-building in the context of peace negotiations and transitional justice. Davies helped design, research, and write the resulting insights. In addition to her clinical work, Davies was the Vice President of HLS Advocates for Human Rights and a Teaching Fellow in the Negotiation Workshop.
"My work with HNMCP, with Advocates for Human Rights, and with organizations like International IDEA have been my outlets for practice these past three years. It's through the opportunities and mentorship they provided that I have figured out the type of lawyer I want to be," she said.
Upon graduation, Davies will be working with International Institute for Democracy & Electoral Assistance (IDEA) in Tunis, where she will be assisting in conflict resolution and constitution-building processes in the Middle East and Africa regions.
---
Daniel Oyolu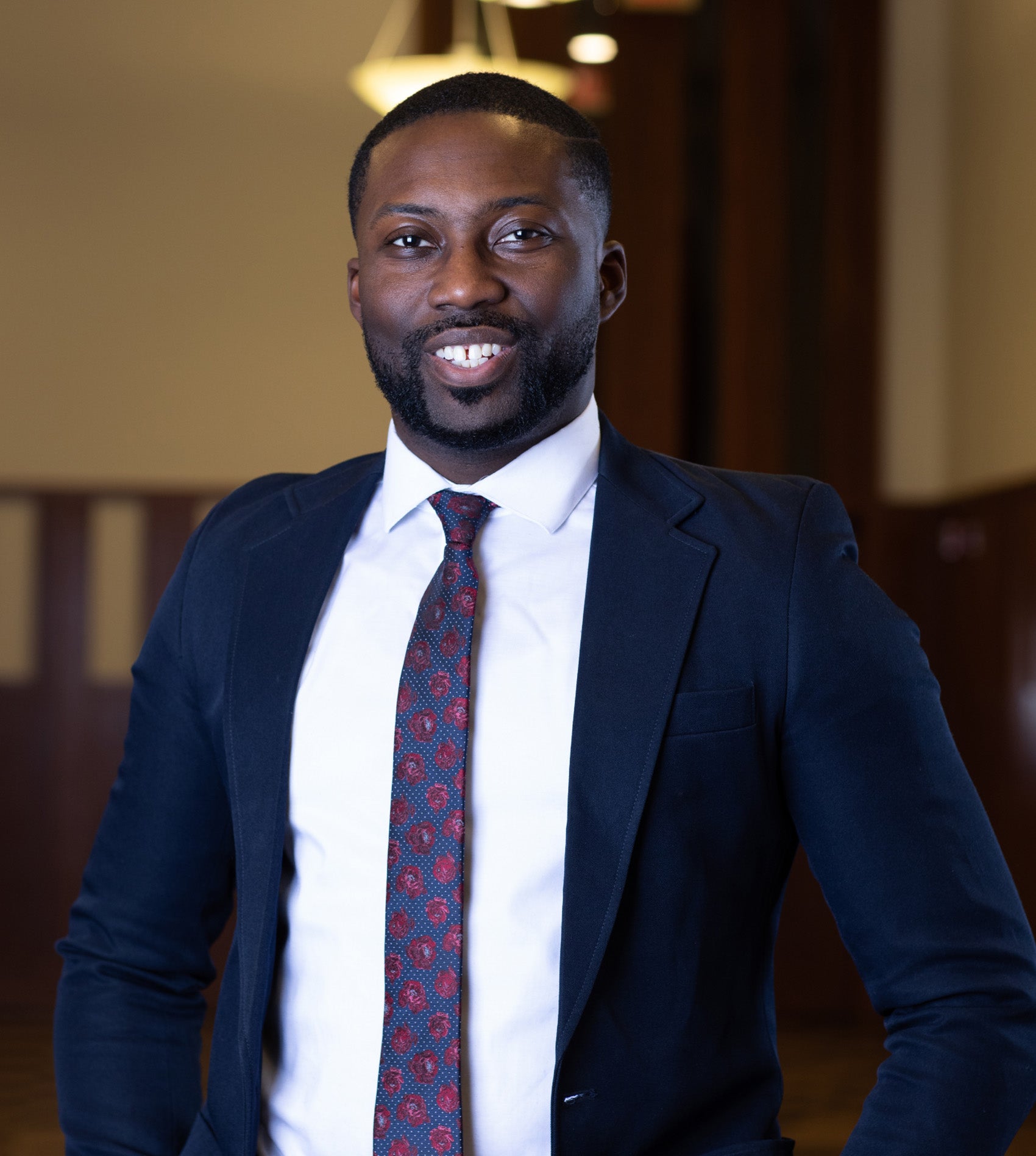 Oyolu began working in the Dispute Systems Design Clinic as a 2L, where he was part of a team tasked with providing their client, Judge Jeremy Brown, with an assessment of court interventions and diversion programs that could be implemented in municipal court to halt the school-to-prison pipeline in Daniel's hometown of Houston. Oyolu helped design a cadre of restorative justice processes available to young people on-site at schools and through court diversions. He also participated in the Cyberlaw Clinic.
Beyond his clinical work, Oyolu was a member and on the board of the Harvard Mediation Program, where he mediated disputes in different courts around the Greater Boston area. He helped immigrants consider various types of immigration relief through community workshops with the HLS Immigration Project, advised Nigerian entrepreneurs with the Harvard Law Entrepreneurship Project, and led Puerto Rico hurricane relief efforts.
"Clinical and pro bono work have created the spaces for me to make sure I am not just sitting in a classroom, but rather I am learning the skills necessary to be the best advocate possible," he said.
Oyolu plans on pursuing his interests in emerging markets and dealmaking after graduation, along with supporting entrepreneurs and artists through pro bono work. He will be working in the Latin America practice group at Cleary Gottlieb.