Mazelle Etessami '22 missed her walks along the Charles River. When her insomnia was about to hit particularly hard—if she was feeling especially alone and anxious—she'd leave her dorm room in Gropius Hall to take a long stroll. After leaving Cambridge in the spring when classes moved online due to the coronavirus pandemic, Etessami missed her walking ritual and the serendipity of bumping into classmates (and meeting new friends). The idea for the Dandelions Student Podcast and Project came to her when she was thinking about these important conversations and connections.
Harvard Law Today recently corresponded with Etessami via email about the founding and scope of the Dandelions podcast and project. This is the second story in the recurring "Life at HLS" series, which highlights student organizations, journals, and student practice organizations at HLS.
---
Harvard Law Today: Tell us a little bit about the Dandelions podcast and project.
Mazelle Etessami '22: The Dandelions Student Podcast is a one-on-one interview style bimonthly podcast that aims to cut past the water cooler chatter and hallway small talk in order to give students the opportunity to really get to know their peers. It is an attempt at turning the challenges wrought by COVID into an opportunity to forge something new and connect in a way we haven't before. I wanted to know why people are the way they are and learn about their backgrounds beyond a resume. I think all of us are a bit blown away by those we meet at here at Harvard Law School—not just the top resume lines, but the real, funny, earnest, brilliant people we encounter. Dandelions is a way to simultaneously celebrate and capture that.
The Dandelion Project grew out of the podcast idea. It's a way for folks to meet each other and break out of the work-from-home trudge. Students meet [via Zoom] and talk about stuff outside of the general hum drum in anonymized and randomized weekly pairings. We provide basic guidelines, but it's pretty free form.
HLT: Why did you start the podcast and project?
ME: We're all looking for something right now. There's a lot of gaps in the days and weird hours to fill. Even in law school, where every moment is booked for you, there somehow manages to be empty space. Our lives have taken a new shape and we're all just trying to adapt right now. Our goal was to provide a small slice of the human connection that we've all been missing. With the Dandelion Project, we wanted to tie in all we'd been talking about with some action. This is our way of taking our words and making something tangible outside of just soundwaves.
Once campus closed and we all flew back home in March, the idea of community felt aspirational—a sentiment that grew even more pronounced during the isolation and subsequent social distance world of coronavirus. I started the podcast in an attempt to compensate for that, while simultaneously trying to build a better norm where it is more commonplace for peers to connect deeply and holistically.
The students I have on are people who aren't necessarily in my section or in my extra curriculars. I only knew one of the guests before starting the project—and so, even under normal conditions, I may have never known Kit [Metoyer '22] or David's [Hicks JD/MPP '22] stories the way I do now (David's story will air later this season). We hope the podcast is a model for those in the Dandelion Project to bridge the gap between computer screens, and remove the awkward first-time interaction with one another.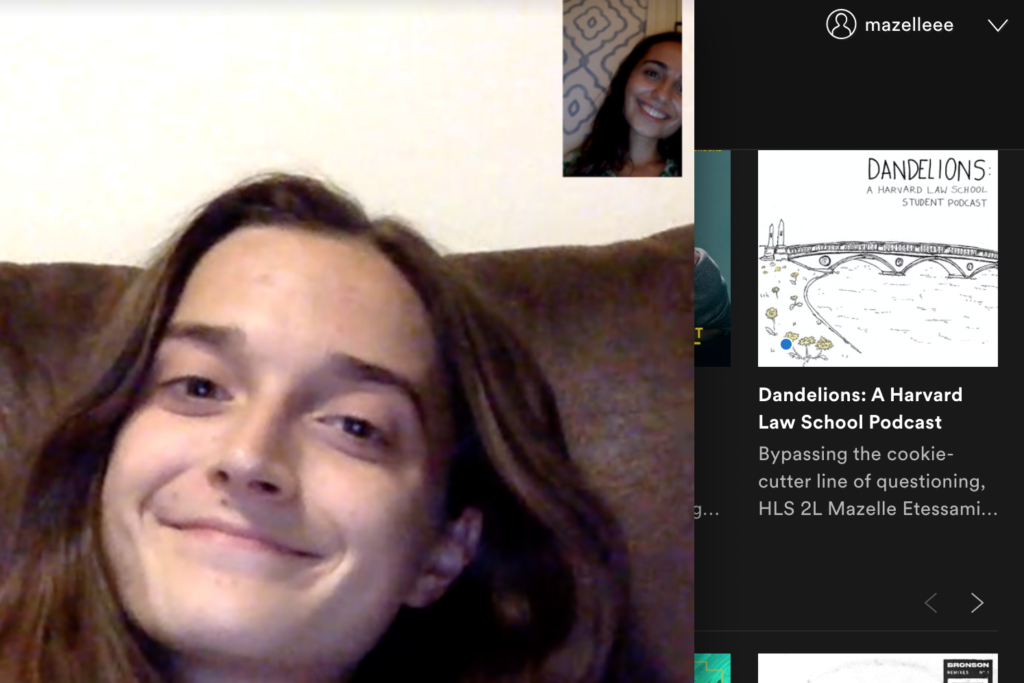 HLT: How many students are involved in Dandelions?
ME: Ninety students signed up for the Dandelion Project, and the podcast episodes have been listened to by hundreds—which has of course been incredibly heartening to see. The support expressed by peers, faculty, and staff—from the first email I sent pitching the project, to the email announcing the drop of the trailer—has been remarkable.
There is a small but mighty team of students involved in the making of the podcast and facilitation of the Dandelion Project. The podcast is executive produced by me and Anjali Banjeeri, who I worked with at UC Berkeley. Samantha Harris '22 is the writer and helps produce. Solange Etessami '20 (my older sister) is a producer (and general day-to-day support system), and Solange's best friend from high school, Daniel Belgrad '24, is a producer and the shows audio editor. (Danny is also the singer/songwriter behind the band Vern Matz, and deferred from HLS this year to open a music/audio studio in NYC). Student government Presidents Billy Wright '21 and Noelle Graham '21, and their Chief of Staff Diego Alvarez '22, are instrumental in the execution of the Dandelion Project, and sponsor the podcast as well.
Kristi Jobson '12 [Assistant Dean for Admissions and Chief Admissions Officer at HLS] has really championed this project and been an invaluable support system from day one. We couldn't be more grateful for all that she has done—it simply would not have happened without her.
HLT: Why should HLS students get involved?
ME: HLS is such a social place, both under a normal environment and even now as things have obviously taken a new form. Both the project and the podcast really are ways to reach out and find a tether to the community I think we all love.
Part of going to grad school is the opportunity to network; however, sometimes that career-minded socializing comes at the expense of knowing each other as human beings. HLS students should participate as a way to strengthen and build community by connecting with people they might have never met otherwise.
We completed the pilot run and are in the process of soliciting feedback on whether we should extend the project and for how long and if there are any improvements we can make. If we do decide to extend the project, people should keep an eye on the weekly newsletter from student government for the sign-up link.
HLT: How did you come up with the name Dandelions?
ME: The name was a bit of a struggle. We sat in a circle and threw all our various ideas out there and none of them really seemed to stick. The name was truly the last thing to come together, which is sort of fitting since we really wanted it to tie in everything we'd worked on.
So, Dandelions emerged from what is essentially now our cover art—the Charles River. No matter what time of the year you walk along the river (barring the times its buried beneath a metric ton of snow), there's always little dots of yellow peaking up. No matter the weather or what may be going on in the world, those dandelions are always poking through. They're not only constant, but bright as can be. They're unashamed and vibrant, despite being called a weed, despite the joggers that trample over them each morning or the small children who collect them in bouquets, the pollen-like highlighter on their hands. Dandelions are so simple and yet so incredibly brilliant. And we hope that, at the very least, the conversations had on the podcast and through the project are just the beginning. That they slowly but surely spread and maybe even establish a new normal.
HLT: Where can we find the podcast and follow you on social media?
ME: The podcast is available on all major streaming platforms, including Spotify and Apple Podcasts. This season, new episodes drop every other Thursday. You can follow us on Instagram @thedandelionspodcast, though we are working on developing a more active profile.