Many Harvard Law students can recall the moment they realized that the law was their lifetime calling. For 2020 graduate Brian Kulp, that moment took him by surprise.
As an Ohio State undergraduate, his studies had a different focus: He entered to study chemical engineering and expanded that into integrative business and engineering. He furthered those interests with internships at Prosoft Clinical and ExxonMobil. "I was working on more technical problems, chemical simulations by computer," he said. "But wherever I was going, I kept running into legal issues. For example, there were regulatory things, international shipping and environmental issues. Because I found those more interesting than the technical problems I was working on, I started talking to attorneys and getting my hands on any book about law I could find. And that's where I fell in love with it."
Entering HLS in 2017, Kulp kept a foot in the engineering world and after his 1L year he worked as a summer associate with Morrison & Foerster, concentrating on patent law. He also joined the Law and Technology Society that year and Harvard Journal of Law & Technology.
"My original ambition was to do something that fused engineering and the law," he said. "I thought I might start some kind of consulting firm that crossed over between patent law and management strategy, the ways that you could develop intellectual property and make some money out of it."
But the deeper he got into legal studies, his interest gradually shifted from technology to appellate law. One turning point was the Ames Moot Court Competition; his team made it to the semifinals in his 2L year before getting eliminated, but by then he was hooked.
"When I chose engineering as a major, I knew what I was good at, but I hadn't paused to reflect on what I wanted to do for the rest of my career," he said. "The law provided that. And I was blessed that law school did not pigeonhole me into any one area of law."
"There are a whole score of issues related to intellectual property and the law that I am interested in, but as time went on I really wanted to broaden my horizons," he said. "For instance, I'd never done any kind of debate before coming to HLS, and it was good to get out of my comfort zone. What I liked about appellate law was that the arguments you use to persuade a neutral judge to rule in your favor can have incredible consequences. You're not just winning a victory for your client, you're helping shape precedents to develop the law."
Another eye-opener was his work in the Federalist Society and Harvard Journal of Law & Public Policy. "I came into law school completely nonpartisan, straight down the middle when it came to contentious legal issues. But this gave me a chance to think about what the role of a judge is," he said. "To me, that means saying what the law is rather than what it should be."
He explored this question in a recent article he authored about the Constitution's Exceptions Clause, a rarely invoked clause that allows Congress to deny appellate jurisdiction. "As originally understood, you can imagine the Democrats using it to overrule Citizens United, or the Republicans to overrule Roe. So, I spent a lot of time arguing that this is here for emergencies, it should not be used just because it's convenient to a party's agenda."
During a judicial extern at the U.S. District Court for District of Columbia last year, Kulp was confronted with the human impacts of applying the law neutrally. "There were three or four cases where it was heartbreaking to apply the law as I did, where we had very sympathetic litigants against a corporation or the government. In those situations, you realize that every single case has human actors in it. And it forced me to reflect on why I believe what I do about the role of a judge."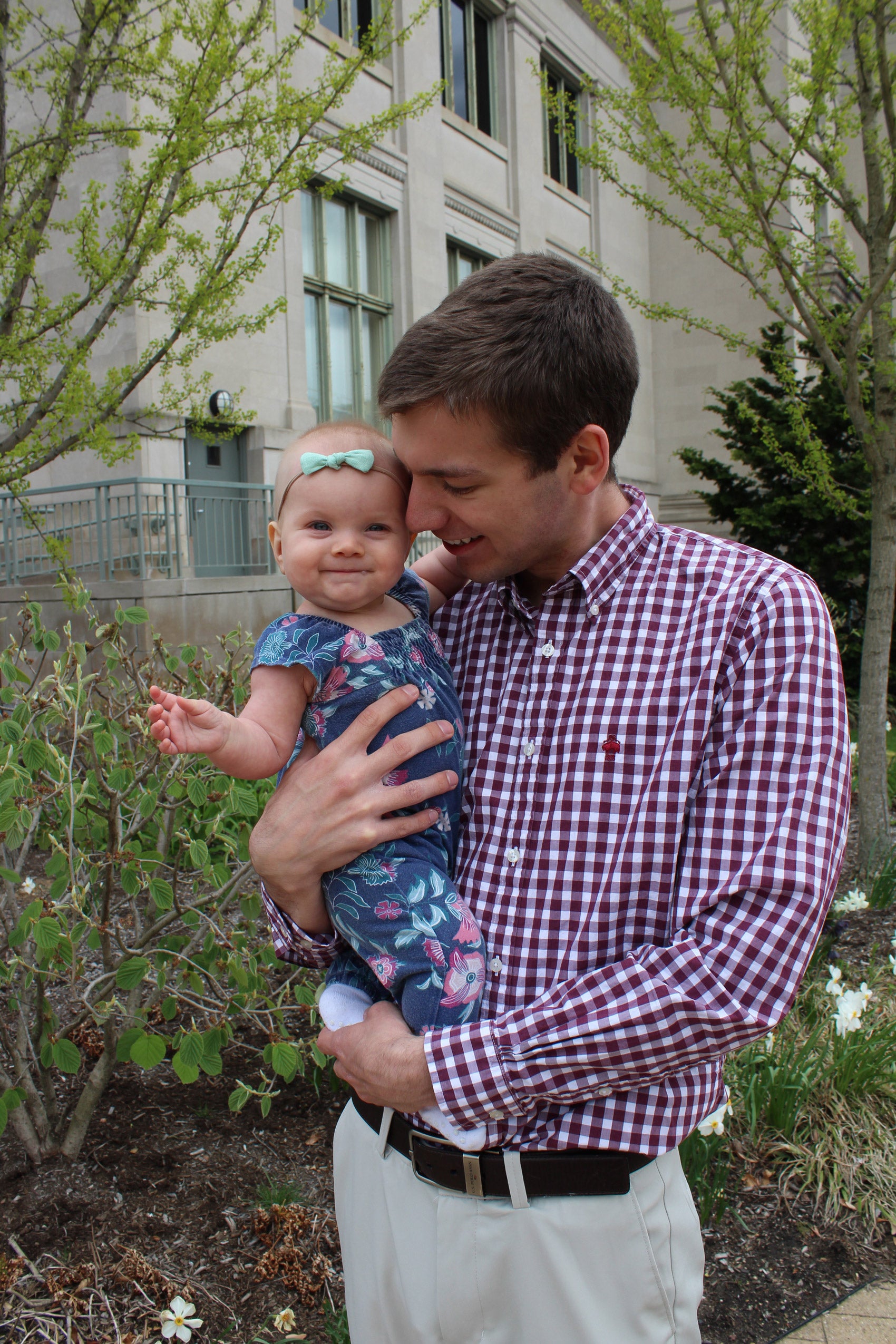 Kulp is now preparing to leave Cambridge for Ann Arbor, Michigan, where he'll be working on the 6th Circuit Court of Appeals, and from there he'll begin work on the 11th Circuit in Birmingham, Ala. Meanwhile, he's been quarantined like his classmates, which for him did have one advantage: It allowed him to spend time with his daughter, Heidi, who was born in October. His wife is currently the head of the HLS Families and Couples Association, and so they've been in touch with other students who've become parents. "The whole idea that it takes a village is definitely true. But the time I've had to spend with my daughter during shutdown has been a huge advantage, since I may never get this much again."
***