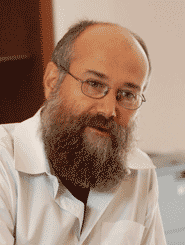 Harvard Law School Professor Yochai Benkler '94 has received a Ford Foundation Visionaries Award, it was announced April 29. The award was created in recognition of the 75th Anniversary of the Ford Foundation to celebrate social innovators from a variety of fields.
"This recognition is superb because Yochai truly is a visionary," said HLS Dean Martha Minow. "He is one of the intellectual leaders of the information age, and his studies of experiences and opportunities enabled by the digitally networked world have both explained and contributed new conceptions of how we perceive and understand economies, democracy, cooperation, and human capabilities."
Benkler, who was praised by the Foundation for "harnessing technology for social good," is one of 12 recipients chosen for their vision, leadership, and pioneering work toward social change.
In addition to Benkler, Bryan Stevenson '85, founder and executive director of the Equal Justice Initiative, was recognized for his work challenging bias against the poor and people of color in the criminal justice system.The official announcement, which includes a list of all 12 awardees, can be found on the Ford Foundation's website.
Benkler is faculty co-director of the Berkman Center for Internet & Society at Harvard University, and the Jack N. and Lillian R. Berkman Professor of Entrepreneurial Studies at HLS. He is the author of several books, including "The Penguin and the Leviathan: How Cooperation Triumphs over Self-Interest", which will be published by Random House in August.
Read a recent Q&A with Benkler for the publication Harvard Law Today. For more information on his research interests and latest publications, visit www.benkler.org.