At the entrance to the office of Federal Communications Commission Chairman Julius Genachowski, on identical stands, sit two objects that seem symbolic of the FCC's past and future and how radically the purview of the agency has changed since its founding in the 1930s. One is a thick dictionary, left over from a former FCC chairman. It contains words like telephone and radio, technologies that the FCC was created to oversee, but not the word broadband—the high-speed communications network that is now the agency's primary preoccupation. The other object is an iPad, a device that depends in large part on broadband, and one that signals the centrality of new technologies to modern daily life—and Genachowski's strong belief in their importance.
Genachowski '91, who was classmates with Barack Obama and served as his chief technology adviser during the 2008 campaign, came to this job passionate about expanding broadband to all corners of the country. "I'm convinced that broadband will be as important to 21st-century America as electricity was to 20th-century America," he told me in an August interview in his office. Eventually, Genachowski says, broadband will be the platform for all communications technology and will be an essential part of most aspects of our society—from the economy to health care to our educational system. But according to the FCC, 35 percent of people in the U.S. still don't have it, and the speed of some of the broadband that does exist is inadequate. "Broadband should be the core mission of the FCC," he says. "And now it is." Accordingly, in March, the agency released a massive National Broadband Plan, a blueprint for radically expanding and improving the country's communications network while protecting consumer interests. Genachowski's FCC then set about building momentum for the plan. "Thanks to Julius' advocacy, pretty much everyone agrees we need to have a national policy of providing Internet access to everyone in the country some way or another," says Reed Hundt, who was a chairman of the FCC under Clinton and was Genachowski's boss during that time.
Following up on an Obama campaign promise, Genachowski has also sought to enshrine rules protecting "net neutrality"—the idea that all content should be treated equally by the companies providing Internet service. Proponents of net neutrality rules worry that these companies can unfairly provide ultraquick access to certain sites for financial gain, while gumming up the connections to competing sites. But opponents argue that the cable and phone companies responsible for building out the broadband networks should have the right to charge varying rates depending on how much bandwidth a site uses. In a September 2009 speech at the Brookings Institution, Genachowski laid out his argument: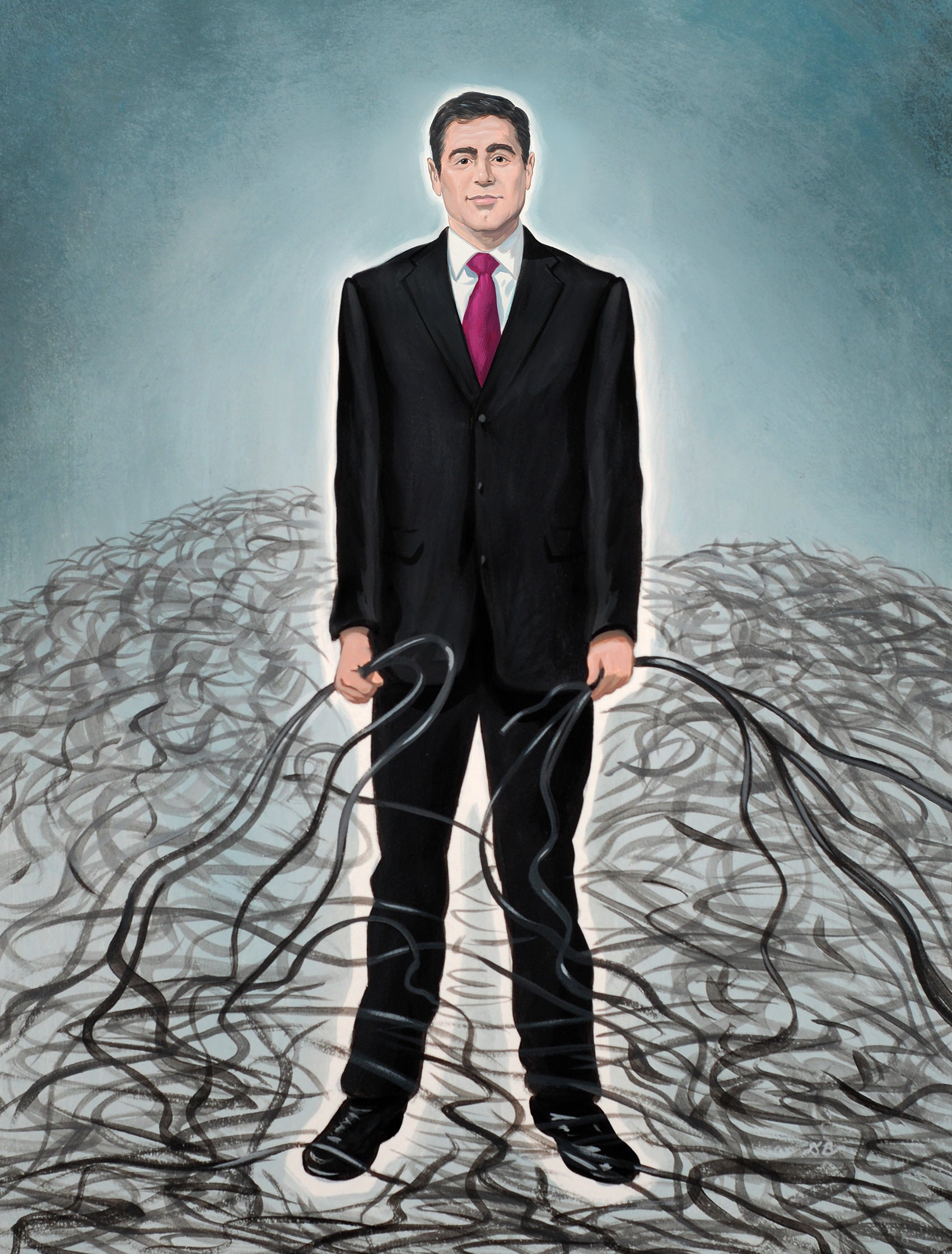 "This is not about protecting the Internet against imaginary dangers. We're seeing the breaks and cracks emerge, and they threaten to change the Internet's fundamental architecture of openness. This would shrink opportunities for innovators, content creators, and small businesses around the country, and limit the full and free expression the Internet promises. This is about preserving and maintaining something profoundly successful and ensuring that it's not distorted or undermined. If we wait too long to preserve a free and open Internet, it will be too late."
But in April, Genachowski's agenda encountered a serious roadblock, in the form of a federal appeals court decision in Comcast Corporation v. Federal Communications Commission. In the court case, originally filed by his predecessor, Kevin Martin '93, the FCC argued that Comcast was violating net neutrality principles by slowing customer access to a site that was clogging Comcast's network. The problem for the FCC is that the court ruled it has no authority under current law to regulate online service providers or their broadband networks. In response, Genachowski came up with a "third way" proposal to reclassify broadband as a type of hybrid utility—which would allow the FCC to regulate broadband under its authority to oversee telecommunications, while at the same time exempting Internet service providers from onerous regulations or price controls. He called the approach "consistent with the long-standing consensus regarding the limited but essential role that government should play with respect to broadband communications." According to Thomas Perrelli '91, a friend of Genachowski's from law school who is now the associate attorney general, the "third way" approach is also consistent with Genachowski's working style. "This is really the way Julius approaches a lot of problems—trying to bring people together and find an approach that people can get behind is very characteristic of him," Perrelli says.
Since the ruling, the FCC has continued pushing forward aspects of the National Broadband Plan, but considerable attention has shifted to the jurisdictional questions now facing the agency. At issue, too, are larger tensions—between consumer interests and business interests, between those who believe in more regulation and those who believe in less, and between those who believe passionately in an open Internet and those who worry that an open Internet will unfairly benefit some types of companies over others. These tensions inevitably coalesce around the person who runs the FCC. Blair Levin, who worked with Genachowski at the FCC under both Clinton and Obama and is now a communications strategist at the Aspen Institute, offers some perspective: "If there's any decision that's easy, it's made long before an FCC chairman has to deal with it. I'm quite certain that Genachowski will be in line with other chairmen who will be controversial. You can't do the job without controversy. It just doesn't happen." Yochai Benkler '94, the faculty co-director of the Berkman Center for Internet & Society and professor for entrepreneurial legal studies at Harvard Law School, makes a similar point. In 2009, he was commissioned by the FCC to do a study of broadband deployment throughout the world (see sidebar). "This is a case of a very talented and well-intentioned man bumping up against an impossible political economy," says Benkler. "There are hundreds of billions of dollars at stake in the core questions he's interested in working on."
The chairman of the FCC, perhaps more than the head of any other federal agency, has to walk a delicate line—between the powerful businesses that make up the communications industry and the consumers who rely on it. HLS Dean Martha Minow, whose father, Newton Minow, was chairman of the FCC under President Kennedy, and who has known Genachowski since his days at Harvard Law, sees it this way: "There's a risk that the chair simply serves the industry, and there's a risk that the chair does not understand the needs and demands of the industry. Julius is uniquely suited to understanding the industry perspective while keeping American needs at heart."
Genachowski describes himself as stubborn. Others have described him as pragmatic, creative and deeply knowledgeable about cutting-edge technologies. And according to Hundt, there's widespread respect in Washington for Genachowski's acumen and integrity. He'll need all those qualities, as well as some help from the political process, to push his agenda through.
The son of two survivors of the Holocaust, Genachowski grew up on Long Island. He was always interested in technology, and recalls once when his father took him to his alma mater, MIT, to show him the research he'd done creating a device to help blind people read. "It was an important experience, and what it really showed me was the power of technology to transform lives for the better. And that was something that ended up pointing me on a path that was relevant to this job," he says.
In the years before and after law school, Genachowski gained experience in all three branches of government, as well as in the private sector. A history major at Columbia, he decided to go to law school because he was "interested in the world and the way it works." But he deferred twice to work for Chuck Schumer '74, now a New York senator, who at the time was a member of the House of Representatives. Then he got an opportunity to work as an aide for the House committee investigating the Iran-Contra affair. But when he approached Harvard for a third deferment, they turned him down. "Being stubborn, I decided to take the job and take my chances," he says.
When he did go to law school, Genachowski says, "I learned a lot about the importance of a healthy debate, and about the importance of multiple disciplines coming together in areas like public policy to produce the best outcomes for the country." Among other classes, he took constitutional law from Laurence Tribe '66 and civil procedure from Minow. As Minow recalls, "He was a star creative student with the ability to get to the heart of the matter, maintaining common sense while using sharp analytic skills. He's still like that today." Genachowski served as notes editor for the Harvard Law Review under Barack Obama. They would sometimes escape from their work onto the basketball court (Genachowski has a picture in his office of the two of them playing basketball). And they would talk about the paths that led them to Harvard Law and the Law Review. "Growing up, Harvard Law School was the last place I expected to go," Genachowski told me. "Only in America could someone who was the child of immigrants, of Holocaust survivors, end up on the Law Review at Harvard Law School. I was very appreciative when I was there of the uniqueness and the import of that opportunity. Barack Obama had a very different background, but we shared that appreciation."
After graduation, Genachowski clerked for Abner J. Mikva in the U.S. Court of Appeals for the District of Columbia (the position was offered first to Obama, who turned it down in favor of returning to work in Chicago and writing his book "Dreams from My Father"). Genachowski went on to clerk for two Supreme Court justices—William Brennan '31 and David Souter '66. At that point, in 1994, a typical path might have been to teach at a law school or work for a prestigious firm. But Genachowski instead chose the FCC.
"People thought it was a little strange. But I was interested in technology and I thought that communications technology was a world that was about to explode—and that was an explosion that you wanted to be near," he says. He spent the next three years as a high-level legal adviser, eventually serving as chief counsel to Reed Hundt. As Hundt recalls, "Harvard and also the Supreme Court clerkships gave him a tremendous base of knowledge—he was really quite brilliant." Back then, when the Internet was still in its infancy, digital communications—satellite radio, and digital mobile service and TV—were just becoming topics of conversation for the FCC. Genachowski was there for the first spectrum auctions, where the government sells off the rights to transmit signals over specific sections of the airwaves. (A decade and a half later, with the huge expansion of mobile devices and mobile Internet use, a looming spectrum crunch is one of the issues Genachowski is working to address.)
But according to Hundt, what really prepared Genachowski for his current job was not his time at the agency, but the decade he spent in the private sector, working in the nascent digital world—as an executive at IAC/InterActive, Barry Diller's media and e-commerce company, and as a founder of an incubator for Web startups, among other positions.
Obama drew on that expertise during the 2008 campaign. Genachowski recognized the social networking power of the Internet and made a successful pitch to the candidate that he could and should use that power to his advantage. Many of the technology issues of the campaign—including a strong defense of net neutrality and the push to develop a national wireless system for emergency responders—have remained priorities under Genachowski at the FCC.
This past summer, the agency gathered comments on its reclassification plan while meeting with stakeholders such as Google, Verizon, AT&T and the Open Internet Coalition to try to come up with an acceptable agreement on net neutrality. (The talks were called off in August, after Google and Verizon announced their own agreement. The two companies had long been in behind-the-scenes negotiations to come up with a mutually beneficial policy on net neutrality.) Genachowski moved forward on aspects of his agenda, including the most significant release of spectrum since the 1980s, to be used for extra-powerful Wi-Fi networks. But net neutrality and reclassification became such hot-button issues that the decisions on them have been delayed, and most likely will not be made until well after the midterm elections in November. While some of the FCC's business can proceed without reclassification, much of it is dependent on re-establishing clear jurisdiction over broadband. According to Levin of the Aspen Institute, it's not yet clear how the FCC will achieve that, but there's a general recognition that broadband needs some level of government oversight. "I think at some point it's either determined by the Court that there is some residual power, or Congress steps in and restores that power. There's a great public interest in this being done by a government agency," Levin says.
With the delay on reclassification and net neutrality, Genachowski has come under strong criticism from consumer groups advocating for an open Internet. One such critic is Aparna Sridhar, policy counsel at Free Press, a media-reform organization. "He's doing a good job at gathering information and he recognizes the problems before him, but I think the issue is that solving them is hard. It requires potentially upsetting major interests, and it requires the stomach to do those things," Sridhar says.
But Genachowski argues that coming to the right solutions takes time—and that the ongoing process of debate over how broadband should be deployed throughout the country and over how to keep the Internet open is essential for reaching those solutions. "One of the things that I'm proud of is that there are many issues now about our broadband future that are being discussed and debated. Some of these are hard, complex issues, but a year ago they weren't being discussed," he says. "We need to debate them to make the right decisions for the country."
Katie Bacon, a journalist and editor based in the Boston area, has written for The New York Times, The Atlantic.com and other publications.
This story originally appeared in the Winter 2011 Harvard Law Bulletin. On Dec. 22, shortly after the issue was published, the FCC approved rules supporting net neutrality.