On April 1, Professor of Practice Naz Modirzadeh '02, founding director of the Harvard Law School Program on International Law and Armed Conflict (HLS PILAC), urged the United Nations Security Council to expand upon and prioritize its efforts to safeguard principled humanitarian action. Modirzadeh delivered her remarks at a U.N. Security Council briefing on the "Promotion and strengthening of the rule of law in the maintenance of international peace and security," at the U.N. Headquarters in New York City.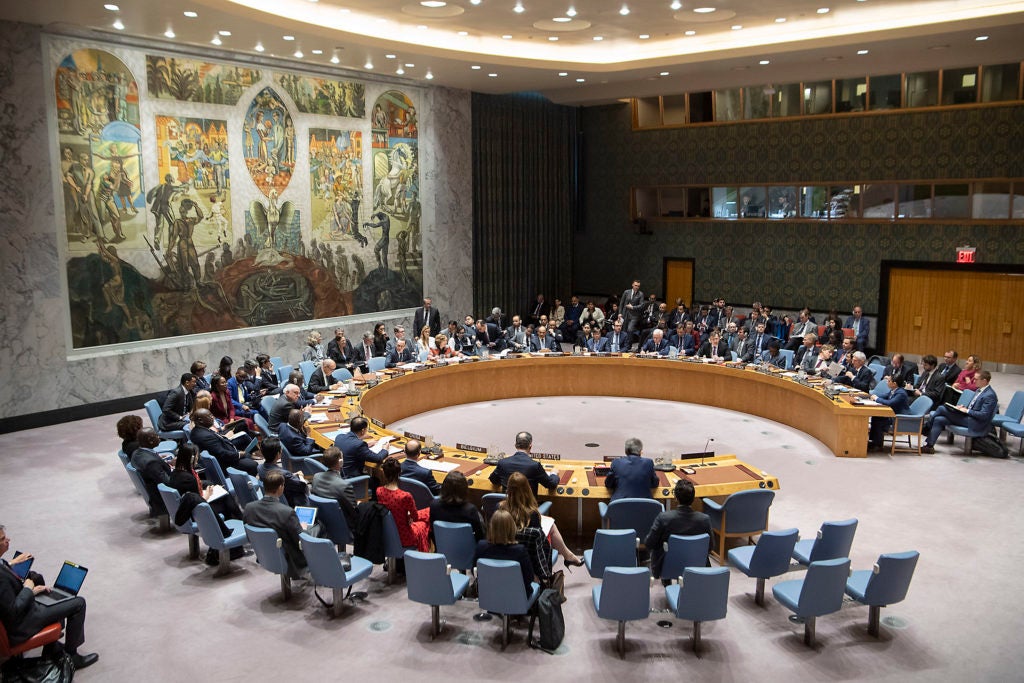 Germany, which assumed the presidency of the U.N. Security Council for the month of April, convened the briefing to strengthen respect for international humanitarian law (the law applicable in armed conflict), and identify tangible ways of improving implementation of humanitarian obligations.
Modirzadeh was invited — alongside Mark Lowcock, United Nations Under-Secretary-General for Humanitarian Affairs and Emergency Relief Coordinator, and Peter Maurer, president of the International Committee of the Red Cross — to brief the Council.
In her remarks, Modirzadeh discussed the intersections between international humanitarian law and counter-terrorism measures, and warned the Council that counter-terrorism measures may hamper humanitarian assistance and protection activities.
She said: "Where principled humanitarian action is considered to constitute a type of illegitimate 'support' to terrorism, counter-terrorism measures may inhibit, or even impede, the work of humanitarian actors in wide-ranging and consequential ways. Those actors may thus experience difficulties in providing relief and protection in line with humanitarian principles. Humanitarian actors may become understandably wary of engaging in conduct that they believe can expose them to legal liability, and they might accordingly limit or halt their operations."
In her remarks, she urged the Security Council to safeguard humanitarian action in counter-terrorism contexts by:
Guarding against overly broad and vague notions of what constitutes unlawful support to terrorism, including in its own practice concerning designated individuals and entities;
Ensuring that none of the activities that underlie principled humanitarian action form part or all of the basis to subject individuals or entities to sanctions or other restrictive regimes;
Considering comprehensive exemptions for principled humanitarian action grounded in a steadfast commitment to international humanitarian law; and
Upholding and ensuring respect for the hard-won legal protections for principled humanitarian action amid the tumult of war.
In 2017, the Counterterrorism and Humanitarian Engagement (CHE) Project at the Harvard Law School Program on International Law and Armed Conflict carried out a pilot empirical survey study to help determine the measurable impact of counter-terrorism laws on humanitarian action. Among its findings, 69 percent of survey respondents indicated that counter-terrorism measures, including counter-terrorism laws and regulations on humanitarian organizations, had curtailed their work.
Modirzadeh, whose scholarship and research focus on intersections between the fields of international humanitarian law, international human rights law, and legal frameworks governing terrorism, as well as Islamic law pertaining to protection of civilians, has carried out legal research and policy work concerning a number of armed conflict situations. She frequently contributes to academic and professional initiatives in the areas of humanitarian action, counterterrorism, and the laws of war.