John P. Carlin '99, assistant attorney general for National Security, spoke last week at Harvard Law School on the National Security Cyber Threat, at an event hosted by the Harvard National Security Journal.
In his prepared remarks, Carlin, the government's top national security lawyer, described a wave of new cyber threats and intrusions and concern about future attacks:
"Terrorists seek to exploit our reliance on weak or outdated network security to harm our way of life. To date, terrorist groups are largely only experimenting with destructive hacking, but they are developing more advanced capabilities. We've also seen calls to action through Internet jihad by both Al Qaeda and ISIL, and our international partners have experienced attacks conducted by purported online jihadists. We are concerned that those groups will not hesitate to deploy offensive capabilities if they are able to acquire them," said Carlin.
"To deter our adversaries, we must know who they are and what makes them tick. We must be able to attribute their actions with confidence—down to the country, government agency, organization or even individuals involved.
"And that is no easy feat. Anonymous accounts, third-party proxies, rented and compromised servers and the international nature of our investigations make our jobs tough. But through a mix of formal authority, cyber expertise and cooperative relationships with private-sector victims and international partners, we can track down cyber attackers and ensure their crimes are not without significant cost.
"Law enforcement agencies and the Department of Justice are uniquely good at these kinds of investigations. And they are the bedrock of our approach because they facilitate the use of so many other tools that promote deterrence. And we have already seen results."
[Read the prepared remarks in their entirety.]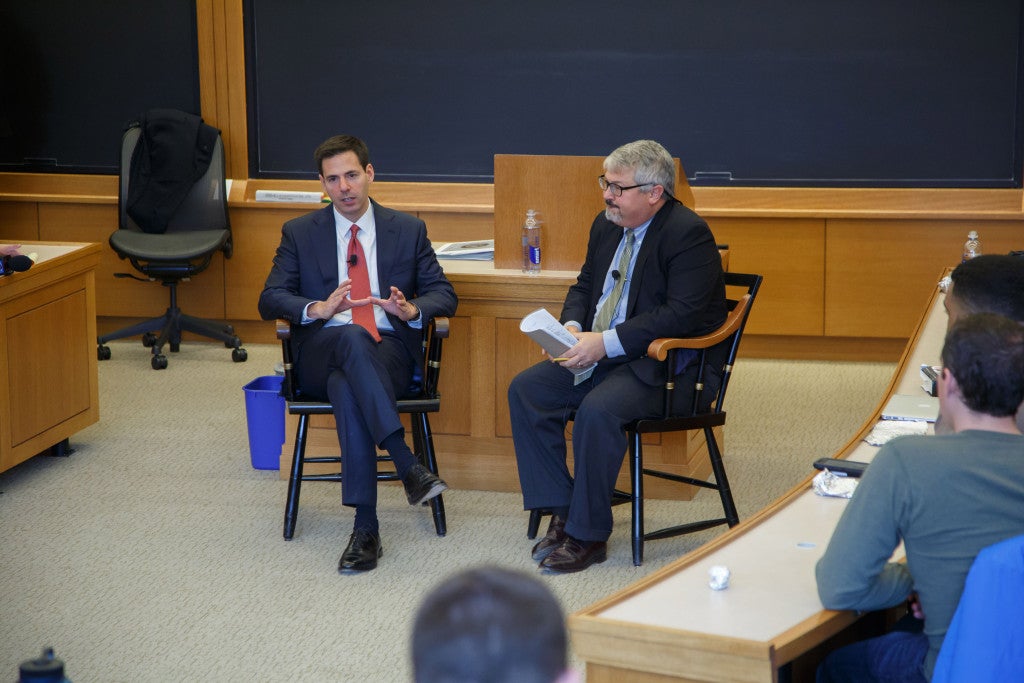 After his address, Carlin answered questions from HLS Professor Jack Goldsmith, editor of the LawFare blog, and from members of the audience.
As assistant attorney general for national security, Carlin oversees nearly 400 employees responsible for protecting the country against international and domestic terrorism, espionage, cyber, and other national security threats. He joined NSD after serving as chief of staff and senior counsel to Robert S. Mueller, director of the FBI. A career federal prosecutor, Carlin previously served as national coordinator of DOJ's Computer Hacking and Intellectual Property program and as an assistant U.S. attorney for the District of Columbia, where he prosecuted cases ranging from homicide and sexual offenses to cyber, fraud, and public corruption matters. Carlin received the Samuel J. Heyman Fellowship for federal government service from HLS and served as articles editor for the Harvard Journal on Legislation.