On March 5, Harvard Law School hosted the first-ever Legal, Cultural and Strategic Issues in Counterterror Operations Symposium bringing together military officers from the 3rd Legal Operations Detachment and academic scholars whose work focuses on areas of Islamic and human rights law as well as on cultural and international security issues.
More than 30 military personnel from the U.S. Army, Air Force, and Navy attended the daylong symposium, which featured presentations by faculty from Harvard Law School, Harvard Kennedy School, Boston University and Tufts. Presentations focused on the effects of war on civilian populations in areas of armed conflict; the sources and representative doctrines in Islamic family and domestic relations law; and the cultural, political, and legal issues impacting current operations in Afghanistan.
The symposium was organized by John Fitzpatrick '87, a senior clinical instructor at HLS, with assistance from Staff Sergeant Derek Piatt of the Army's 3rd Legal Operations Detachment.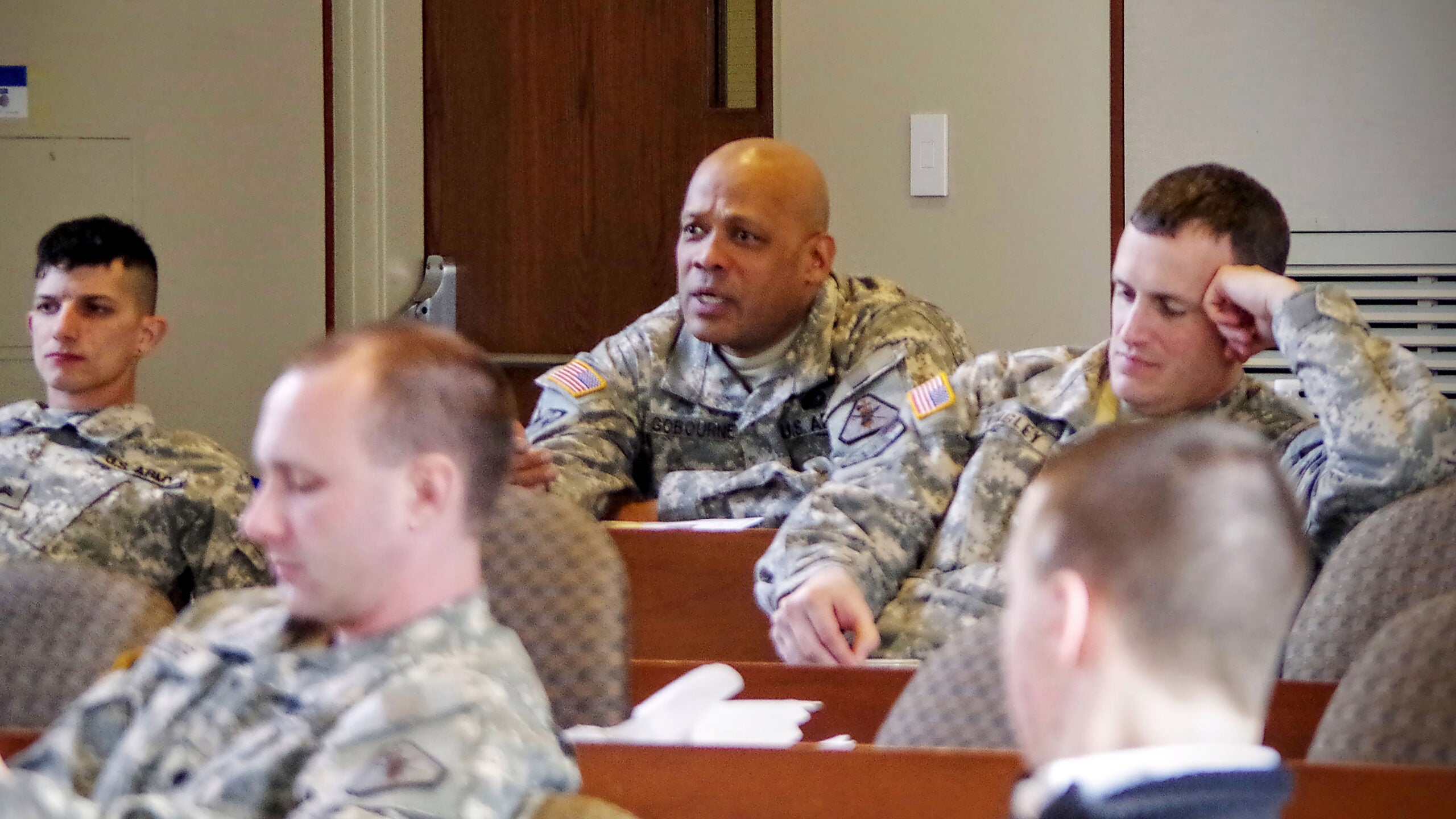 A Major in the US Army Reserve Judge Advocate General's (JAG) Corps, Fitzpatrick took a leave of absence from HLS in 2013 to deploy for an active duty tour in Afghanistan. He said he was motivated to organize the program because he believes there is a significant gap between Army JAG training and the relevant research being done in academia. "Given the increasing challenges we face in our operations around the world, we are missing a valuable opportunity if we don't do everything we can to bridge this gap," he said.
Senior Clinical Instructor and Lecturer on Law Bonnie Docherty, who teaches in the International Human Rights Clinic and is an expert on disarmament and international humanitarian law, gave a talk about her recent work, including extensive research on the law and ethics of next-generation fully autonomous (robotic) weapons systems; and a soon to be released report on legal challenges involved in the US military's current use of the hostile intent standard for use of lethal force.
Salma Mohsen Waheedi, an attorney and a visiting fellow in Middle Eastern Studies at Harvard's Graduate School of Arts and Sciences, delivered an address focused on the sources and representative doctrines in Islamic family and domestic relations law, and the customs and traditions observed in Islamic households.
Thomas Barfield, an anthropology professor at Boston University and director of Boston University's Institute for the Study of Muslim Societies & Civilization, and Emile Simpson, an Ernest May Fellow in History and Policy, International Security at Harvard University, discussed "Afghan History, Culture, and Politics and Law of War." Barfield's research focuses on problems of political development in Afghanistan, particularly on systems of local governance and dispute resolution. Simpson completed three tours in southern Afghanistan, from 2006–2012, as an infantry officer in the British Army. He wrote his first book, "War From the Ground Up: Twenty-First-Century Combat as Politics," based on his experience in Afghanistan.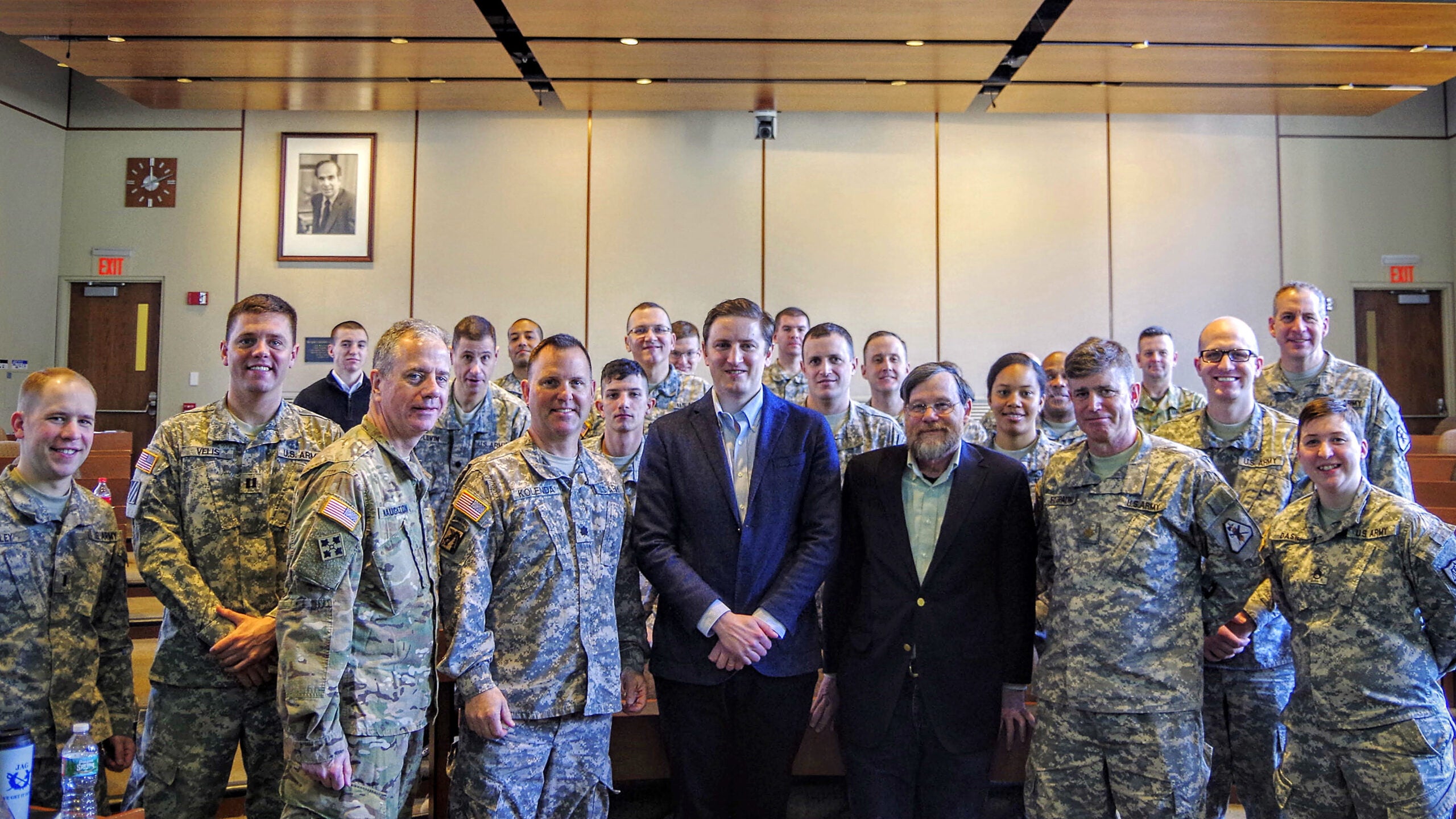 In her talk, "Civilians in Armed Conflict," Dyan Mazurana, an associate professor and research director at the Feinstein International Center at The Fletcher School, Tufts University, provided an overview of her work with the United Nations, NGOs and governments on the effects of war on civilian populations in Afghanistan and other violence-plagued regions of the world.
Fitzpatrick said he was "humbled" by the positive response he received from the attendees and participating faculty. One of the goals of the program, he said, was to overcome "a sense of mutual suspicion that can exist between the academic and military worlds."
He said the takeaway message from the day-long event was: "We should not be afraid of knowledge, even if it that means hearing from perspectives we don't agree with. More knowledge, and the free exchange of ideas on subjects of common interest, can only be to the mutual benefit of both our military and academic communities."