It's a brilliant August day in Boston, and U.S. District Court Judge Nancy Gertner, who will be joining the HLS faculty in just a few weeks after 17 years on the federal bench, is presiding over the sentencing of a minor player in a New England heroin trafficking ring. There are dozens of cases on her docket, and she's determined not to leave them unfinished when she retires and heads to HLS. Yet Gertner—unabashed feminist, outspoken liberal and author of a new book about her life, "In Defense of Women: Memoirs of an Unrepentant Advocate" (Beacon Press, 2011)—refuses to rush this morning. Not when five years of the defendant's life hinge on whether the government interpreter correctly translated a Spanish phrase caught on an FBI wiretap relating to the quantity of heroin the defendant controlled.
She calls a brief recess. Back in her chambers, Gertner—warm, down-to-earth, her scarlet suit peeking out from her robes—smiles but shakes her head. "He was an addict tester!" she says, referring to a peon in the heroin hierarchy who tries the drug to determine its quality. Yet the sentence recommended by the U.S. Attorney's Office would keep him in prison long after the kingpins are back on the street.
Back in court, she rules that the ambiguous phrase from the wiretap must be construed in the defendant's favor, meaning a shorter sentence under the sentencing guidelines. After carefully explaining her decision, Gertner gives him 37 months in prison and recommends drug treatment, then adds, "Any other sentence would be grossly unfair."
Gertner's thoughtful and outspoken approach to judging has been her trademark (along with her red dresses and suits) since President Bill Clinton named her to the federal bench in 1994. As she relates in her book, her two decades as a defense attorney in Boston, and as a self-described "revolutionary" and "radical lawyer," laid the groundwork for her judgeship, which critics describe as "activist." At the same time, those years redoubled her belief in the inherent unfairness of many aspects of the criminal justice system, including its disparate impact on racial minorities. As a professor of practice at HLS, Gertner, a prolific writer who's penned numerous law review articles on sentencing, employment discrimination, and more, will share her experiences and insights with students in courses on sentencing and other topics related to her career.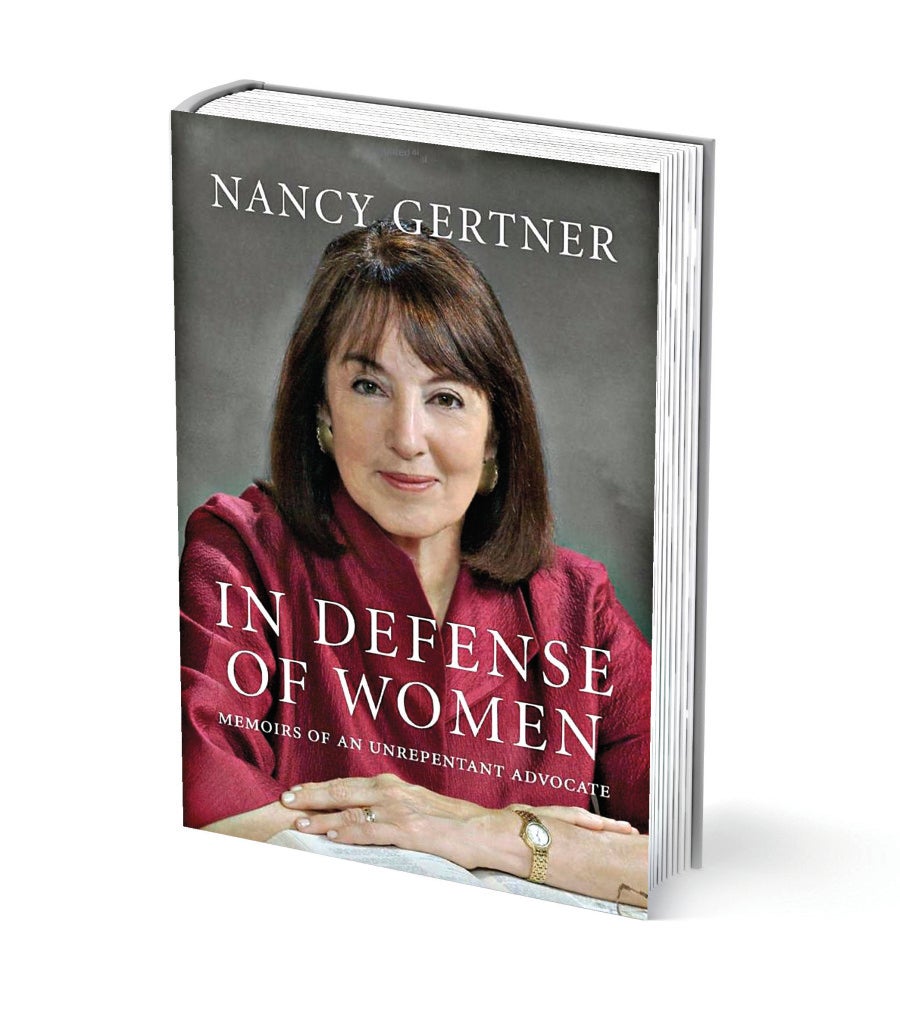 A graduate of Yale Law (where she became close to fellow student Hillary Rodham), Gertner was one of very few women trial lawyers in the early 1970s. In one of her first cases, she represented an anti-Vietnam War activist charged with felony murder in the death of a Boston police officer during a bank robbery. Gertner uses the case to describe the political zeitgeist, including the budding women's movement and her own beginnings as a girl from modest circumstances who had argued politics with her beloved father at the family dinner table in Flushing, N.Y. Although her client, Susan Saxe, eventually pleaded guilty, Gertner's advocacy in the case launched her career.
She writes in detail about her representation of Clare Dalton, an assistant professor at HLS who sued the school for gender discrimination after it denied her tenure (the case settled in 1993 when HLS agreed to fund a domestic violence program at Northeastern University School of Law founded by Dalton). Gertner's memoir also discusses other high-profile sex discrimination cases she handled, as well as a notorious murder case in which she employed a battered-woman defense (the defendant was found guilty of manslaughter, which Gertner viewed as success under the circumstances).
Gertner has more books in the works, among them a look at judging in the 21st century, which she says involves little-recognized issues including "the pressure to duck, evade, avoid making a decision, to dismiss cases rather than engage with cases." This inclination among judges to avoid controversy, she believes, is "the reverse of the activist debate."
She also wants to write another memoir, focused on an alleged gang member whom she famously befriended when he appeared before her in court, sentencing him lightly but ordering him to report to her after he was released from prison. Despite her efforts to help him, he was "executed on the streets of Boston" in a gang war, she says, and she's determined "to find out how and why he was killed."
Coming to HLS provides Gertner the opportunity for a "new adventure," she says. "I love to teach, and I have regarded talking to juries as teaching, judging as teaching. … I'm really looking forward to this."