Internationally, Victor Madrigal-Borloz is known as a determined advocate for the rights of LGBT individuals. As the United Nations Independent Expert on the protection from violence and discrimination based on sexual orientation and gender identity (SOGI), his mandate comes directly from the UN Human Rights Council. Through thematic reports, official country visits, keynote speeches, and behind-the-scenes organizing and advocacy, he diligently works to promote a rights-respecting reality for LGBT individuals.
At Harvard Law School, where Madrigal-Borloz has spent the past two years as the Eleanor Roosevelt Senior Visiting Researcher with the Human Rights Program (HRP), and has hired research assistants from across the University to aid him in his work, he has undertaken another role: mentor.

"The research assistants have been absolutely vital to the mandate," said Madrigal-Borloz. "Leading up to the report on the practices of so-called conversion therapy, for instance, a team of three students worked together to compile a literature review that transformed the process — identifying standards that would be applicable under international human rights law, but also helping us form burning legal questions that are just now being raised."
The preparation for thematic reports is intense. In addition to a literature review, the team researches and collects data, organises and digests information and supports the Independent Expert through the process of report writing. In three years as the Independent Expert, Madrigal-Borloz has produced six such reports on topics including, the impact of COVID-19, social, cultural, and economic inclusion, and data collection and management. Research assistants have been especially critical to his two most recent reports on conversion therapy and the impact of COVID-19 on LGBT persons.
Matthew Keating, a 2020 Harvard College graduate, contributed to the thematic report on conversion therapy during the 2019-2020 academic year. Keating, who is now undertaking graduate study at Oxford University, was impressed with Madrigal-Borloz's thorough research methods.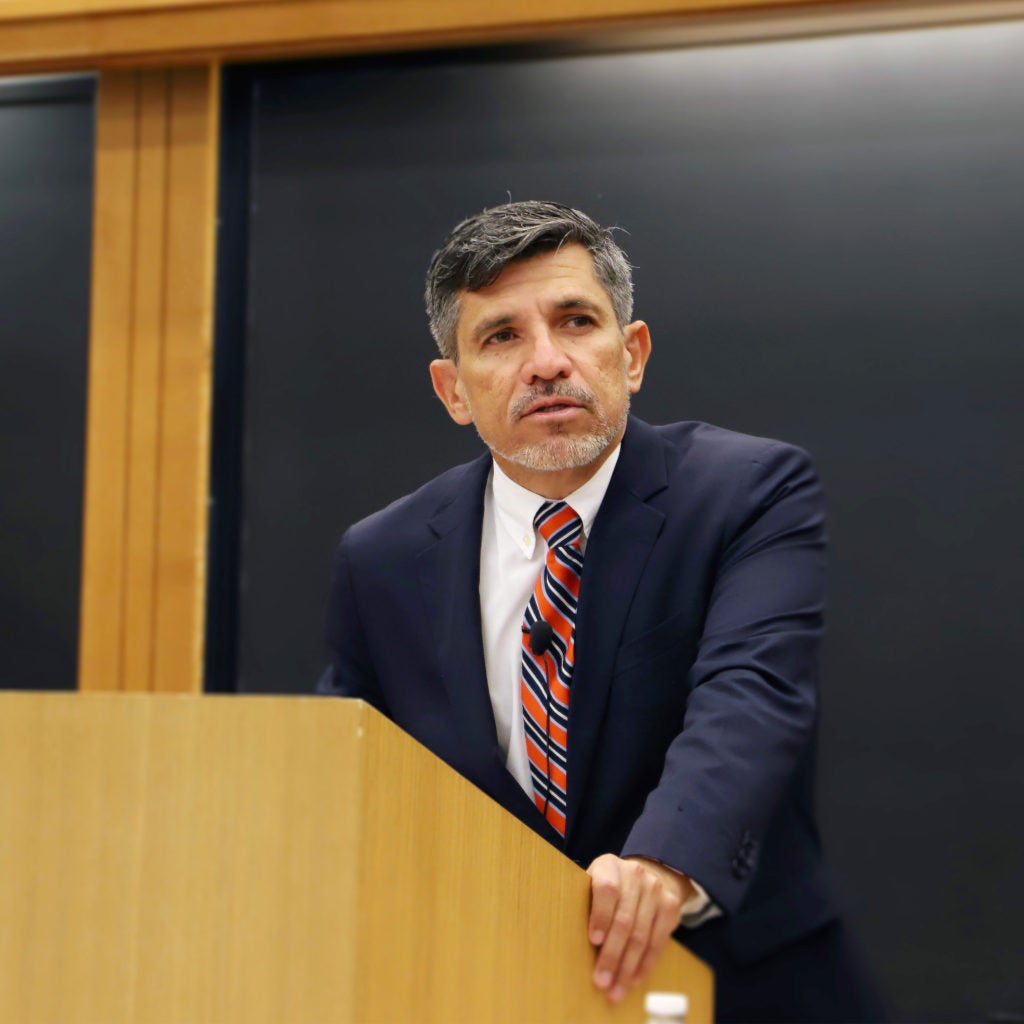 "In all of his work, Victor emphasizes intersectional diversity," Keating said. "This way, he can arrive at the right — often overlooked — questions, such as: 'How does conversion therapy impact people who live in rural areas differently? How might the practice impact people who are religious or not-religious? Or impact people who are able-bodied or differently abled? Victor takes a tremendously thoughtful approach towards social science research, which only aids him and others later down the road when translating that research into advocacy."
This intersectional and international emphasis is deliberate. Gaining access to Harvard's libraries was an incredible boon, but Madrigal-Borloz still found himself struggling to diversify his sources.
"Even having access to what I think must be one of the most comprehensive knowledge bases in the world, I've also become acutely aware of the limitations of knowledge available in relation to the lived experiences of people in the Global South. Every time we do a literature review or background note, it becomes immediately evident how much more we know about the lives of people in the Global North. Their lives and statistics are so much more well documented and researched upon," Madrigal-Borloz said. "Aware of this, I have a new goal for the mandate: to make this vast asymmetry known, and in exposing it, hopefully rectify it, to the extent that I can."
Madrigal-Borloz became affiliated with the Human Rights Program in 2019, after visiting for a talk about his mandate. He had been searching for an academic home that would allow him to ground his work in research and theory.
"A political home harnesses the energy surrounding the mandate towards a set of goals. I saw an academic home as providing a space for objective analysis of the state of law and the state of discrimination and violence. Politics would give me traction but academia would give me grounding," he said.
In his time at HLS, Madrigal-Borloz has contributed generously to the culture and scholarly conversation at HRP.
"He has contributed key insights to our projects and has made HRP a partner in some of his own," said Gerald Neuman, HRP co-director and J. Sinclair Armstrong Professor of International, Foreign, and Comparative Law. "HRP's ongoing exploration of the law of indirect discrimination has encompassed two workshops this year in which Victor's leadership has been essential. His creativity and energy are extraordinary."
In February 2020, HRP also hosted a private workshop to gather input for Madrigal-Borloz's report on conversion therapy. The event included survivor-advocates, scholars, and government representatives from around the world.
Desmond (Long Lam) Chu LL.M. '20 collaborated with Keating and S.J.D. student Eric Gitari on the conversion therapy report and attended the expert meeting. He described Madrigal-Borloz as a conscientious and knowledgeable teacher who encouraged different opinions and showed a great deal of empathy to his students. Working for the Independent Expert was eye-opening, he said.

"What struck me the most were survivors' accounts of these [conversion therapy] practices. I admire their courage in battling their trauma and speaking out about their experiences," Chu said. "At the same time, I am pleasantly surprised that many groups around the world are coming up with different and often creative ways to combat these practices. I believe Victor's work in bringing together diverse expertise and invoking the international human rights mandate will make a difference for the people still facing these horrific cruelties."
Samuel Bookman, an SJD student and current research assistant, emphasized the uniqueness of the Independent Expert's collaborative and deliberate approach.
"It's certainly influenced the way I think about how to effect change within the UN system." Bookman said. "It's probably the most careful and considered process that I've seen from someone in that position. This way of operating brings a lot of people together and makes it much more likely that his ideas will receive widespread support."
Courtney Dougherty '22 began working with Madrigal-Borloz in the fall after spending her summer with the International Lesbian, Gay, Bisexual, Trans and Intersex Association (ILGA). This opportunity has been particularly enlightening for her as she considers her own career trajectory.
"As someone who's considering a career in human rights and activism, learning how to understand opposition is really important," she said. "I've always known that we're going to be working against people that are anti-LGBTQ rights, but working with Victor has given me a glimpse of how interconnected the broader movement against so-called "gender ideology" is. The anti-LGBTQ rhetoric is entwined with anti-feminist rhetoric and anti-abortion rhetoric. The opposition has really coalesced into one big behemoth force, and understanding the interconnectedness of this has been central to our work."
Dougherty, who is an active member of HLS Lambda, explained that she's learning how to create a strategy that takes this behemoth force into account. Education is a critical component, for instance, in turning opponents into allies.
Prior to the pandemic, Madrigal-Borloz devoted a good deal of his time to exposure, education, and awareness. He believes giving talks around the world, meeting with NGOs and advocates, and visiting countries where he could take stock of the religious, public, and government attitudes toward his mandate helped with de-stigmatization, inclusion, and antidiscrimination. Madrigal-Borloz had become used to a certain way of operating—one that included a different continent almost every week. That all changed in March 2020.
"COVID-19 has meant I have had to realize a new way of working: some of it is reproducible online, but much is not," Madrigal-Borloz said. "A lot of the information I glean happens in moments of human interaction. People have to feel safe to talk. That can't happen on Zoom, where people are scared of being recorded or quoted."
Madrigal-Borloz has accepted this new reality. Instead of trying to replicate methods that worked in person, he realized what he could do: research. Rather than concentrating on one thematic report at a time, as he had previously done, he decided to launch work on all seven reports he plans to produce in the next three years: gender equality; the right to health and the Sustainable Development Goal 3; colonialism; religion; violence; discrimination; and conflict, peace and security.
"COVID-19 has helped us see how themes surrounding violence and discrimination are interconnected. By working simultaneously in all of these areas we will be able to actually identify the interconnectedness of issues such as religion and colonialism and limitations to the right to health, and the understanding of gender identities, all of which are actually, in my view, quite inextricably connected," Madrigal-Borloz said.
Madrigal-Borloz's mandate was renewed for another three-year term in July 2020, and he will continue his affiliation with HRP through 2023.
Thankfully, he has a large team of students ready to rally.
---
Related Reading