William P. Alford '77, the Jerome A. and Joan L. Cohen Professor of East Asian Legal Studies at Harvard Law School, received the Li Buyun Law Prize from the Shanghai Institute of Finance and Law, a leading Chinese academic society. This year's award ceremony was held on Dec. 8, 2018, at Guangdong University of Finance and Economics.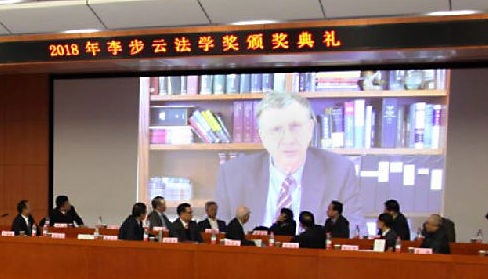 Established in 2013, the Li Buyun Law Prize recognizes organizations and individuals who have made "eminent contributions" to Chinese and foreign law research, and legal education exchange. Each year, one Chinese and one non-Chinese prize recipient is selected to receive the Li Buyun Law Prize, the first Chinese legal award that recognizes foreign individuals and institutions.
Alford, who serves as vice dean for the Graduate Program and International Legal Studies and director of the East Asian Legal Studies Program at Harvard Law School, was recognized for his legal scholarship, his decades-long work leading educational exchange programs, and his significant contribution to disability rights issues in China. Alford received the prize this year along with Professor Albert H Y Chen LL.M. '82, Cheng Chan Lan Yue Professor in Constitutional Law at the University of Hong Kong Faculty of Law.
Professor Han Dayuan, former dean of Renmin University of China Law School, delivered a speech to honor laureate Alford. Han praised Alford's longtime contribution in "leading, organizing and coordinating the study of East Asian law" in the United States and noted that his monograph "To Steal a Book is an Elegant Offense: Intellectual Property Law in Chinese Civilization" is considered "a classic." Han, who was a visiting scholar at Harvard early in his career, took particular note of Alford's decades-long work intended to foster Chinese legal development and promote disability rights. "Professor Alford," he said, "devotes himself to nurturing young scholars from Asia and promoting the academic vision and research ability of young scholars," and has worked extensively with Renmin and other PRC law schools to promote disability rights.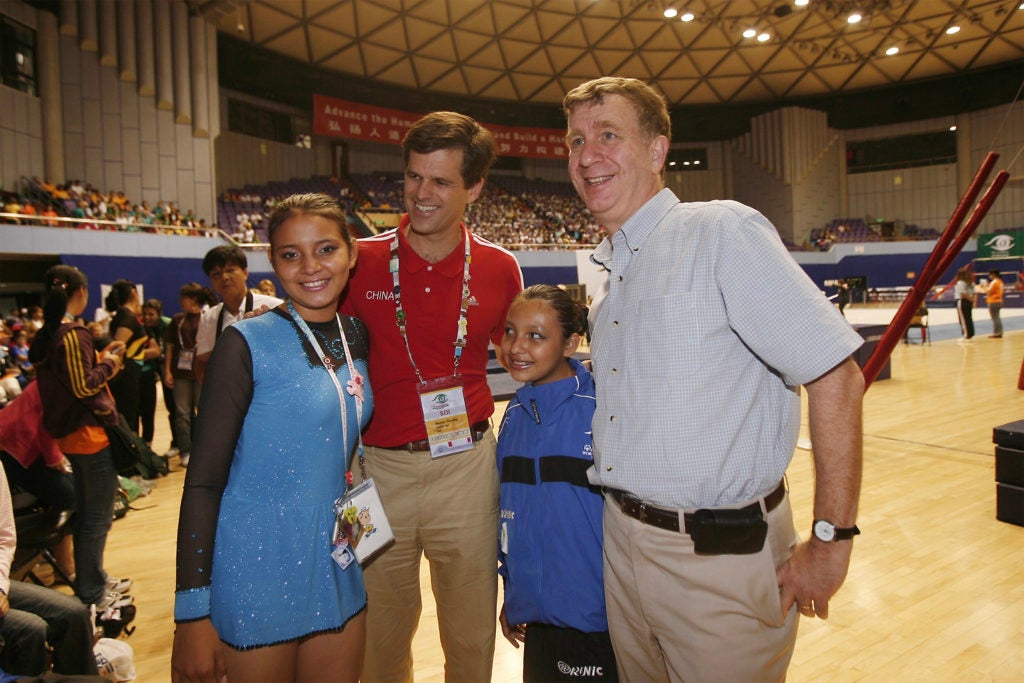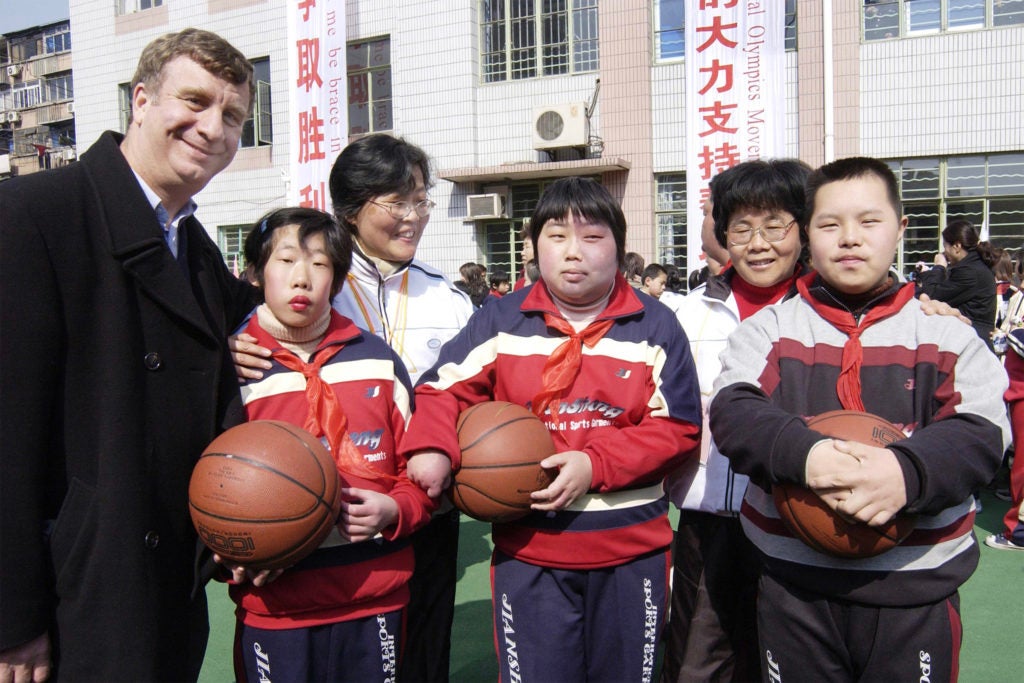 The Li Buyun award committee, which consists of 16 experts and scholars of law, bestows a stipend of nearly $22,400 (RMB150,000) to each recipient of its annual prize. Alford, who has a long-standing association with Special Olympics International, which elected him to its board in 2005 and where he now serves as its Lead Director and Chair of its Executive Committee, chose to donate 100% of his stipend to Special Olympics China in support of its work. Special Olympics provides an array of health, sports, educational and other services, all without charge, to persons with intellectual disabilities in over 175 nations.
With Professor Michael A. Stein '88, in 2004 Alford founded and now serves as Chair of the HLS Project on Disability—which works on a pro bono basis on disability law and policy in China, Bangladesh, the Philippines, Vietnam, Israel, and the United States, among many jurisdictions. With Chinese colleagues, in 2007 they organized China's first ever conference on disability rights and law, drawing experts from around the world, and from that published a book concerning different institutional approaches in disability policy and law. HPOD's leadership (which also includes Alonzo Emery '10, Dr. Cui Fengming and Juliet Bowler), has worked with Chinese colleagues at Renmin to establish China's first clinical and podium courses on disability law and to ensure that disability rights are a regular part of a pioneering electronic class that Alford and Emery teach with Renmin Professor Guo Rui S.J.D. '13 that brings Harvard and Renmin students together to probe challenging issues in the US-PRC relationship, including trade and investment, rights, climate change, and more. Alford and other HPOD personnel also are engaged in a range of other activity, including working extensively with persons with disabilities, fostering family support networks and publishing both scholarly and more popular materials on disability issues concerning China, the U.S., and elsewhere.
In addition to "To Steal a Book is an Elegant Offense," Alford's books include "Raising the Bar: The Emerging Legal Profession in East Asia," "Prospects for the Professions in China" (with Kenneth Winston and William Kirby), "残疾人法律保障机制研究 A Study of Legal Mechanisms to Protect Persons with Disabilities (with Ma Yu'er and Wang Limin)," and "Taiwan and International Human Rights" (forthcoming with Jerome A. Cohen and Grand Justice and former National Taiwan University law school dean Lo Chang-fa S.J.D. '89). In addition, he has published numerous articles on China, international affairs, and disability.
A founder in 1982 of the Ford Foundation funded U.S. Committee on Legal Education Exchange with China, Alford has worked to promote legal education exchange between China and the United States. He has helped facilitate hundreds of talented Chinese scholars coming abroad and many U.S. students going to China. "I am especially proud of the commitment that Harvard Law School has made to admit the very best students from China (and elsewhere) on a need blind basis and to provide the financial aid needed so that they could attend," said Alford.
In the early 1980s, Alford worked with Chinese and American colleagues to establish the first academic program on U.S. law in the PRC and recruited for it leading U.S. legal academics, including Cass Sunstein '78, Robert Walmsley University Professor. Alford is a member of the United States Council on Foreign Relations and the National Committee on U.S.-China Relations, holds an honorary doctorate in law from the University of Geneva, and in 2015 received the Harvard Law School Association's annual award, among his many honors here and abroad.
The Li Buyun Law Prize is established in honor of Li Buyun one of China's outstanding jurists and the co-founder of Shanghai Institute of Finance and Law. Alford said he was humbled to be recognized with a prize named in honor of Li, whom Alford describes as a historic figure devoted to advancing respect for law.
"I first met Professor Li some 35 years ago," said Alford. "Li Buyun was the co-author in the immediate aftermath of the Cultural Revolution of the first article to try to distinguish law from politics within the setting of Chinese socialism. I have been pleased to use parts of it in my own teaching materials at Harvard."