Shortly before graduating nearly 10 years ago, Andru Wall LL.M. '10 and Saeeq Shajjan LL.M. '10 spoke to the Bulletin about their joint connection to Shajjan's home country of Afghanistan. Since then, their paths have mostly diverged. Shajjan went back to Afghanistan. Wall, who before attending HLS had served in the country for the U.S. Navy as general counsel for U.S. Special Operations Command Central, entered civilian life in the United States. Recently, however, their paths crossed again and they saw each other for the first time since their HLS days when Wall returned to Afghanistan for a nearly yearlong stint. During that time, the classmates met regularly and got reacquainted. Shajjan, said Wall, "helped me understand Afghan dynamics quite a bit." The Bulletin caught up with them to talk about their lives since graduation and their work to bring progress to Afghanistan.
Saeeq Shajjan
When he was studying at HLS, some of Shajjan's friends and family members back home advised him to stay in the United States and start a new life there. He returned home, however, because he believed he could make a greater impact there than in the United States.
Since then, he has practiced law, first working with the government and soon thereafter launching his own firm, the first native Afghan to do so, he believes. The firm has now grown to more than a dozen lawyers, whose work ranges from representing international clients who operate in the country to helping indigent Afghan women who were abandoned by their husbands resettle in European countries. As one of the country's few qualified arbitrators, he has given presentations on arbitration to Afghan lawyers and government officials and has prepared students for moot arbitrations.
While he often travels abroad for his business and for speaking engagements, Shajjan also mentors the next generation of Afghan lawyers, offering internship and training opportunities as well as volunteering for an organization that helps local lawyers study abroad.
"I want to make sure they have guidance so we have a better pool of lawyers in the country, and ultimately the better pool of lawyers will help the judicial system get reformed," he said. "Once you have a better judicial system in the country, I think that will be the solution to a lot of problems we have right now."
While he expresses hope for the future because of increased educational opportunities for young Afghans, he acknowledges that the judicial system, public services and security in the country remain substandard. "We get a lot of money from the international community—billions of dollars—but when you look at the results of how much we've benefited from that money, it's really disappointing," said Shajjan.
He is concerned for his own safety but particularly that of his family. He restricts his in-country travel to Kabul; for several years, he has not felt safe enough to travel back to his native village, which is in territory currently controlled by the Taliban. Still, he says his family is blessed, particularly when he compares their lives today with his own experiences growing up. His three children all go to the same private school. His wife too has now gone back to school after being prevented from pursuing an education under the Taliban regime. When his children get older, Shajjan hopes they may have the opportunity to travel abroad for higher education, and then come back and do something beneficial for their people.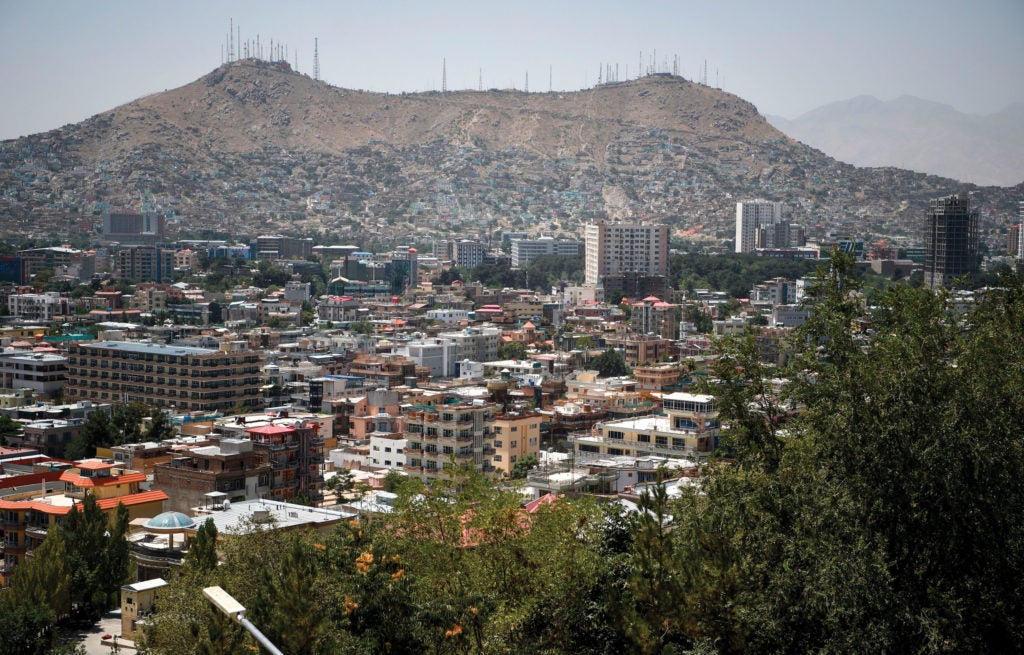 Andru Wall
When Wall went to HLS, he was no longer an active-duty serviceman. But, years later, duty would call again.
At the time it did, in 2018, he was working as a senior cyber, privacy, and data attorney for USAA, a company that offers financial products to military members and their families, and raising two children in North Carolina. As a reservist, he could always be "involuntarily mobilized," and that's what happened when the Navy needed someone with his background and skills: a Judge Advocate General's Corps commander with a top-secret clearance and operational experience. It was not easy to leave his children for an extended period, particularly when his son asked him if he really had to go.
"I told them this was something I believed in and if [the Navy] needed me, I was going to go," said Wall. "And I was going to serve honorably, and we were going to get through it."
When he arrived in Afghanistan, he served as deputy legal adviser to Army Gen. Austin "Scott" Miller, commander of all U.S. and NATO forces in Afghanistan, and managed an office of lawyers who provided advice to U.S. and NATO commanders. Later Miller would ask him to serve as legal adviser to the U.S. team, led by Ambassador Zalmay Khalilzad, negotiating a peace agreement in Qatar with the Taliban. What made the negotiations most challenging, Wall says, were the high level of distrust on both sides established through years of fighting and profound cultural differences that continued even during the talks.
"There were several times when [Taliban attacks] would happen I'd have to remind myself that the goal of this negotiation is to end the killing," said Wall. "So you have to look past the day-to-day killing and focus on the fact that the goal is to try to end it permanently." (Wall could not discuss the details of the negotiation, but according to news reports, in September the top U.S. negotiator announced a deal "in principle" that would have withdrawn U.S. troops from Afghanistan in exchange for assurances from the Taliban that it would not allow the country to be used as a base for attacks against the U.S. and allies; the deal was canceled by President Trump shortly thereafter.)
Wall was heartened by what he saw as the genuine desire for peace among the Afghan people, shown through local peace marches, and his belief that Afghan security forces have improved their effectiveness. After 18 years of conflict, resolution will not come through military means, he said: "We can keep the status quo and we can keep killing each other for several more years, or we can sit down and try to figure out a way to resolve it politically."
He is glad to be back home, where he no longer has to communicate with his children through video chat. But he appreciated the sense of mission and camaraderie that he experienced on the deployment, which bond those who serve. At the time of the interview, he was looking forward to a backpacking trip with fellow veterans in the Colorado Rockies. And then back to his regular life, at least until the next call of duty comes.