Speaking to new students at Harvard Law School, Associate Justice of the U.S. Supreme Court and former Harvard Law School Dean Elena Kagan '86 shared some advice on how to navigate law school.
The best way to approach law school is to be "an active go-getter and to try to speak law," said Kagan. In a lively conversation with HLS Dean John F. Manning '85, she discussed being a Harvard law student, professor and dean, Solicitor General of the United States, and – her favorite job of all – U.S. Supreme Court Justice. "I can't think of anything I'd rather be doing," she said. "It's bliss to read and talk and write about the law. They're questions that matter."
Kagan recalled her own first days at Harvard Law School in 1983. "I was really nervous," she said. She found the courses intellectually challenging and difficult, with a "puzzle-like quality."
She recalled being the first one in her section who was "cold-called," when Professor Abram Chayes called on her in Civil Procedure. It helped her get over her fear of speaking in class very quickly. When Kagan became a law professor herself, she regularly used the Socratic method and cold-called on her students. "It helps people be an active participant – not just a note-taker," she said.
Kagan advised the audience of 1Ls and graduate students to be sure to make friends at HLS. "You will learn as much from your fellow students as from the faculty," she said.
"Make an effort to get to know at least one member of the faculty in your first term. It might require knocking on a door," said Kagan, but she strongly recommended seeking faculty out during their office hours.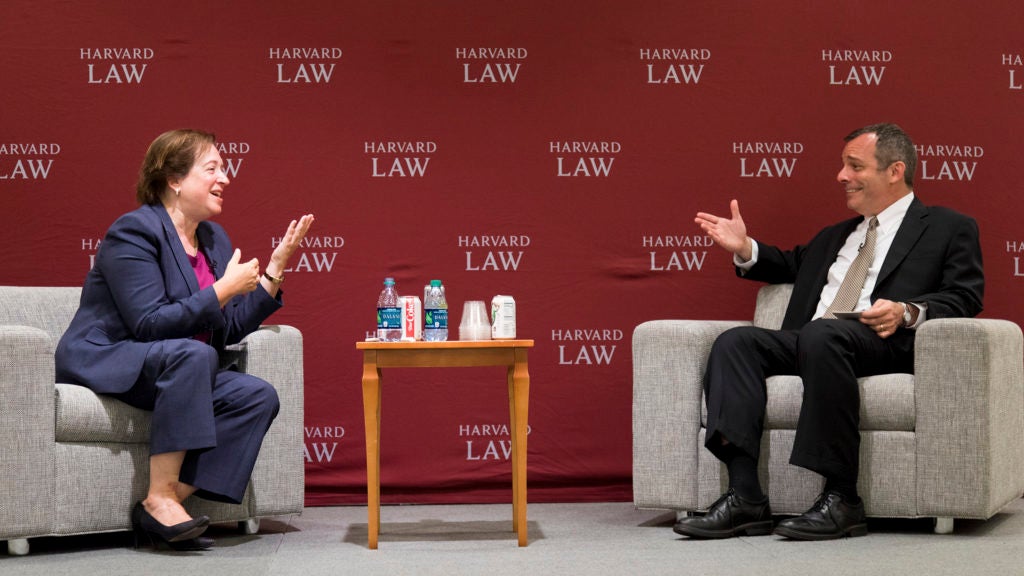 Lastly, she advised students to challenge themselves. "Do things other than the ones you know you're interested in and that you know you'll be good at," she said. Harvard Law School has an incredible diversity of experience and academic resources and she counseled students to take advantage of them.
One of the great things about HLS, Kagan said, is that people with many different voices find they can learn from each other. "The world is boring when it's an echo chamber," she said.