In an interview with Rahim Kanani, a research associate at Harvard University's Hauser Center for Nonprofit Organizations, Amaka Megwalu '10 discusses her insights on the aid industry in Africa and the Gacaca Court System in Rwanda. Megwalu has worked on development and post-conflict reconstruction in Rwanda, Democratic Republic of the Congo, Senegal, South Africa and Tunisia. She is the principal author of "Dilemmas of Justice and Reconciliation: Rwandans and the Gacaca Courts" in African Journal of International and Comparative Law, 2010 (with Neophytos Loizides). Megwalu and Kanani's interview was featured on the Hauser Center's homepage on August 6, 2009 and is reprinted below.
Rahim Kanani – Hauser Center: Given your experience in development and post-conflict reconstruction in a number of African countries, how would you characterize the relationship between the international aid industry and the pursuit or delivery of justice?
Amaka Megwalu – Harvard Law School: There are different perspectives on the relationship between the international aid/development industry and the pursuit of justice.
For some, the international aid industry is a form of international social justice. On a grand scale, its aim is to attain social equality through alleviating poverty and mitigating the effects of conflict. Aid/development workers attempt to empower communities by supporting health clinics, organizing community elections, and providing management & financial support to local non-profits.
For others, particularly some non-expatriate staff, the aid industry itself is perceived as unjust. These staff members point to significant discrepancies in salaries between expatriate and national staff even when it seems that both do similar work. They point to a practice of systematically treating expat and national staff differently. They note the custom of having most management positions filled by expat staff. And they note the sometimes relatively lavish conditions in which expat staff live.
But even those who grumble seem grateful for the opportunity to contribute in some way to the development of their communities. They are grateful for their relatively well paid jobs. They recognize that circumstances necessitate the presence of international development agencies, with all of their imperfections. As a national staff colleague said to me in the Democratic Republic of the Congo (DRC), 'no self-respecting nation should have droves of expatriates working in its public sector. It is humiliating in many ways, but for now it is necessary in the DRC.'
There are no easy solutions to these problems, whether one recognizes them as serious issues or merely misperceptions. As an expatriate, I often felt uncomfortable with the preferential treatment I was given, yet I may never have accepted a position in an unstable and volatile country without the assurance that the agency would assure my safety and provide comfortable living conditions. As expats, we are accustomed to a certain level of comfort, salary, and sometimes a presumption of safety. In addition, many of my colleagues had obligations to attend to in their home (usually Western) countries, so what seems like a lavish salary may be merely respectable by home standards. Similarly, apparently generous living conditions relative to the host-country average may be simply decent to expatriate staff members. Differential treatment may be due to a perceived greater risk to expatriate staff than to national staff who are presumably more familiar with (and thus safer in) their own country. It may also be due to a real or perceived lack of local competence and/or endemic corruption in failed host states. Of course there are abuses, and some international agencies are better than others at mitigating perceptions of injustice within their organizations.
While there are no easy answers, we may perhaps learn from our observations. In my experience, the development industry is more successful where there are fewer expatriate staff members and development agencies are smaller and focused on one or two programs. It is more successful where national staff members are given more management responsibility for development programs and expatriate staff members serve in more support/advisory roles. Admittedly, these more successful development programs are invariably in smaller, more stable countries like Kenya, Uganda, Senegal, and Rwanda. International development agencies in countries like the DRC face greater logistical challenges, yet I believe that these simple principles (smaller, more focused, and fewer expatriates) remain instructive.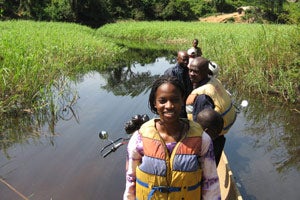 At the very least, beginning to discuss these perceptions of injustice is a good start. Because communication leads to greater understanding, development agencies may want to consider encouraging more openness about these issues and actively attempting to debunk any false myths. In international justice, appearances do matter. An effort by development agencies to address such perceptions, where they exist, is in itself a leap towards greater justice.
RK: With a number of justice initiatives implemented in Rwanda following the 1994 genocide, and given your analysis of the Gacaca court system, what are some of the key points of contention when comparing the various justice mechanisms, and should community-run conflict resolution programs be institutionalized in the broader system of international justice?
AM: I would say the most important factors to consider in comparing justice mechanisms are the mechanism's potential to foster participation by affected persons, and the ability to recognize faults on both sides of the conflict. In Rwanda, I found that regular participation in local justice systems was significantly associated with more positive views towards justice processes and the potential for long-term reconciliation. I also found significant misgivings about the treatment of crimes committed by the Rwandan Patriotic Front (RPF), currently the ruling party. It was clear that the perception that justice efforts were one-sided and a sense of Hutu alienation from the justice process were significantly hampering efforts at justice and reconciliation.
I definitely think that local systems of justice should be institutionalized within the broader system of international justice. Often, international justice mechanisms are better than local initiatives at recognizing faults on both sides of a conflict. However, local initiatives are much better at encouraging public participation and fostering reconciliation. Combining both mechanisms (and others where relevant) provides a powerful method of contributing towards justice and reconciliation.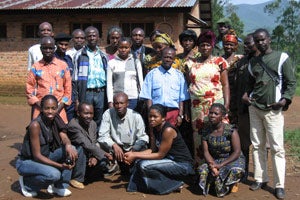 Local justice initiatives are especially important due to their physical and cultural proximity to affected communities. The greatest harm to communities in conflict is the destruction of the social capital and trust that binds communities together and on which families thrive. Thus any justice effort that does not take relationships into account is of limited value to those to whom it matters the most. Institutions like the ICC, though grand and ambitious, often have little meaning to ordinary people in the places most affected by conflict. For instance, people may appreciate the arrest of persons like Thomas Lubunga of the DRC (currently held by the ICC), but if his arrest does nothing to rebuild trust in affected communities, and/or does nothing for the lady who lost a son to his brutal tactics but never gets to hear/see him account for his crimes, then little has been gained on the ground.
Perhaps international justice mechanisms like the ICC may take these considerations into account and put a greater effort into publicizing their proceedings and/or transporting victims and witnesses to the trial site. However, the physical, emotional and cultural distance of these international institutions to affected communities makes a true impact on affected communities difficult. Recognizing and incorporating local justice systems into the broader system of international justice is crucial to truly making an impact on affected communities.