With the next presidential election just around the corner, a group of Harvard Law School students is mobilizing eligible members of the community to register, engage, and vote in November. The Equal Democracy Project (EDP) is one of Harvard Law School's 93 active student organizations. Its aim is to "dismantle the political barriers to democracy in the United States." EDP is run by 14 student staff members and maintains a total membership of over 200 HLS students across class years.
Harvard Law Today recently corresponded with the group via email about its founding and about projects it is working on, including voter registration. This is the first in the recurring "Life at HLS" series, which will focus on student organizations, journals, and student practice organizations at HLS.
---
Harvard Law Today: What is the Equal Democracy Project?
Equal Democracy Project: The Equal Democracy Project is a student organization at Harvard Law School dedicated to serving as a gathering place for students interested in the law of democracy. We endeavor to promote learning about the various issues ailing our democracy today, focusing on five issue areas: voting rights, money in politics, gerrymandering, electoral reform and administration; and civic engagement. EDP is run by 14 [student] staff members and maintains a total membership of over 200 HLS students across class years.
HLT: Why did you start EDP?
EDP: The idea to start the Equal Democracy Project came when President Mark Haidar JD/MPP '23, upon arriving at Harvard Law School last fall, discovered that no student organizations existed on campus that were dedicated to the law of democracy. With Chief of Staff Omeed Alerasool '22 joining as co-founder, EDP officially started in September 2019 after they assembled a team of first-year students passionate about democracy, voting rights, and election law. The fall semester was spent primarily planning the vision and foundation of the organization. In January 2020, EDP held its "public launch" event, which was attended by over 80 HLS students.
Our organization seeks to achieve its vision through six committees: Policy, Civic Engagement, Events, Communications, Membership, and Finance. Together, these committees work to engage students in election law issues, instill a culture of civic engagement at HLS, and connect members to legal and policy research projects with nonprofit organizations in the democracy space.
HLT: One of the projects you're currently working on is voter registration. How are you doing this while we're all remote?
EDP: We held a week-long voter registration drive at the start of February, which was quite successful and a great way to introduce our organization to the HLS community. Since the beginning of the pandemic, we have worked to transition our voter registration work to a virtual platform. For example, our website and social media accounts provide key information on registration and absentee application deadlines.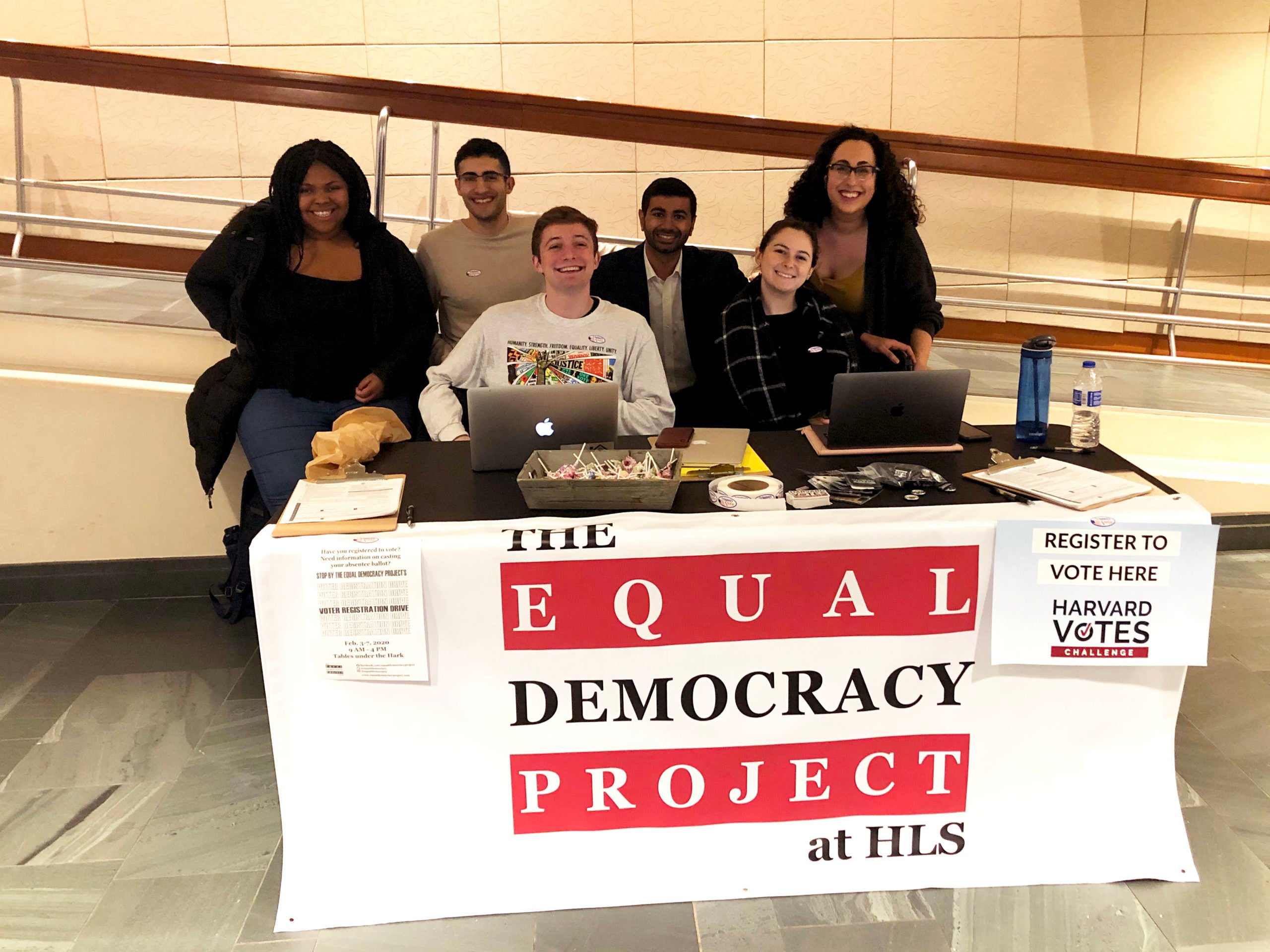 We also worked with HLS faculty members this summer to coordinate resources for the entirety of the faculty to share with their students and/or integrate into their teaching at the start of this semester. We call this our "Ready to Vote" initiative, because voting, especially this fall, is about more than simply registering. We want to make sure everyone checks their registration, updates it as necessary, applies for absentee ballots if they wish, and is aware of all relevant deadlines and requirements for their respective states. These are the steps it takes to be truly ready to vote this November, so it is important to stress each step. We created a graphic (see below) for our faculty engagement letter which has been circulated by many faculty members to their students.

Meanwhile, we are also working closely with the Harvard Votes Challenge, a coalition of students, faculty, and staff across Harvard University with the goal of reaching 100% voter engagement across all graduate schools and the College. Through our work with HVC, we have been recruiting other HLS student organizations to "Pledge to 100%" voter engagement, and we are currently preparing e-canvassing resources for these HLS organizations to utilize to ensure that eligible members are ready to vote.
We also successfully advocated for the addition of the voter registration link to the front page of Helios [the online system at HLS for class registration] and have worked with the Office of Clinical Programs to develop a number of voter protection and election observer opportunities for which student volunteers may be eligible for pro bono credit.
HLT: What are your plans as we get closer to Election Day?
EDP: We'll be rapidly stepping up our civic engagement efforts, from our "Ready to Vote" initiative to providing a variety of election protection and poll working opportunities. Notably, we have been in contact with the Cambridge Election Commissioner regarding the city's needs for poll workers and other volunteers for the upcoming election. At the same time, we'll be hosting several timely events, including an event series with state Secretaries of State on vote-by-mail efforts.
HLT: Why is it important to vote, even if your preferred candidate isn't on the ballot?
EDP: Voting is a unique activity; voting lets you voice your preferences in matters that will impact your life and the lives of others. While a single candidate is unlikely to reflect every one of a voter's preferences, exercising our voting rights is the only way to channel our voices into the democratic system, as flawed as it may be, to create more optimal outcomes for all of us. Each election is about selecting the candidates that will determine the direction in which you want your community to go—whether at the local, state, or federal level. That said, vote at every level. Local and state elections impact our day-to-day lives; voting isn't just about the presidency or Congress. Vote for city council, vote for state legislatures, vote for Congress, and vote for president.
Generations of people—activists and dreamers—around the world have fought hard and sacrificed their lives for the right to vote. And as history shows, that hard-fought right can be fleeting. We cannot let these efforts go in vain by failing to exercise our right to vote—and we must continue to carry this work forward by challenging all arbitrary barriers that prevent Americans from having their voices heard. Failing to exercise your right to vote, in effect, is to relinquish to someone else your power to decide your future. A democracy can only be as strong as the citizens who participate in it.
HLT: How can HLS students get involved with the Equal Democracy Project?
EDP: Sign up for our mailing list, join a committee, and get started!
Upcoming events for the fall 2020 semester include documentary screenings, a vote-by-mail event featuring state Secretaries of State, and career networking opportunities.
Visit our website and listen to the podcast we released with the Harvard Civil Rights-Civil Liberties Law Review. You can also follow us on Instagram, Twitter, or Facebook.