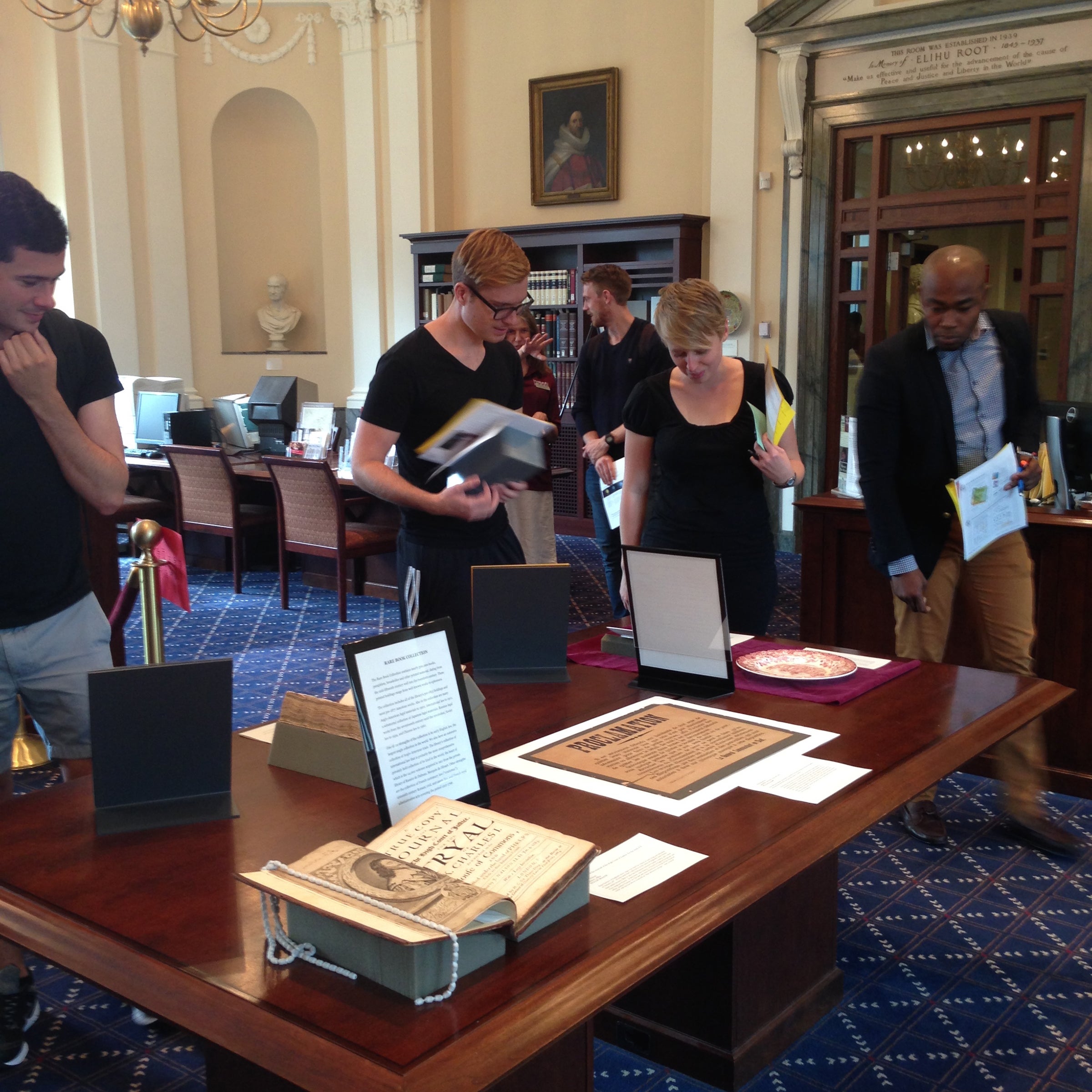 Our collections exceed over two million print volumes, including over 200,000 rare books and the primary law from 236 jurisdictions across the globe, giving us the ability to claim the title of "Largest Academic Law Library in the world." Our staff, programming, and services bring real meaning to our claim. Each year, the Law Library brings people together to engage with the big ideas that make the Harvard Law School such a rich environment to learn and work in.
We are a learning organization, but we know how to have a good time. We kick off the academic year with Love Your Library Fest (LYLF), where students navigate the library's spaces and meet the many staff who help bring the Library to life. During LYLF, students learn about our services, collections, programs, and the rich history of the Law School – all while gathering prizes, snacks, and meeting our team. We also invite you to join us in late October for a Haunted Halloween Tour of the library, featuring a scary glimpse into the more macabre side of our collections and history.
Each year we feature a curated exhibit in the Caspersen Room – which explores a unique topic or items from our special collections and rare books. This year's exhibit is Visualizing Capital Punishment: Spectacle, Shame, and Sympathy. Throughout the year we will offer exciting programming on themes related to capital punishment and the exhibit. We hope you will visit our exhibit and join us at the programs.
Later in the Fall, we invite students with the spark of an idea for a research paper to visit the Reading Room for Notes and Comment – where faculty meet with students 1:1 or in small groups to talk about writing ideas and projects and explore the scholarly publication side of academic life.
We love learning with and from our students. Each year we host Ideas Salons, a forum for current HLS students to share and discuss their work beyond the classroom. During an Ideas Salon we may hear from a student author discussing their newest published book, hold a talk on recent student research projects, or gather to discuss an emerging issue of the day. We also invite students to help us plan events, such as our 2019 Banned Books lecture series featuring speakers from both inside and outside Harvard.
You will often see us in the Hark holding Lightning Lessons – where you can get a quick research lesson from our staff, HLS Library swag, and a free donut, all in 5 minutes. You will also meet our librarians in clinics and classes where we share the tricks of our trade – researching the law and beyond. Meet our librarians on Zoom or in person for 1:1 research consultations. You can even set up a group instruction session. For those who prefer to learn by reading, our library guides might be exactly what you need to kick-start your research. Throughout the year, we sponsor Faculty Book Talks during the lunch hour, where faculty and panelists discuss recently published works, followed by audience Q&A. The topics are as varied as our faculty, and run the gamut from deep dives into particular areas of the law, to biographies, histories and social critique.
These are just some of the many ways the library staff builds connections to our deep library collections and the people and ideas that make the Harvard Law School an exciting place to be. We are glad you are part of our community and we look forward to seeing you soon!