Follow these instructions if your computer freezes or crashes during an exam.
Do NOT end your exam, nor exit out of Exam4 (even if you are able to).
Follow these instructions to get back into your exam after a computer crash, freeze or other unexplained event. Because Exam4 saves your exam every 2 minutes, you will be able to get back into your most recent version of the exam.
These steps should not take more than 5 minutes. If you re-start your exam in the exam room and take up to 5 minutes, you will not get this time back at the end.
Step one
Turn off your computer without exiting or ending Exam4. You may need to hold down the power button to get your computer to completely turn off.
DO NOT END YOUR EXAM. YOU WILL NOT BE ABLE TO ACCESS WHAT YOU HAVE PREVIOUSLY WRITTEN IF YOU END THE EXAM.
Step two
Re-start your computer.
ON A PC, IF YOU ARE PROMPTED, YOU CAN SELECT "START WINDOWS NORMALLY", AND ENTER IN ANY NECESSARY PASSWORDS TO GET YOUR COMPUTER UP AND RUNNING AGAIN.
Step three
Open up Exam4 from your desktop.
Step four
Choose Select Existing Exam and highlight the correct exam.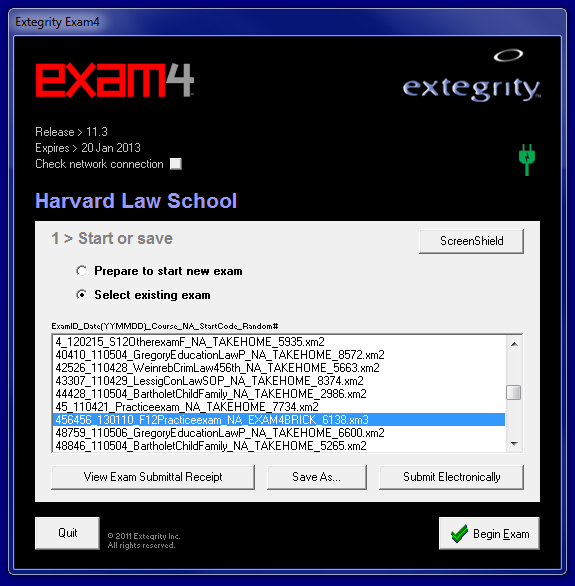 Step five
Choose Begin Exam. Leave the EXAM4BRICK code as is and click OK.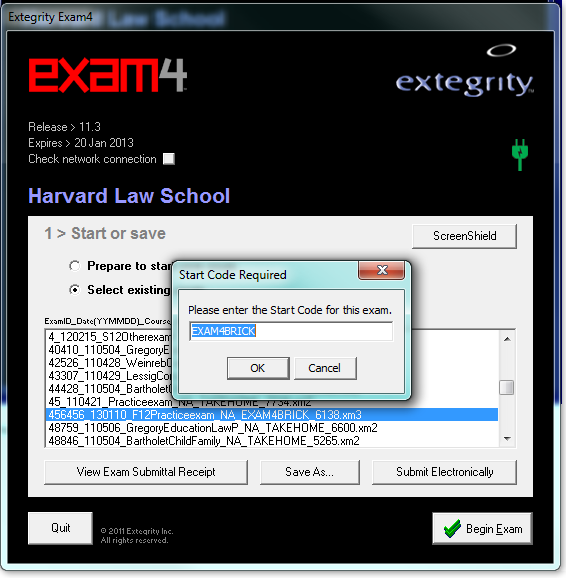 Step six
Enter "re-start" in the text field and click OK.
Step seven
You will see the text of your exam pop up, and you'll be asked to verify that it is the most recent recovery of what you were working on. Take a minute or two to look over your exam. Click OK to continue working on your exam where you left off.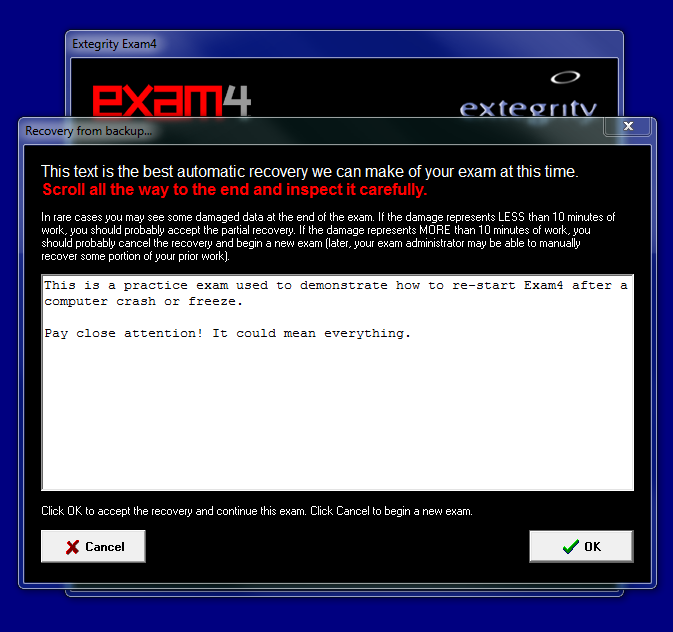 Step eight
Your computer may verify your network settings. Once that's done, you may continue working on your exam.