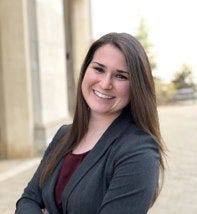 Dejusticia
Bogotá, Colombia
Erin will spend her fellowship year in Bogotá, Colombia with Dejusticia, a Colombian NGO and think tank that serves as a leader in norm-changing human rights litigation in Latin America. As part of Dejusticia's international group, Erin will support litigation and conduct research related to international migration, climate change, and the closing of civil society spaces.
During law school, Erin focused on international law and migration. She was a part of the Harvard International Human Rights Clinic, where she provided research support for a civil society organization working with Venezuelan refugees. She also represented immigrants seeking asylum in the United States through the Harvard Immigration and Refugee Clinic, and she represented victims of domestic violence, many of whom were immigrants, in divorce and restraining order proceedings through the Harvard Domestic Violence and Family Law Clinic.
Prior to attending law school, Erin graduated from the University of Texas at Austin (UT) in 2016 with a B.A. in Spanish and a B.S.A. in Chemistry. While at UT, she was a community organizer with the NGO, United We Dream, advocating for immigrant rights in the United States. Erin also has experience in teaching and academia. In 2016, she worked as a high school English teacher in San Antonio de Prado, Colombia, and in 2020, she was as a Teaching Fellow at Harvard College, leading discussions for a course on the intersection of behavioral science and social change.