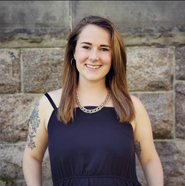 Partners in Justice International
Cambridge, MA and Bangkok, Thailand
Emily Ray JD'21 is a Public Service Venture Fellow who will spend her fellowship year as a staff attorney with Partners in Justice International (PJI). She will split her year between Cambridge, Massachusetts and Bangkok, Thailand. As a staff attorney for PJI, Emily will assist in their work building capacity for domestic legal systems around the world so that survivors of human rights violations can seek justice in their home countries. Her time in Thailand will allow Emily to continue her work on accountability for grave crimes in Myanmar, strengthening the networks between civil society and international judicial mechanisms to enhance the justice process and protect the legal interests of vulnerable parties.
Emily's time at HLS has been dedicated to human rights in many forms. As a student attorney for five terms in the HLS International Human Rights Clinic, Emily worked primarily on issues surrounding accountability for Myanmar, setting the stage for some of her work as a fellow. In January 2020, she visited Cox's Bazaar, Bangladesh with her clinical team to deliver a series of workshops on human rights and international law to Rohingya refugees and members of the diaspora. Beyond her work on Myanmar, Emily also led a clinical team in writing an amicus curiae brief for the Supreme Court in Nestlé v. Doe, arguing in favor of corporate accountability for human rights violations committed in the cocoa industry.
Outside of the Clinic, Emily spent her 1L summer in Guyana, working with the Forest Peoples Programme and Amerindian Peoples Association to assist local indigenous groups in fighting against extractive gold mining and logging in their traditional territories. Her 2L summer was spent working remotely with Paul Hoffman, a prominent U.S. human rights attorney, on primarily civil rights litigation. Her cases included issues such as police brutality at Black Lives Matter protests, the arrest and torture of a Chinese dissident, and accountability for Chiquita for their role in systematic violence in Colombia.
Emily served as the Co-President of HLS Advocates for Human Rights in the 2020-2021 academic year, as well as a Project Leader and project member in the years prior. Her work with Advocates included topics such as LGBTQIA+ rights, supply chain transparency in the cocoa industry, and child custody protections for survivors of domestic violence. She also served as the Online Managing Editor for the Harvard Human Rights Journal from 2019-2021. Prior to attending HLS, Emily received her bachelor's degree in philosophy and government from Franklin & Marshall College and her master's degree in moral, political, and legal philosophy from the University of St. Andrews, where she wrote a master's thesis on how to conceptualize individual responsibility for structural human rights violations. She looks forward to beginning her career as an international human rights attorney in earnest with PJI this fall.