Roadmap: Emerging markets; entrepreneurship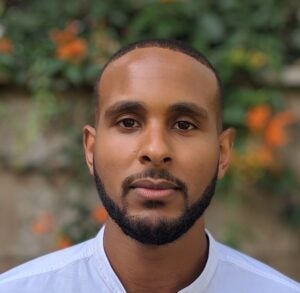 Wossen has always kept close ties with his Ethiopian heritage and has sought opportunities — before, during and after HLS — to support the development of the country and the wider East Africa region. His law school studies sparked an interest in international development and entrepreneurship, which he explored through coursework, summer and Winter Term projects abroad, and work on the Harvard International Law Journal. Today, he is the chief operations officer and co-founder at Pariti, a start-up based in Nairobi, Kenya, that links entrepreneurs in emerging markets with resources, talent and capital.
When I started at HLS, I knew I needed to have a strong grounding in international law and the international order, but that is only part of the picture. I also needed to understand how that interacts with the private sector, hence my coursework in commercial law and business.

Wossen Ayele
1L
Coursework
During his undergraduate studies at Yale, Wossen spent a summer in Mombasa, Kenya, conducting research on the impact of foreign aid on coastal communities. After college, he worked in Ethiopia, first as an intern at Ministry of Foreign Affairs, working on issues of regional cooperation, and later with McKinsey & Company, focusing on projects relating to green energy, education, and development. To build on his consulting experience, Wossen enrolled in International Investment, Development and Law, a course taught by Jeswald Salacuse '63, a visiting professor from the Fletcher School. "The course not only touched on the mechanics of how major projects are negotiated, but also on the impact these projects can have on communities and the different obligations that actors have under the law. It was extremely instructive, and encouraged me to undertake my summer project in Tanzania."
Student Organizations and Journals
Wossen became a subciter for the Harvard International Law Journal, and also joined the Harvard Black Law Students Association and Unbound: the Journal of the Legal Left.
Summer
Wossen spent part of his summer at Chadbourne & Parke, a New York law firm specializing in project finance. Recognizing that there was "a massive shortfall in infrastructure and energy production in Africa," he wanted to explore this practice area as one possible way of engaging with the region. At the time, "there was a lot of excitement because of the discovery of massive natural gas deposits off the southern coast of Tanzania." He reconnected with his consulting contacts in Tanzania, secured funding from Harvard's Summer Academic Fellowship program, and spent the rest of the summer in Dar Es Salaam, conducting research on the emerging hydrocarbon industry and the country's changing energy regulatory landscape.
2L
Coursework
In his 2L and 3L years, Wossen engaged in coursework that encompassed both international law and corporate and business law. He took Public International Law with Lecturer on Law Mohamed Helal S.J.D. '16, and International Humanitarian Law with Professor of Practice Naz Modirzadeh. In a reading group, Popular Sovereignty and Self-Determination, with Visiting Professor Sanford Levinson, his classmates included LL.M. students "who brought in perspectives from their parts of the world. It was a great way to think about these ideas in an international context." Drawing on his interest in possibly working with early-stage companies after graduation, Wossen also enrolled in Contemporary South Asia: Entrepreneurial Solutions to Intractable Social & Economic Problems, with Harvard Business School Professor Tarun Khanna, "to expand my thinking about how to approach all the intractable problems that African countries were facing." It also provided him with some early exposure to entrepreneurship.
To "really understand how corporations operate, and how deals actually happen," Worsen took Corporations with Professor Jesse Fried, Deals with Professor Guhan Subramanian, and a reading group, Entrepreneurship and Company Creation, as well as courses on finance and financial modeling.
In addition, Wossen cross-registered for a language course in Amharic, one of Ethiopia's official languages. He spoke Amharic with family members, but wanted to build his reading and writing skills, with an eye toward working in Ethiopia later in his career.
Winter Term
As a Cravath International Fellow, Wossen traveled to Rwanda to undertake an independent clinical with the Rwanda Development Board. "I chose to do clinical work in Rwanda because of the country's ambitious plan for economic development; I wanted to see how Rwanda approaches foreign investments as part of their broader strategy," he recalls. Working in its Strategic Investments Unit, he helped to assess inbound proposals and terms from foreign investors as well as standardize project documents like power purchase agreements for the country's various power projects. Through this clinical experience, Wossen improved his contract drafting skills, and learned more about how governments approach investment, including the public-private partnership model. In working closely with the Unit's corporate lawyers — two of whom became his mentors — he also gained "a more concrete idea" of what it would be like to start his career at a firm. "Beyond the hard legal skills I gained, my clinical experience was both insightful and rewarding," he reported at the time. "I was able to make meaningful contributions to projects that have the potential to be tremendously positive for the people of Rwanda."
Summer
Wossen was a summer associate in the New York office at Simpson Thacher & Bartlett LLP, an international law firm with a strong focus on mergers and acquisitions. He saw experience at a firm as "a capstone to my legal education; it was critical for me to harden the skills that you learn in the classroom." It also was a place where he knew he would stay busy and get first-rate training as a corporate lawyer. Wossen also spent part of the summer at Emergo Partners, a venture capital firm, also in New York, that focused on companies in emerging markets. There he helped to develop strategies for the firm's accelerator program and helped screen renewable investment opportunities in India and East Africa.
3L
Coursework
In his 3L year, Wossen continued to explore both international and corporate law. He enrolled in HLS courses on Venture Law and Finance with Professor Fried and International Trade Law with Professor Mark Wu, as well as a reading group on key issues and debates on sovereign debt. He cross-registered at Harvard Business School for courses on Business at the Base of the Pyramid, which focused on countries at the low end of the socio-economic scale, and on Investing in Emerging Markets. "It became clear that we had this great resource just across the river," Wossen recalls. "There are differences in the way classes are conducted, and the culture in the classroom. But for topical areas like these, there's a lot to be learned from case studies, and from entrepreneurs who have either succeeded or failed." He also studied Oromo, another widely spoken Ethiopian language, which he saw as another important tool to enable his future work in East Africa.
Student Journal
Wossen returned to the Harvard International Law Journal as an editor. "It was a good way to keep up with what was happening in international law, and how the concepts I had studied in class were playing out in the contemporary world."
Winter Term
Wossen secured a Winter Term International Travel Grant to conduct independent research in the UK on bilateral investment treaties (BITs). He became interested in this topic during his 1L course with Professor Salacuse, where he learned that BITs were one of the dominant legal mechanisms for encouraging investment in certain countries. "There were definite tradeoffs in how they were structured; we've seen that play out in some of the projects that were developed under that framework. I wanted to explore how that legal regime came into being, and what a more effective framework might look like." Wossen conducted his research at the Lauterpacht Centre for International Law at the University of Cambridge, where he had access to significant historical resources reflecting Britain's strong ties to Africa.
After HLS
Law Firm Experience
After graduation, Wossen joined Simpson Thacher as an associate, working in New York with the firm's M&A and private funds practices, and advising private equity clients on transactions and fundraising matters, across a range of industries, including financial services, telecommunications, real estate and pharmaceuticals.
Launching a Start-up
In 2018, Wossen decided to move to Nairobi, because it had the most developed ecosystem for early-stage companies in East Africa. He initially joined a digital logistics start-up, which confirmed his interest in working in Nairobi. But he quickly realized he wanted to work on solving some of the structural challenges of the African start-up ecosystem.
In early 2019, he co-founded Pariti (a play on, and pronounced like, "parity"). "The company aims to build the infrastructure for this growing ecosystem," he explains. It primarily does this by connecting founders in emerging markets to resources, talent and capital. It has also created solutions for the other key stakeholders in the ecosystem, a talent marketplace for experts to monetize their skills and an investment platform for VCs and angels to find, vet and execute deals."
"I've been able to work with entrepreneurs across Africa who are trying to solve challenging problems — companies that are providing cross-border banking across Africa and combatting food insecurity by building technology into broken agricultural value chains," Wossen adds. "We're trying to level the playing field for founders. We believe that just because a founder is not based in San Francisco or Boston, that shouldn't limit their ability to build a world-class business that solves big problems, creates jobs, and uplifts their community."