Roadmap: Commercial law; financial regulation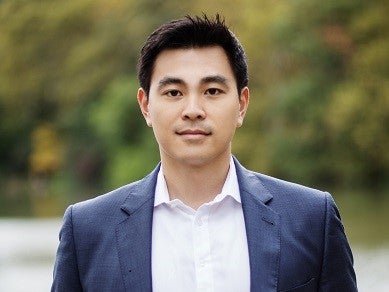 At HLS, Stephen was eager to delve into legal and economic issues related to emerging markets, with a focus on market reform and regulation in Asia. He took an array of courses in international and corporate law and gained valuable practical experience. During one summer Stephen worked for an infrastructure development fund in Singapore; the following summer he split his time between the New York and Hong Kong offices of a major law firm. He also went abroad over two winter terms, conducting research on clean energy development in the Philippines and on the internationalization of the Chinese currency. Following graduation, Stephen became an associate at Sullivan & Cromwell, where he focused on mergers and acquisitions and financial services regulation. In 2018, he joined SoftBank Group International, where he now serves as General Counsel.
My legal training during my first year at HLS was great preparation for the work I did at InfraCo Asia. In terms of understanding key legal issues when working with commercial contracts, bilateral tax treaties, and project proposals, the 1L curriculum provided me with a solid foundation going into my internship and allowed me to hit the ground running from the very beginning

Stephen Lam
1L
Coursework
Before law school, Stephen earned a degree in international politics from the Georgetown University School of Foreign Service and then worked as a management consultant. Given his long-standing interest in Asia, Stephen chose Professor William Alford's Comparative Law: Why Law? Lessons from China as an elective. He also enrolled in Regulating Financial Stability, a seminar that provided an excellent foundation for subsequent work in financial regulation, and in a reading group on Challenges Facing Emerging Economies.
Connections to the World of Practice
For Stephen, one of the best things about his time at HLS was taking classes with faculty members who were not only scholars but had practical experience. Prior to HLS, Stephen conducted an internship in the Office of the United States Trade Representative where Professor Mark Wu had served as the director for intellectual property. When Stephen arrived at HLS, he was excited to enroll in a reading group with Professor Wu, and to learn that he was the faculty advisor for the Harvard Asian Pacific American Law Students Association. In his 3L year, when he wanted to write an independent paper on an aspect of the Chinese economy, Stephen knew that Professor Wu would be an excellent supervisor.
Stephen also took courses with Professors John Coates and Hal Scott and felt that their real-world experience brought valuable perspective to the classroom. Stephen appreciated that Professor Coates' connections from his prior practice and HLS' strong alumni connections meant that his Mergers and Acquisitions class included guest speakers who connected theory with practice. Two who stood out for Stephen were Douglas Braunstein '86, vice chairman of JPMorgan Chase & Co., and Raymond McGuire '84, head of global banking at Citigroup.
Student Organization and Journal
Stephen became a member of the Harvard Asian Pacific American Law Students Association and the Harvard Business Law Review.
Summer
Stephen conducted an internship with InfraCo Asia, a Singapore-based infrastructure development fund focused on energy and infrastructure in Asia. He sought out this placement in order to work on economic development projects and was excited to be able to draft term sheets, financing agreements, and shareholders agreements for a toll road project in Thailand and a wind farm in the Philippines.
2L
Coursework
In order to pursue his interest in finance and prepare for work in the corporate sector, Stephen took Corporations; Regulation of Financial Institutions, Financial Statement Analysis and Valuation, International Finance, and Mergers and Acquisitions. He also cross-registered for Chinese language courses through Harvard's Department of East Asian Languages and Civilizations.
Student Organization
As a board member of the Harvard Asian Pacific American Law Students Association, Stephen was involved in organizing the National Asian Pacific American Conference on Law and Policy.
Winter Term
As a follow-up to his summer work, Stephen traveled to the Philippines to conduct research for a paper on prospects for clean energy development.
Summer
Stephen worked for a major law firm, splitting his summer between the New York and Hong Kong offices. He conducted due diligence and reviewed agreements for capital markets and mergers and acquisitions transactions involving financial institutions and natural resource companies in Asia and South America.
3L
Coursework
Stephen took courses in Corporate Finance and Mergers, Acquisitions, and Split-Ups to round out his study of corporate law.
Winter Term
With the support of an HLS Cravath International Fellowship, Stephen traveled to Beijing and Hong Kong to conduct research and interviews on the legal and policy issues affecting the internationalization of the Chinese Renminbi. His paper examined legal and regulatory developments associated with currency convertibility in relation to trade settlement, foreign financial investment, and international reserve currency status.
After HLS
Joining a Law Firm
Stephen became an associate at Sullivan & Cromwell, where he worked with the mergers and acquisitions and financial services groups. He found it helpful to draw on the perspective he gained while at HLS and to consider how other countries handle issues of economic and financial regulation, which helped him significantly when working on cross-border transactions.
In-house
In 2018, Stephen joined SoftBank Group International, a strategic holding company focusing on AI and other transformative technologies. He now serves as General Counsel, overseeing M&A, strategic investments and joint venture transactions across the Americas, the EMEA region, and Asia.