Roadmap: Gender violence; criminal justice reform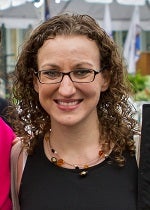 Lindsay came to law school interested in issues of gender-based violence in developing countries, aiming to learn more about how criminal justice systems could be improved to better protect women and children. She took courses in gender-based violence, criminal justice, human rights, and social change. Through HLS clinical opportunities and by cross-registering for complementary courses elsewhere at Harvard, she broadened her skill set and assisted in the prosecution of perpetrators of domestic violence and sexual violence. Lindsay spent two summers abroad, working in India on behalf of displaced slum residents, and in Bangladesh helping to examine newly-established domestic violence and human trafficking laws. Following graduation, Lindsay headed to South Africa to work for the non-profit organization Lawyers against Abuse, serving ever since as the NGO's executive director.
I structured my legal education to go beyond simply learning the law, instead taking courses that would challenge me to think critically about how the law could be used as a tool for institutional reform and systemic change. As I took classes in the areas of criminal justice, gender-based violence, international development, and social change, my professors helped me develop analytical frameworks for thinking through these challenging questions

Lindsay Henson
1L
Coursework
Lindsay studied applied mathematics at University of California, Los Angeles, and then worked at a litigation consulting firm and with a non-profit organization based in the Philippines which sparked her interest in international sex trafficking and criminal justice reform. At Harvard, she took Professor Gabriella Blum's Public International Law class, a course especially developed for 1Ls that provided foundational knowledge of international law generally and international human rights and humanitarian law more specifically. In addition, she chose Child, Family, and State as an elective.
Summer
To hone her legal focus on human rights, Lindsay spent the summer working with the Human Rights Law Network in New Delhi, India.
Knowing she wanted to work internationally after graduation, Lindsay spent her summers interning with local NGOs in developing countries. Through her placements, supported by HLS Summer Public Interest Funding and the Chayes International Public Service Fellowship, she utilized various legal strategies to protect the rights of vulnerable populations. This summer, at the Human Rights Law Network, she advocated for the rights to housing and education for displaced slum residents. Her efforts ranged from petitioning the courts to ensure due process rights around relocation and rehabilitation for displaced residents to preparing to stand in front of a bulldozer to thwart an illegal demolition (a temporary stay order saved the day).
2L
Coursework
Lindsay's courses included Criminal Investigations/Police Practices; Criminal Adjudication; the Gender Violence Legal Policy Workshop; Gender Violence, Law and Social Change; the Workshop on Crime and Criminal Justice Reform in Global Context; and Evidence. In the International Human Rights Clinic she worked with a South African organization on a right to education project that built on her summer experience in India.
Winter Term
With the help of the Office of Clinical and Pro Bono Programs, Lindsay planned ahead for an independent clinical placement with the Suffolk County District Attorney's Office during her 3L year. To gain the necessary practical skills, she enrolled in the Trial Advocacy Workshop during her 2L winter term.
Summer
With her previous advocacy work in India in mind, and to continue developing regional expertise, Lindsay secured a placement at the Bangladesh National Woman Lawyers' Association, where she examined issues related to child marriage and evaluated the implementation of new domestic violence and human trafficking laws. These experiences helped Lindsay realize that she wanted a career with a smaller organization where she'd be able to see the direct impact of her work.
3L
Coursework
Lindsay designed two independent clinical placements. In the fall she worked in the Sexual Assault and Domestic Violence Unit of the Suffolk County District Attorney's Office, headed by David Deakin '91, gaining a thorough understanding of the scope (and limitations) of the criminal justice system. In the spring she interned at the Victim Rights Law Center, which provides civil legal services to victims of sexual violence. Lindsay also wrote a paper evaluating various legal strategies and lawyering styles used to combat gender-based violence.
Through cross-registration, Lindsay took two classes at the Harvard Kennedy School: Getting Things Done: Management in a Development Context, examining a new approach to creating systemic change; and Sparking Social Change, exploring strategies and platforms for driving social change. In her 3L spring, Lindsay took Managing Financial Resources in Non-Profit Organizations at the Harvard Graduate School of Education, which addressed mission alignment and using financial information to make strategic decisions. Lindsay explained: "If I'm going to a small non-profit, the more hats that I can wear, the more value I can add."
Winter Term
To better understand the structural and administrative challenges of establishing non-profit organizations, such as working with a board, Lindsay took Introduction to Social Entrepreneurship.
After HLS
Joining an NGO
After graduation, Lindsay began working in Johannesburg, South Africa for Lawyers against Abuse, an NGO providing free legal services for victims of gender-based violence and engaging with police, prosecutors, and other state actors in order to improve the response to victims of domestic and sexual violence. Lindsay first identified the organization when looking for a 2L summer placement, and kept in touch.. Following many conversations with a board member (Jennifer McLeod, LL.M. '10) and the legal director, she developed a proposal, secured funding as a Public Service Venture Fund Fellow, and accepted an offer.
Lindsay has worked with the NGO as its executive director ever since.  Lawyers against Abuse celebrated its 10th anniversary in 2021.