Roadmap: Global regulation of technology; national security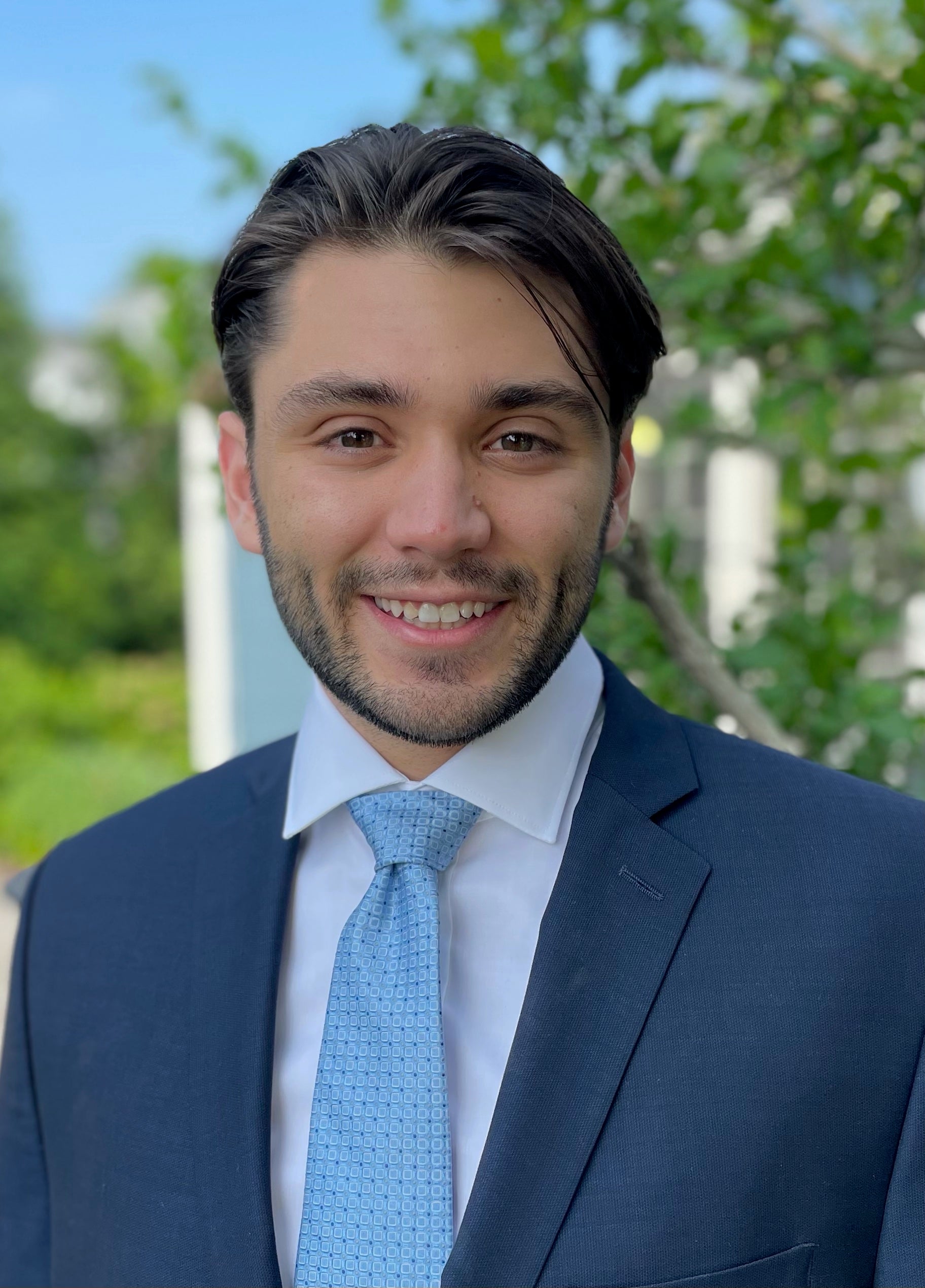 Before attending Harvard Law School, George spent four years at the Albright Stonebridge Group, a strategic consulting firm founded by Madeleine Albright, where he focused on technology regulation in the European Union. "Platform regulation, competition, and content moderation were all on my radar, and working with former high-level government officials like Secretary Albright and Ambassador Wendy Sherman taught me to weigh evidence and make policy recommendations with confidence," he recalls. Through courses, independent writing, summer placements, and student journal work, George enhanced his ability to advocate for stronger international law governing cyberspace and his deep commitment to digital privacy. He has joined Cooley LLP, where he will focus on cross-border data transactions.
"My experience showed me that if I wanted to engage in international negotiations and diplomacy, I needed to go to law school to understand how the U.S. legal system operates and how it relates to international legal regimes."

George T. Papademetriou
1L
Courses
George chose the Pathways to Leadership Workshop for the Public Sector, with Clinical Professor of Law Susan Crawford, for his winter term experiential learning course, and Governing Digital Technology, with Professor Jonathan Zittrain, for his spring elective, noting that it was interesting to see the different pressure points that governments can exert on technology companies.
His 1L classes in Civil Procedure and Criminal Law sparked an interest in litigation. These courses planted the foundation for understanding how the federal courts interact with international law, and shined light on how litigation can be used to gain access to justice and on the relationship between individuals and the state in criminal investigatory contexts.
Student Journals
In his first semester, George became a subciter for the Harvard International Law Journal and the National Security Journal. "There's nothing like really getting to know the types of evidence that scholars use to support their work," he observes. "After that, you have a foundation to identify arguments which might need more support." In the spring, he continued working with the International Law Journal as an articles editor.
Summer
For his 1L summer, George wanted to focus on technology regulation and test his skills as a litigator. During his internship in the office of the New York State Attorney General, he worked on compiling evidence and drafting interrogatories for a case involving deceptive trade practices online, and analyzed state-level data privacy legislation, comparing it to the protections afforded by the European Union's General Data Protection Regulation, for a working group of state attorneys general.
2L
Courses
George enrolled in the Cyberlaw Clinic, working again with Professor Crawford, where he researched ways in which communities can develop partnerships and find funding to increase access to high-speed broadband Internet. He also took China and the International Legal Order, with Professor Mark Wu, which shaped his thinking about how China's rise would impact regulation.
Independent Writing
For several years, George had been following press reports about private companies engaged in providing spyware to government entities. "These tools have granted governments unprecedented access to the lives and private communications of their citizens, and in several cases directly facilitated the imprisonment, harassment, and torture of opposition leaders and reporters," he explains. He enrolled in a year-long human rights writing group, convened by Clinical Professor Tyler Giannini, and benefited from feedback from Giannini and his fellow students as he developed a framework for and began to write a substantial paper exploring international and domestic reforms to hold the surveillance industry accountable. "This was an issue that I really wanted to drill down on, and one of the things I enjoyed the most during law school," he observes. His note, "Disrupting Digital Authoritarians: Regulating the Human Rights Abuses of the Private Surveillance Software Industry," was published in the Harvard Human Rights Journal in summer 2023.
International Seminar
In the fall, he traveled to Germany to participate in the Manfred Wörner Fellowship and its Euro-Atlantik Seminar. This program brings together young professionals from the U.S., Germany, and other European countries to examine security policy. "The most interesting part was the conversations with other participants. At the time there was disagreement within the group on whether we should be focusing on the rise of China, or on Russia knocking on Ukraine's doorstep," he recalls.
Student Journals
George continued his involvement with the Harvard International Law Journal and the National Security Journal. Among other efforts, he worked with Professor Wu to coordinate the International Law Journal's cosponsorship of an event with Stavros Lambrinidis, Ambassador of the European Union to the United States.
Summer
George was a summer associate in the Washington, D.C. office of Cooley LLP, where his work included conflict of laws analysis concerning subpoenaed data held in Europe, and on discovery, reviewing evidence, compiling timelines, and proposing case themes for several antitrust cases.
3L
Courses
George took Public International Law with Professor of Practice Naz Modirzadeh, Regulation of International Finance with Professor Daniel Tarullo, and Foreign Relations Law with Lecturer on Law Elena Chachko S.J.D. '22. His course on Advanced Topics in Federal Courts, with Professor Jack Goldsmith, while mostly focused on sources of authority for the federal courts, also exposed him to jurisprudential conversations essential for thinking about how international law applies in the United States. In addition, George cross-registered for a Harvard Kennedy School course on Future Issues in Cyber-Security Policy, which addressed digital currencies and how governments are regulating them.
Winter Term
George conducted an independent clinical with the U.S. Department of State's Office of the Legal Advisor, where his work involved assessing potential litigation risks arising from U.S. sanctions programs. "It involved thinking about how we use U.S. economic statecraft to advance foreign policy," he observes, adding that his time at the State Department was "eye-opening" in terms of a possible career.
Student Journals
In his 3L year, George served as a deputy executive editor for the National Security Journal. In this role, he was responsible for editing two articles, one on digital currencies and the other on war powers and use of force under Article 51 of the Charter of the United Nations.
As Symposium Co-Chair for the Harvard International Law Journal, he organized the journal's annual conference, "Reassessing Enforcement: Strengthening Compliance with International Law," which featured panels on human rights, cybersecurity, and the crime of aggression as well as a keynote address by Judge Yuji Iwasawa LL.M. '78 of the International Court of Justice.
Salzburg-Cutler Fellowship
In the spring, George workshopped his paper on the spyware industry — and gained ideas for future publications — as a Salzburg Cutler Fellow. This program brings together more than 50 students from 14 U.S. law schools, and leading academics and practitioners in the fields of public and private international law, to discuss and share feedback on the Fellows' academic projects and participate in career conversations.
After HLS
After graduation, George spent several months working in the office of U.S. Senator Cory Booker, where he focused on the regulation of emerging technologies, especially artificial intelligence. He then joined Cooley LLP's New York office, where he focuses on cross-border litigation.