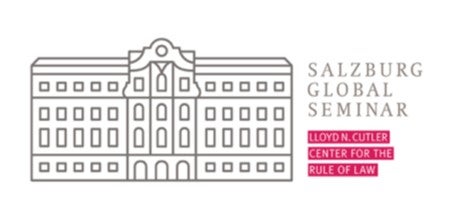 What is the Fellowship?
The Salzburg Global Seminar is an independent non-profit designed to create future leaders. HLS participates annually in its Salzburg Cutler Fellows Program, which brings together more than 50 of the nation's top law students with leading academics and practitioners in the fields of private and public international law. The program offers J.D. and LL.M. students opportunities to obtain feedback on academic work and career advice from established international law scholars and practitioners, and to continue building a network of individuals interested in careers in international practice and public service.
Program Format and Dates
Information about the 2024 program will be posted here in when it is available.
In advance of the program's kick-off, each student prepares a research paper on a leading issue in public or private international law. For the 2023 program, the initial session will be held on-line on Thursday, February 9. Students gather in Washington, D.C. on Thursday evening, February 16 for a welcome dinner and then meet over two intensive days on Friday, February 17 and Saturday, February 18. Top law faculty and peers from 14 leading institutions review each paper in a workshop setting and offer advice on improving arguments and moving papers toward publication. Lawyers and other mentors in public service meet with Fellows to discuss traditional and non-traditional pathways into careers in international law and public service. Fellows also enjoy keynote addresses by renowned public servants.
How To Apply
HLS 2L, 3L and LL.M. students should submit application materials in PDF format by 5:00 pm on Wednesday, January 4, 2023 via email to International Legal Studies (ils@law.harvard.edu). Materials should include:
A cover letter explaining your background and interest in the Salzburg Cutler Fellows Program
A resume or CV, highlighting your commitment to international law / global issues
An unofficial HLS transcript
A 5-8 page executive summary of the paper that you would like to present. Please note the name of your faculty supervisor for your project on the paper itself or in your cover letter.
Paper topics should fit in one of these major areas:
humanitarian law, human rights, and use of force
international economic law, investment, and monetary law
international trade, anti-corruption, and anti-trust
international institutions and international relations
rule of law and comparative constitutionalism
In addition to the executive summary, students may submit a copy of their draft paper. Students are encouraged to submit an article or paper in development for other purposes (e.g., seminar papers, independent study, or law review notes). Articles/papers should be academically oriented.
Selection is based on a combination of commitment to international law and academic promise. A maximum of four HLS students will be nominated. Selected participants will receive some funding to defray travel expenses.
Questions?
Please direct questions to International Legal Studies (ils@law.harvard.edu).