Roadmap: International business; entrepreneurship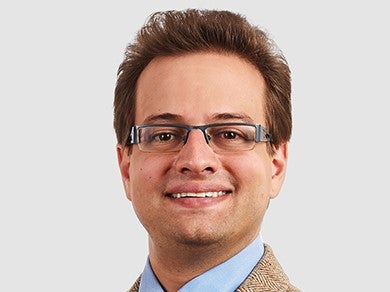 David's primary emphasis while at HLS concerned the legal framework that surrounds international entrepreneurship. He supplemented his study of business law with courses that dealt with financial aspects of globalization, and engaged in independent research on topics of comparative and cross-border entrepreneurship. He spent one summer working for the Kauffman Foundation and another with McKinsey and Company, examining policy issues related to, respectively, immigration and health insurance. Through involvement with the Harvard Innovation Lab and utilizing other HLS resources, David developed the blueprint to start his own company, an innovative car-sharing service. After completing his degree, he moved to India and served as president of ZoomCar.
There is almost certainly no other law school in the U.S. that would have helped me achieve my goals the way HLS did. It enabled me to develop a particular way of critical thinking, to find mentors, and to make contacts that have proven invaluable.

David Back
1L
Coursework
Before attending HLS, David earned a degree in diplomatic history from the University of Pennsylvania and then founded a company to commercialize a new type of generator to convert waste heat into electricity. At HLS, he began to explore the legal aspects of business and supplemented his required 1L courses with an elective on The Legal Architecture of Globalization: The History and Institutional Development of Money and Finance taught by Professor Christine Desan.
Student Organization
As a 1L, David became involved with the Harvard Association for Law and Business which, at the time, was a small student group. By the time he graduated from HLS, HALB was the largest student organization on campus. David organized trips for students to visit venture capital funds and produced a newsletter listing events and resources about entrepreneurship all over the Boston area.
Summer
David worked in the General Counsel Office of the Kauffman Foundation in Kansas City, Missouri, where he conducted research on the effect of immigration policy on entrepreneurship.
2L
Coursework
David took Corporations; Law and Economics; Analytical Methods for Lawyers; Business Strategy for Lawyers; Entrepreneurship and Company Creation; and International Law Workshop: Law and Development. He also cross-registered for a Harvard Business School course on Globalization and Emerging Markets. Under the supervision of Professor Christine Desan, he wrote an independent paper on whether the U.S. should sell gold reserves, and one with Professor William Alford as his faculty advisor, contrasting the process of starting a company as a foreigner in India and China.
Winter Term
David enrolled in the Negotiation Workshop; in starting his own company, he found ample opportunity to draw on a variety of negotiation techniques.
Summer
David worked in the San Francisco office of McKinsey & Company, analyzing possible methods to reduce spending on public employee health insurance while maintaining quality.
3L
Coursework
David took Taxation and the National and International Security Law Workshop: Covert Operations, Espionage, and Intelligence Gathering. He wrote another independent paper, this time examining corporate structures for cross-border entrepreneurship, under the supervision of Professor Jon Hanson. He also worked as a teaching assistant for courses on globalization taught in the Faculty of Arts and Sciences and by Harvard Kennedy School Professor Lawrence Summers , who is president emeritus of Harvard University as well as a former U.S. Secretary of the Treasury.
Winter Term
David's academic exploration took a practical turn when he traveled to India to examine the specific legal and other steps necessary for creating a car-sharing company in India. With the support of a Winter Term International Travel Grant, he was able to meet with lawyers, venture capitalists, government officials, business associations, and even car manufacturers in India. The knowledge and insights that David gained were critical not only for the paper he wrote, but for his subsequent work as an entrepreneur.
Leveraging Harvard University Frameworks
As the HLS student representative on the board of the Harvard Innovation Lab when it was created in 2011, David had a voice in the project from its inception. The i-lab was designed as a resource for Harvard students interested in entrepreneurship and innovation in a variety of forms. Since the i-lab included faculty from across the University, David was able to engage with and receive advice from many professors, including faculty at the Harvard Business School. In the spring of his 3L year, David submitted his blueprint for ZoomCar, a car-sharing company in India, to the Harvard President's Challenge for Entrepreneurship, was selected as a finalist, and received the first funding toward the establishment of the company. As a finalist, David was able to meet Muhammad Yunus, founder of the Grameen Bank, and discuss with him the challenges of starting a company in South Asia.
After HLS
Launching a Start-up
David co-founded and served as president of ZoomCar, India's first company focusing on "self-drive" car rental. Before ZoomCar, nearly all car rentals in India came with a chauffeur, with no option for customers to drive themselves. The company grew considerably since launching in February 2013; by December 2014 it had more than 500 vehicles across Bangalore, Delhi, and Pune. In 2020, David, a Denver native, became chairman of Tattered Cover, the largest independent bookstore group in Colorado.