Traphagen Distinguished Alumni Speaker Series with Taj Clayton J.D.'05 of Kirkland & Ellis
October 31, 2023
12:30 pm - 1:30 pm
WCC; 2036 Milstein East A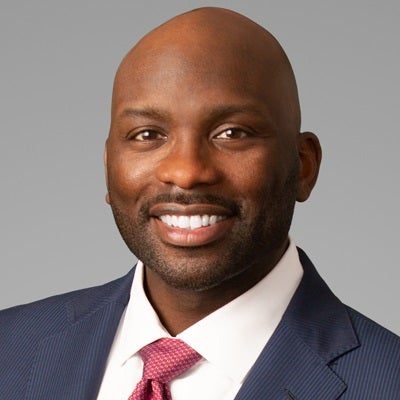 The HLS Alumni Center presents a lunchtime talk with Taj Clayton J.D.'05. This is a Traphagen Distinguished Alumni Speaker Series event, where HLS alumni speak informally about their careers.
Taj Clayton is a litigation partner in the Dallas office of Kirkland & Ellis. He has successfully represented Fortune 500 companies, major sports franchises, private equity firms, billionaires, and A-list celebrities in matters around the country. His complex litigation practice is diverse with litigation and trial experience including products liability, mass tort, antitrust, breach of contract and a wide range of intellectual property matters. Taj believes that different cases call for different approaches. He tailors his lawyering for the specific case depending on his rapport with opposing counsel, the presiding judge, the composition of the teams he is leading and the facts. He identifies as a thinker and sees litigation as intellectually fulfilling along multiple dimensions which gives him the opportunity to think strategically, creatively, and analytically.
Taj is also a nationally-respected business leader. He served on the Board of Directors for Signify Health, Inc. (SGFY), a publicly-traded healthcare company that CVS acquired for $8 billion in 2023. He is an active civic leader engaged in international, national and local nonprofit organizations. Prior to practicing law, Taj began his career in sports working for the National Football League.
Lunch will be served. All HLS students are welcome. Please register in advance as space is limited. Click to register. 
Learn more about the Traphagen Distinguished Alumni Speaker Series
Questions? alumnicenter@law.harvard.edu
Add to Calendar
October 31, 2023, 12:30 pm - 1:30 pm