Book Talk: When Misfortune Becomes Injustice
October 4, 2023
1:00 pm - 2:00 pm
Langdell Hall; 232/233 Langdell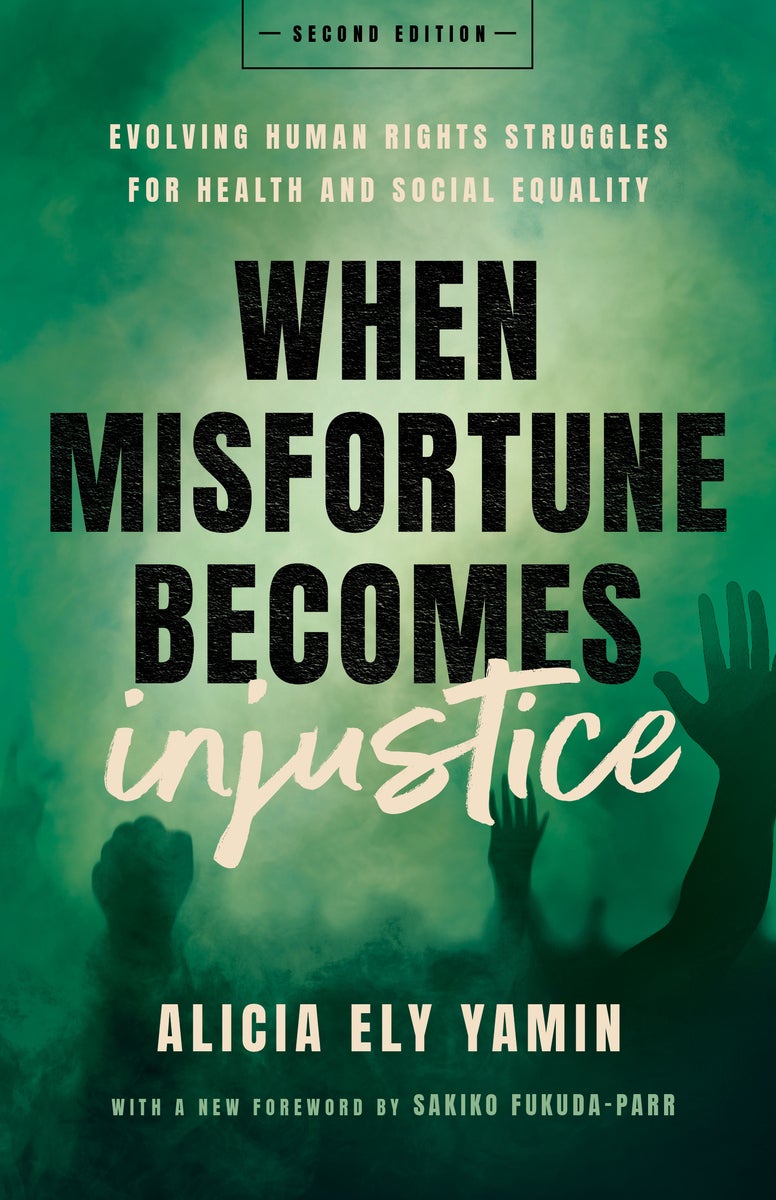 Join the HLS Library on Wednesday October 4 at 1pm for a HLS Library Book Talk in Harvard Law School Library – Langdell Hall 232/233 Seminar Rooms. This event features a discussion on When Misfortune Becomes Injustice: Evolving Human Rights Struggles for Health and Social Equality, 2nd ed. with author Alicia Ely Yamin and panelists Aziza Ahmed (Boston University Law School), Jesse Bump (Harvard T.H. Chan School of Public Health), and Louise Ivers (Harvard Global Health Institute). This event is free and will be recorded. This book talk is co-sponsored by The Petrie-Flom Center for Health Law Policy, Biotechnology, and Bioethics at Harvard Law School.
Register to attend in-person via Eventbrite, Harvard ID required. Register by September 26 for lunch. Registrations made after September 26 do not guarantee lunch.
Register to attend virtually via Zoom Webinars, open to the public. Zoom Webinars registration does not include lunch.
If you, or an event participant, require disability-related accommodations, please contact Accessibility Services at accessibility@law.harvard.edu.
More about the book from the publisher:
When Misfortune Becomes Injustice surveys the progress and challenges in deploying human rights to advance health and social equality over recent decades. Alicia Ely Yamin weaves together theory and firsthand experience in a compelling narrative of how evolving legal norms, empirical knowledge, and development paradigms have interacted in the realization of health rights, and challenges us to consider why these advances have failed to produce greater equality within and between nations. In this revised and expanded second edition, Yamin incorporates crucial lessons learned about the state of global health equity and public health systems during the COVID-19 pandemic, demonstrating just how incompatible the current institutionalized world order—based on neoliberal, financialized capitalism—is with one in which the rights of diverse people around the globe can be realized. COVID-19 struck a world that had been shaped by decades of disinvestment in public health, health systems, and social protection, as well as privatization of wealth and gaping social inequalities within and between countries, and the evident crisis of confidence in the capacity of democratic political institutions and global governance was deepened by the pandemic. Yamin argues that transformative human rights praxis in health calls for addressing issues of structural inequality and political economy, and working across disciplinary silos through networks and social movements.
Add to Calendar
October 4, 2023, 1:00 pm - 2:00 pm