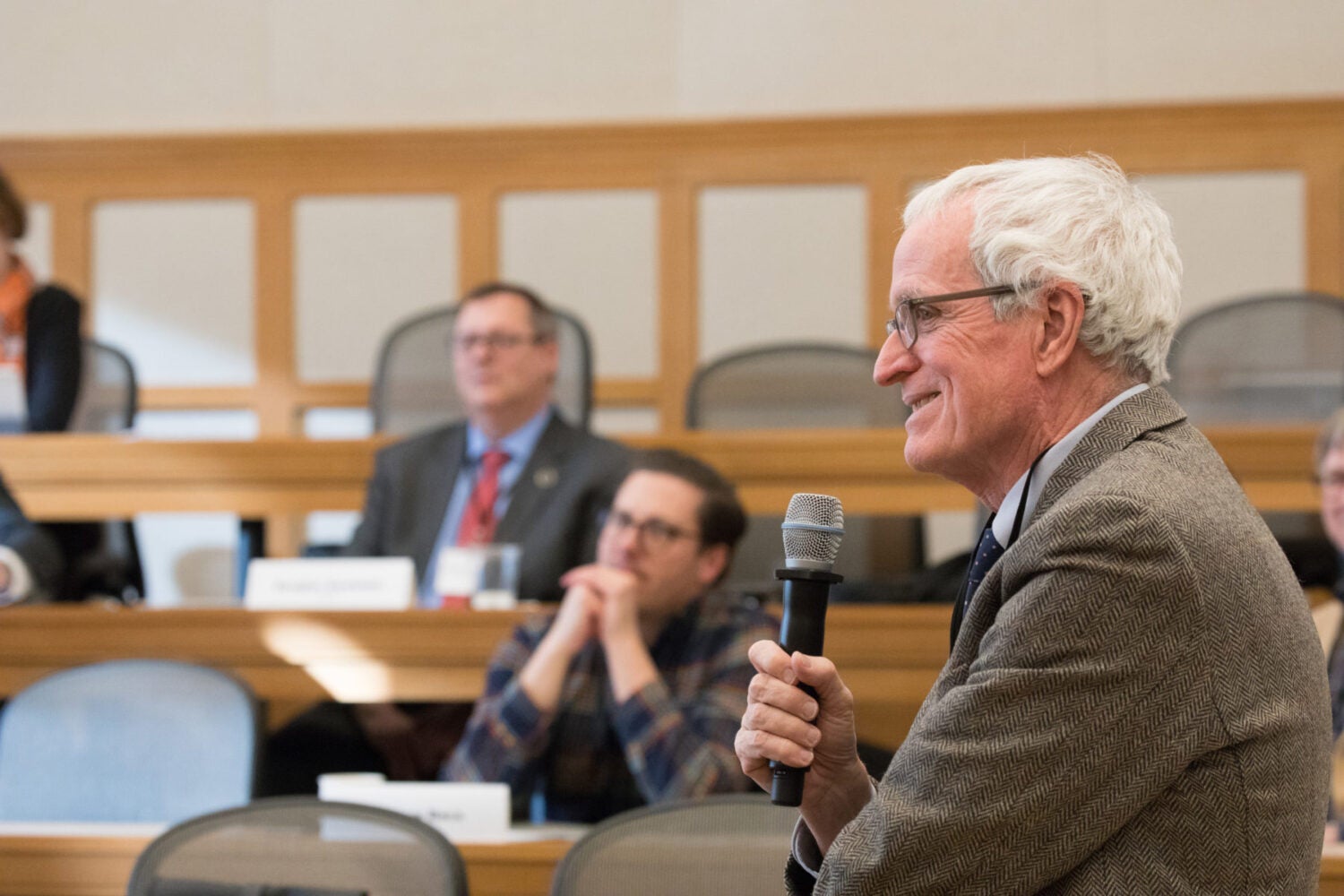 Lecturer Jim Tierney teaches the required clinical course, the Role of the State Attorney General, in the fall semester, and oversees and directs the clinic. Liz Solar, Director of Externships in the Office of Clinical and Pro Bono Programs, coordinates the clinical placements with students.
This clinic is available in the fall, winter, and spring terms. Students may only participate in one term. Students may continue their winter work remotely from HLS during the spring term as an advanced clinical student if the placement and supervisor confirm that there is sufficient work to support additional spring clinical credits.
The fall and spring Government Lawyer: Attorney General Clinic offers students the opportunity to work with the Massachusetts Attorney General's Office. Clinical student responsibilities include writing and research pertinent to the division in which they are placed. Potential divisions include the Criminal Bureau, Government Bureau, and Public Protection Bureau.
During winter term, students work in State Attorney General Offices around the country. Clinical work is full-time and care will be taken to place students in both states and divisions that meet their professional goals, although particular placements are not guaranteed. Winter term placements are in various divisions of a State AG office: environment, criminal trials and appeals, human trafficking, civil defense, opinion and consumer protection. Students have worked in many different states: California, Colorado, Illinois, Maryland, Michigan, New Mexico, New York, Rhode Island, and Texas.
Office of the Massachusetts Attorney General
Criminal Bureau

Appeals Division: handles a varied caseload of criminal and civil matters, including: all appeals and post-conviction matters in criminal cases prosecuted at the trial level by the Attorney General's Criminal Bureau; all federal habeas corpus petitions filed in the United States District Court that challenge Massachusetts convictions, and appeals filed in the United States Court of Appeals for the First Circuit and the United States Supreme Court; the defense of judges, prosecutors, and others sued civilly in state and federal courts for official actions undertaken within the criminal justice system; and the defense of the constitutionality of criminal statutes, and challenges to rules, practices, and procedures concerning all aspects of the Commonwealth's criminal justice system.
CyberCrime Division: investigates and prosecutes a wide variety of white-collar criminal cases from bribery of state and local officials, stealing of public funds, and embezzlement by fiduciaries to large scale consumer fraud, computer hacking and theft of trade secrets cases. The division is also responsible for other computer-related cases in which its technical expertise can be brought to bear; examples include complex cyber stalking matters and cases involving the exploitation of children over the Internet. In addition to its case-related work, the division works to educate the public to use the Internet safely and to train law enforcement in white-collar investigation techniques. Finally, the division is involved in a number of projects that bring together law enforcement, representatives of the private sector and academia in order to assure that the Commonwealth's critical infrastructure remains secure.
Public Integrity Division: (PID) investigates and prosecutes serious criminal misconduct involving corrupt public individuals and entities; PID's most significant cases are those that have an impact beyond the facts of the individual case, that involve particularly vulnerable victims, or that restore trust and confidence in institutions responsible to the public.
Enterprise and Major Crimes Division: coordinates and prosecutes a variety of complex, multi-jurisdictional criminal cases. The division also proactively investigates traditional criminal enterprises, including so-called organized crime families and large-scale drug trafficking organizations, as well as non-traditional criminal organizations such as street gangs and armed robbery rings. A priority of the division is to identify and prosecute sophisticated criminal enterprises through the use of electronic surveillance (i.e. wiretap investigations).
Environmental Crimes Strike Force: investigates and prosecutes crimes that harm the state's air, land or water, or that pose a significant threat to human health. The Strike Force is an interagency unit that includes prosecutors from the Attorney General's Office, Environmental Police Officers assigned to the Attorney General's Office, and investigators, engineers and attorneys from the Massachusetts Department of Environmental Protection. Task Force partners meet regularly to evaluate whether enforcement against particular environmental violations should be done administratively, civilly or criminally. The most egregious violations are referred for criminal prosecution. Recent cases have involved the improper disposal of hazardous waste, the failure to properly report spills of oil or hazardous waste, failure to properly abate and dispose of materials containing asbestos and exposing workers to unsafe levels of hazardous material.

Government Bureau

Trial Division: represents state agencies, officials and employees in lawsuits involving claims for damages or other remedies, particularly in contract-related disputes, real estate matters, torts, civil rights violations, employment disputes and environmental damage claims. The division also reviews certain contracts, leases, bonds and various conveyance documents submitted by state agencies for approval.

Public Protection Bureau

Civil Rights Division: enforces state and federal laws to combat discrimination on the basis of race, national origin, ethnicity, gender, religion, age, sexual orientation and disability in areas such as employment, housing, education, health care, public accommodation, transportation, voting and criminal justice. In addition, the Division enforces the Massachusetts Civil Rights Act and seeks injunctive and other forms of relief on behalf of persons who have been the subject of a civil rights violation, including victims of bias-motivated violence, threats or intimidation. The Division also investigates and litigates issues and claims related to freedom of speech, religious freedom, privacy, and reproductive rights.
Health Care Division: seeks to protect consumers, to increase access to health care and improve its quality, contain health care costs, and promote public health. The Division receives and reviews complaints from the public relating to health insurance and health care and, as necessary and appropriate, investigates and litigates consumer protection cases involving health insurers, health providers, and pharmaceutical companies.
Consumer Protection: enforces the Massachusetts Consumer Protection Act and other consumer protection laws. The division investigates allegations of unfair and deceptive practices and, where appropriate, brings actions in the public interest to enjoin those practices, to obtain restitution for injured consumers, and to impose civil penalties. The division's consumer protection work focuses on major consumer purchases and investments, such as homes, cars, education, credit, and health care, and the division seeks to protect the elderly and other particularly vulnerable consumers who are often the target of unconscionable business practices and fraudulent scams;
Environmental Protection Division: represents the Commonwealth and state environmental agencies in affirmative litigation to enforce environmental laws and in defensive litigation challenging those agencies' regulatory and enforcement activities. The division also plays a key role under the Clean State initiative to ensure that the Commonwealth's own agencies abide by state and federal environmental laws.
*This division requires some prior experience in environmental issues.
How to Register
The clinic is offered in the Fall, Winter, and Spring semesters. You can learn about the required clinical course component, clinical credits and the clinical registration process by reading the course catalog description and exploring the links in this section.
Fall 2023 Early Drop Deadline: May 19, 2023
Spring 2024 Early Drop Deadline: September 1, 2023
Meet the Instructor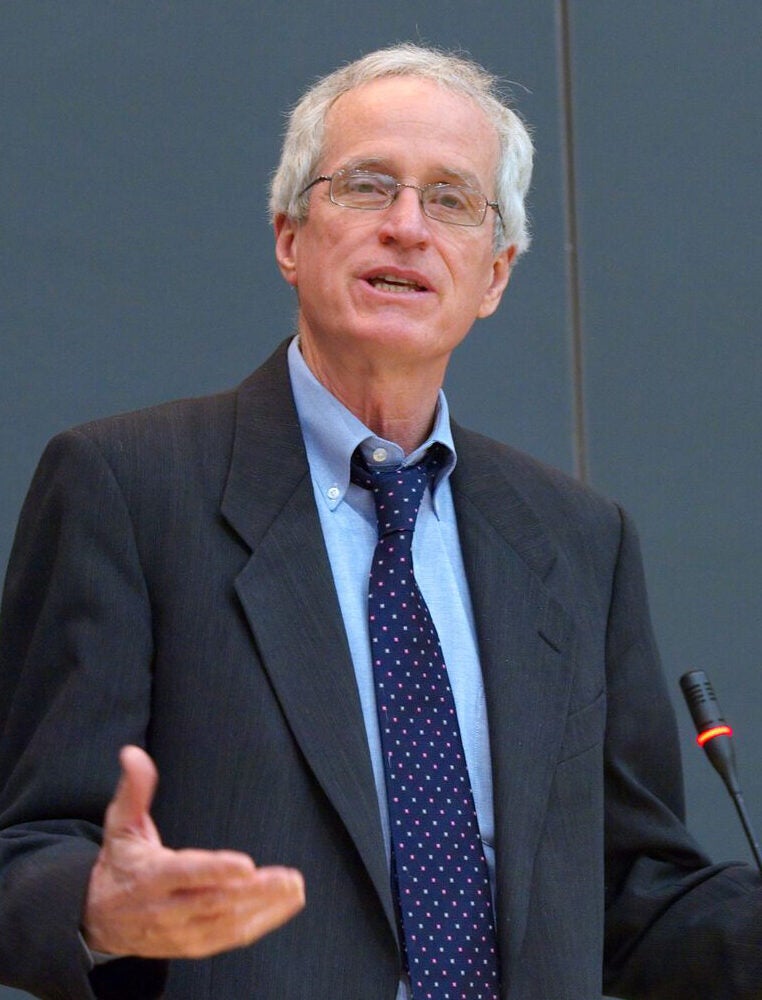 Jim Tierney
Director; Lecturer on Law
James Tierney is a Lecturer in Law at Harvard Law School. Since 2010, Mr. Tierney has taught courses on the role of state attorneys general and has directed the attorney general clinic. He taught a similar course at Columbia Law School from 2000 until 2016, where he was the Director of the National State Attorney General Program, and was a Visiting Lecturer in Law at Yale Law School in the Spring of 2018. He is currently the director of StateAG.org, which is an educational resource on the office of state attorney general. Mr. Tierney served as the Attorney General of Maine from 1980 until 1990. During those years, Mr. Tierney played an active role in the National Association of Attorneys General (NAAG) and served on its various committees. Since 1990 he has instructed newly elected state Attorneys General on the effective performance of their office and consulted for numerous offices of attorneys general on a host of structural, legal and ethical issues. Mr. Tierney has served as a Special Prosecutor in Florida, Pennsylvania, Minnesota and Vermont and, on behalf of NAAG, has authored an analysis of the operations of state grand jury practice. He travels regularly to visit in offices of attorney general where he conducts ethics seminars for attorneys general and their staffs. He received his J.D. from University of Maine, Portland, and his B.A., highest honors, from the University of Maine, Orono.
In the News
RSS Error: A feed could not be found at `https://clinics.law.harvard.edu/blog/tag/government-lawyer-state-attorney-general-clinic/feed/`; the status code is `200` and content-type is `text/html; charset=UTF-8`