Hello from Austin Hall! As you may have seen in my last post, I recently joined the HLS J.D. Admissions team as the Assistant Dean and Chief Admissions Officer. This summer, look out for a series of posts introducing our team members to you. Enjoy getting to know them alongside me – you might pick up a few application tips along the way. – Kristi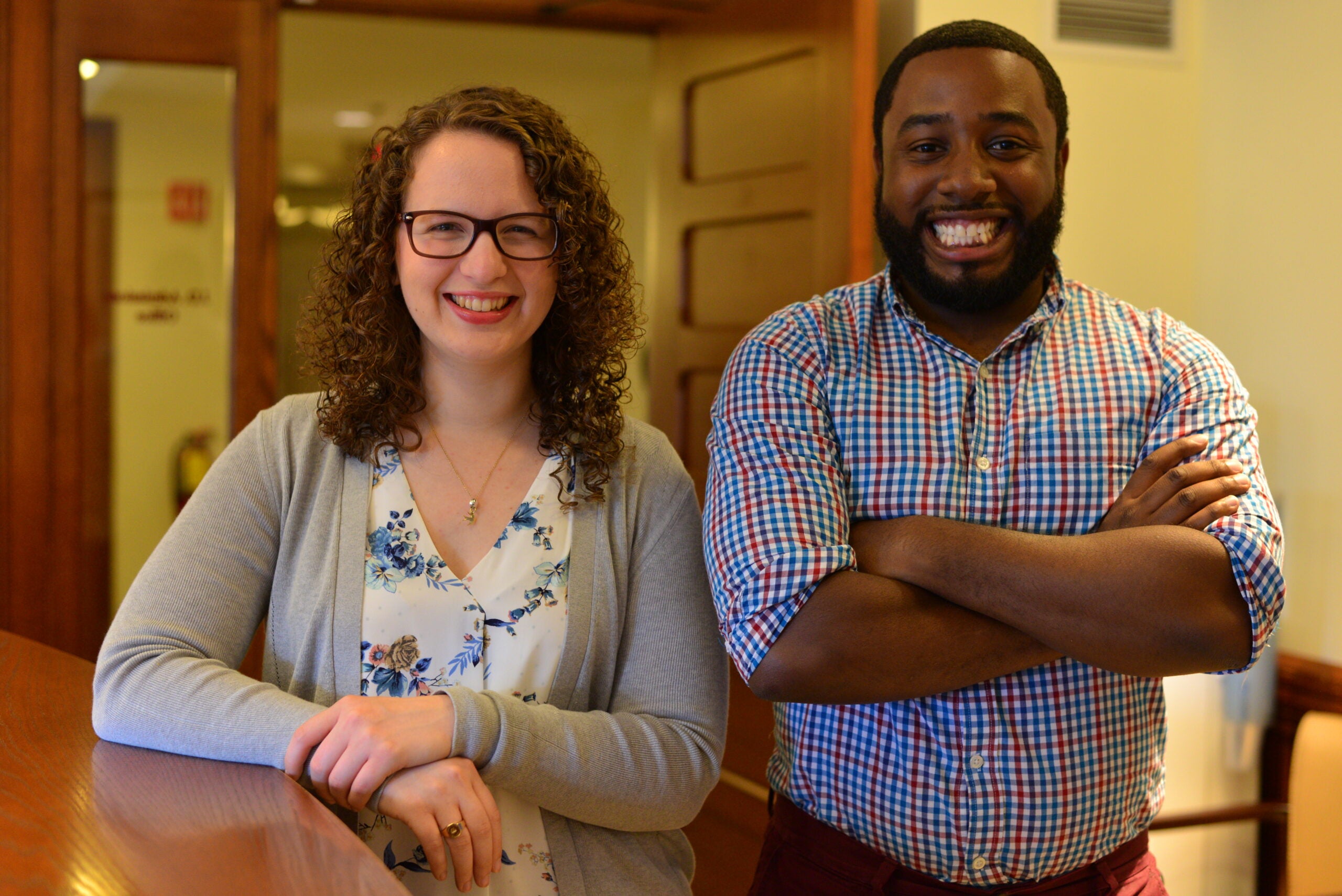 KJ: Thanks for taking the time to speak with me! We're in the front office on the second floor of Austin Hall. Let's start with a broad question: What happens here in the front office?
AL: We handle all external communications from applicants, admitted students, and visitors – email, phone, and in-person.
RV: We introduce Harvard Law School and make it accessible to all visitors and applicants by responding to questions and unpacking the application process.
KJ: Tell me about some of the interesting visitors who have stopped by.
RV: I recently had an interesting conversation with a country music artist from Tennessee. She has a sizeable following on YouTube and even requested a selfie with Alessandra and me to post for her fans.
AL: I was caught off-guard one morning when officers from the Harvard Police Department walked into the front office asking what the emergency was. Turns out, I'd accidentally bumped the panic button on the bottom of my desk.
RV: During the HLS Bicentennial Celebration, I met several of Harvard Law School's impressive alumni, including six Supreme Court justices. I heard Senator Tim Kaine also stopped by, but I was at lunch and missed him.
KJ: You keep a giant jar of candy here at the front desk. I imagine our guests appreciate that.
RV: We hope so! It's a small gesture to signal the welcoming environment we aim to impart. It also functions as a useful conversation piece and always prompts a smile in our guests.
AL: We hope the candy jar debunks any preconceived notions about Harvard.
KJ: What candy is most popular with visitors?
AL: Definitely Kit Kat.
RV: Though Twix is a popular second. We struggle with the Whoppers and Three Musketeers. We should figure out what to do with those.
KJ: You answer the main phone line, so you get to speak to plenty of prospective students, applicants, and admitted students. Just how many times a day does the phone ring during peak season?
RV: We each field anywhere between twenty and forty conversations a day during peak times. The phone calls always seem to occur in bursts.
AL: That's right. We often receive multiple calls at the same time; I once had to juggle four callers at once.
RV: So folks, if we miss your call, please understand it is not purposeful. Sometimes, we simply can't get to you in the moment.
KJ: You also answer a ton of emails. What is the highest number of emails you have answered in one day?
AL: Over 70.
RV: I've sent 85 in one day.
KJ: What is the most interesting email you have received?
RV: A two-word email – "Admit me."
KJ: What's the busiest time of year here in the front office?
AL: The week leading up to an Admitted Students Weekend. With a team of eleven members, we coordinate programming for hundreds of students. One day last spring, it was necessary to ignore all incoming phone calls to minimize interruption. As a result, we amassed over ninety voicemails.
KJ: What do you appreciate about working with applicants?
RV: I appreciate that our applicants have a strong passion for helping others and making an impact on the world. It's inspiring.
AL: I appreciate learning alongside our callers when they ask researched questions that prompt us to further investigate all the incredible programs HLS offers.
KJ: What do you wish applicants knew before reaching out to Harvard Law School?
RV: Oftentimes, the answer to your question is located on our website in even greater detail.
AL: We cannot provide advice or offer suggestions for improving or maximizing one's candidacy to Harvard Law School. Ralph and I are here to answer questions, but cannot comment on your specific application.
RV: Ultimately, I want applicants to know that my goal is to help you!
AL: Agreed! Harvard is undoubtedly renowned, but its fame persists because of the incredible applicants themselves and the talents they bring to bear during their time at HLS and beyond. It's a joy to be the front office staff member who gets to interact and learn from your experiences.