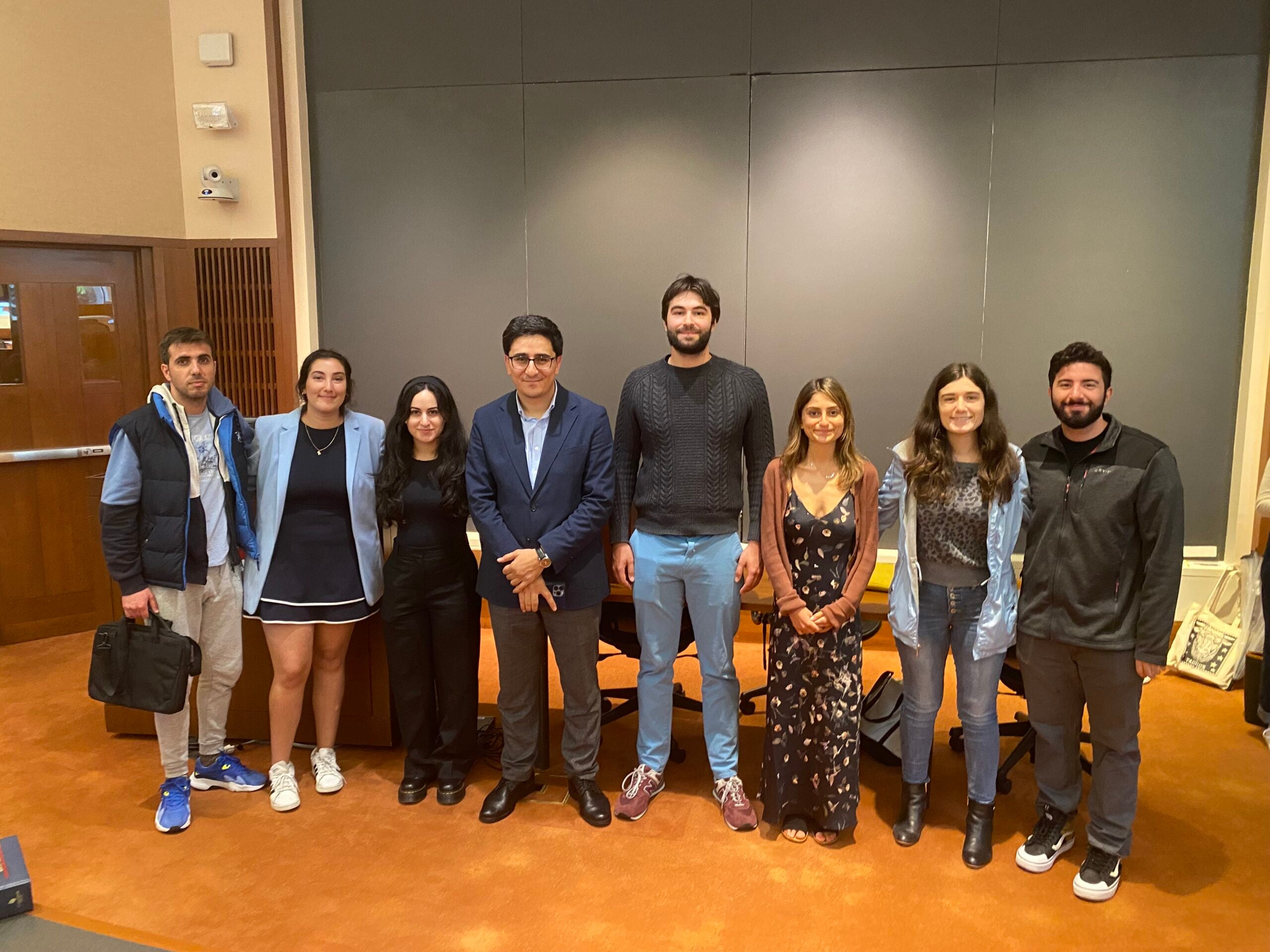 The Armenian Law Students Association (ALSA) at Harvard Law School, led by co-presidents Gayane Matevosyan J.D. '23 and Arman Smigielski J.D. '23, cultivates an environment where Armenian students on campus can celebrate their cultural heritage, raise awareness about issues affecting the Armenian community, and host guest speakers who share valuable insight about their advocacy efforts and careers.
Regular ALSA events include social gatherings among members, tabling efforts to disseminate information about human rights crises in Artsakh, and lunch talks often co-sponsored by other HLS affinity groups and student organizations.
"Having such a strong Armenian Law Students Association on campus, especially when most law schools do not have one, and fostering the Armenian community has been a highlight of my time at Harvard Law School."
"Bringing Armenian students together and raising awareness about issues affecting our community has been especially meaningful for me as someone born in Armenia and whose family still lives there."
Throughout the 2022-2023 academic year, ALSA has hosted several campus-wide events with various Armenian guest speakers who have discussed their career paths in the public and private legal sectors and their advocacy on behalf of the Armenian community. During the fall semester, ALSA organized lunch talks with Yeghishe Kirakosyan, the Representative of the Republic of Armenia before the International Court of Justice and the European Court of Human Rights, and prominent human rights attorney Siranush Sahakyan. In February, the Armenian Law Students Association brought Jeff Marootian, previously the Chief Sustainability officer at the United States Department of Transportation, and brands and technology lawyer Varty Hindoyan.
The organization also hosted Judge Gaspia Apkarian, a judge of the Superior Court of Orange County in California, and Milena Mailyan, Esq., co-founders of the Center for Truth and Justice, a non-profit that collects audiovisual eyewitness testimony of human rights abuses perpetrated during and after the Second Artsakh War. The Center educates and trains teams, including HLS students, in Armenia and Artsakh to interview individuals affected by armed conflict, including prisoners of war. The Center for Truth and Justice is a pre-approved organization through Harvard Law's Chayes Fellowship. It provides Armenian and non-Armenian students the opportunity to directly engage in international human rights advocacy and develop essential skills such as trauma-informed interviewing and evidence documentation.
Student Anecdotes
"I instantly felt like I wasn't too far from home. It was so comforting to know that when things get tough, either with school or the situation in Armenia, I would have this strong support system to help amplify my voice as an individual and as an Armenian. HLS seemed to be very unique in that regard."
"I was the Armenian Society President at Columbia University and was so thrilled that HLS had an Armenian Law Students Association through which I could continue working alongside Armenian students to promote the success of our ethnic community. It's wonderful having the opportunity to provide Armenian speakers with a platform at HLS, and I love that my peers have the opportunity to learn about my heritage."
"My parents and several other relatives left Baku and Armenia in the '90s as a result of the First Artsakh War, and I am so proud and grateful to represent the Armenian community here. Everything I am is the result of the love, bravery, and hard work of all those who came before me, and attending Harvard is the most incredible opportunity to pay homage to that. It really feels like I'm not here by myself, but like my family, ancestors, and fellow Armenians are with me every step of the way."
The organization has also focused on promoting discussion of human rights issues abroad. One particular focus of the organization has been highlighting atrocities committed in Artsakh, a majority-ethnic Armenian enclave where over 120,000 Armenians are suffering as a result of what U.S. Representative Katie Porter labeled a "cruel and inhumane blockade" imposed by Azerbaijan, cutting the region's population off from crucial food, medicine, and fuel. Recently, ALSA held a demonstration in the law school student center with Armenian students from Harvard College and MIT in conjunction with Armenian student associations across the United States to raise awareness of the blockade.
ALSA welcomes all students interested in learning more about Armenian culture, history, and current issues. The organization is happy to speak with prospective students interested in joining the club and can be reached through its email alsa@mail.law.harvard.edu or Instagram @harvardarmenianlawstudents.