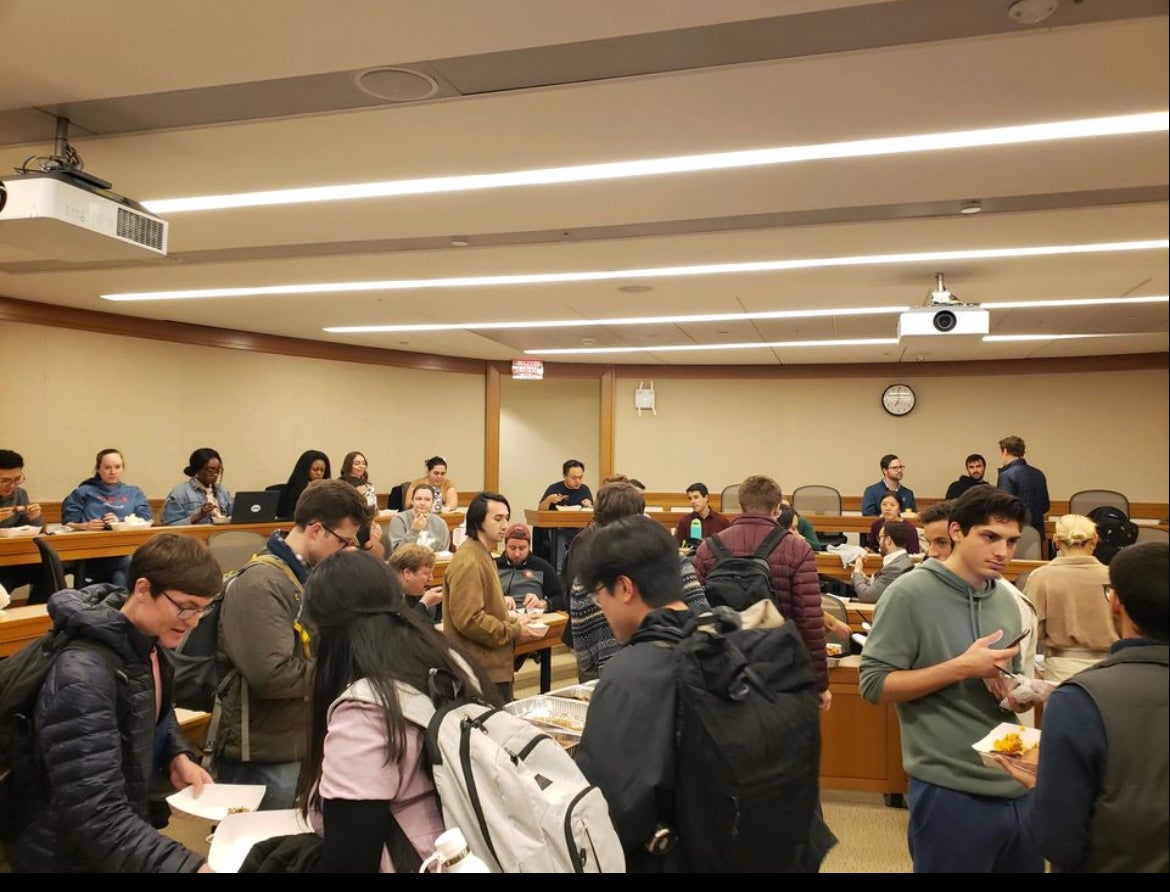 The Texas Club at Harvard Law School, led by co-presidents Sophie Pereira '24 and Martin Rather '24, provides opportunities for Harvard Law School students to socialize with one another and partake in uniquely Texan events. The nonpartisan organization provides its members with opportunities to network with other Texas-affiliated Harvard Law students to learn about the Texas legal market and offers a large alumni network as a resource for students seeking to enter the Texas legal market.
Regular Texas Club events include monthly barbecues, public interest panels with Texan legal services organizations, and networking events with law firms hiring in Texas. Often, the Club will connect students interested in a particular Texas legal market, such as Houston, Austin, or Dallas, with hiring partners at law firms in those cities.
"I found my 1L summer internship through the Texas Club. Many of the people I interviewed with had been Texas Club members when they were at HLS. The organization's members look out for each other, even after they have graduated from HLS. I've benefited immensely from this close-knit community."

Rahul Gupta '25
Throughout the 2022–2023 academic year, the Texas Club hosted several campus-wide events. The Club held a tailgate for the Harvard-Yale football game, which included current students and Texas Club alumni. Texas Club members attended a San Antonio Spurs NBA basketball game when the team played against the Boston Celtics, and did the same when the Dallas Stars came to Boston to face off in NHL hockey against the Boston Bruins.
The signature event of the Texas Club is the monthly barbecue. Open to all students at HLS, the Texas Club barbecue has attracted as many as 200 current students to gather during lunchtime. Serving traditionally Texan foods, such as brisket, mac-n-cheese, and cornbread, the barbecues serve as a social and professional networking event, which alumni and Texas law firm partners and associates are invited to attend on occasion. Typically, food is served outside on Holmes Field, but in cases of inclement weather, students line up in Pound Hall or the WCC to grab a plate and learn more about their Texan classmates.
Last year, the Texas Club underwent a branding refresh for the first time in many years, handing out new merchandise to students. It isn't uncommon to walk down the halls at HLS and see a student wearing a Texas Club sweatshirt or hat or drinking a Dr. Pepper (also given out at Texas Club barbecues) with a Texas Club koozie!
Student Anecdotes
"Bringing students together is what the Texas Club is about. I love being a part of an organization where if you have even a cursory interest in someday working in, living in, or even just visiting Texas, you're welcome with us!" – Martin Rather '24
"As an alumni of Rice University, I am grateful for the opportunity to connect with other HLS students who have some connection to or interest in Texas. The Texas Club hosts a myriad of informal and professional events for students, including, for example, BBQ lunches, sports watch parties, and law firm networking. In addition to learning more about the Texas market, these activities provide excellent opportunities to meet your HLS peers!" – Sophie Pereira '24
"I arrived on campus and knew nothing about the law, finding a job, or what I wanted to do. I also felt very far from home. The Texas Club provided me with community, BBQ, and a summer job. It's really an amazing community, and I am glad to be a part of it." – Seth Gertz-Billingsley '25