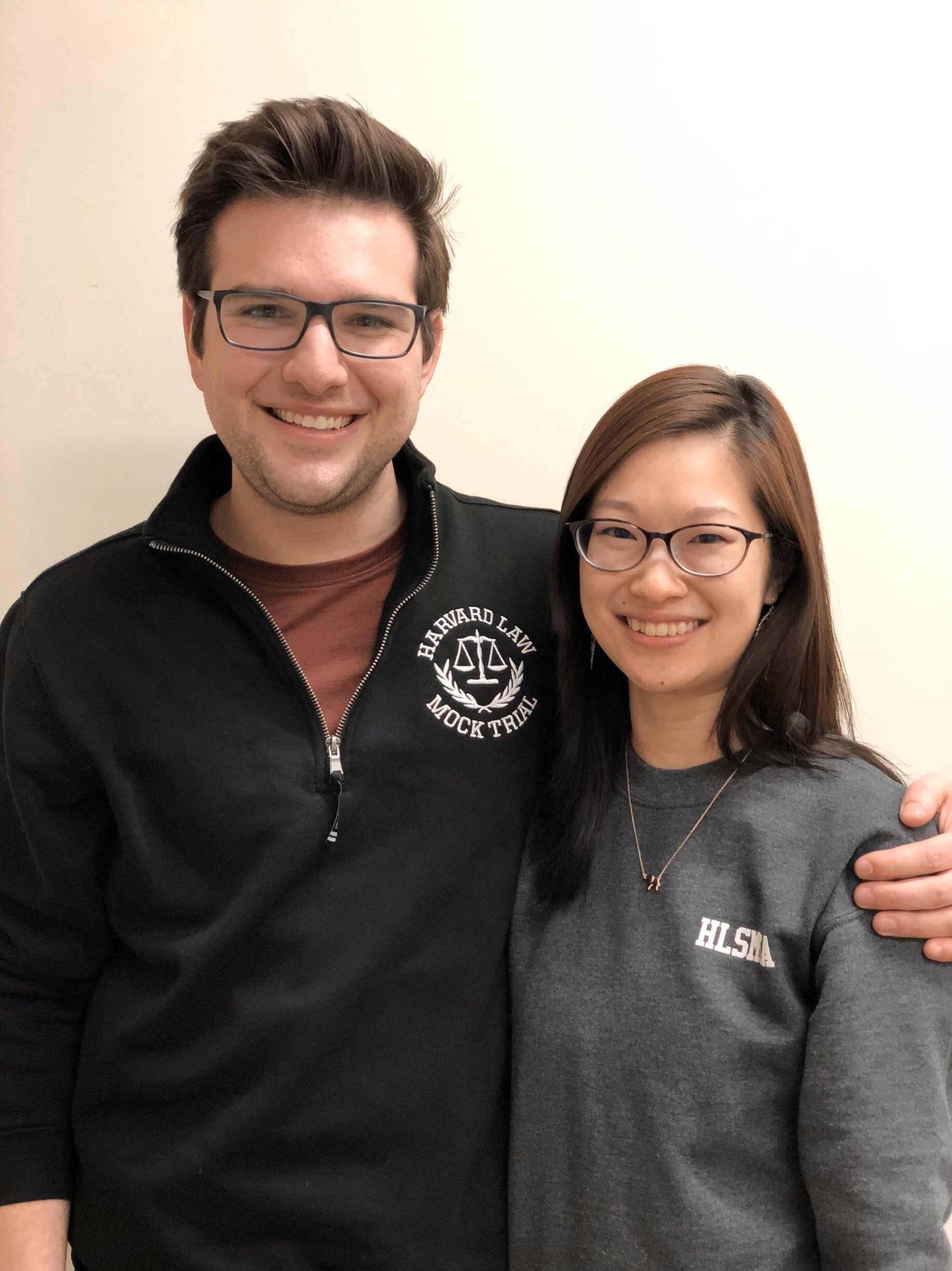 One of the numerous student groups here at Harvard Law School is Mock Trial. We recently sat down with co-presidents of the HLS Mock Trial team Tiffany Li '21 and Nick Beachy '21 to ask some questions and learn more about this unique organization.
What is Mock Trial?
Tiffany: It's the best! Mock Trial is a chance to do all the fun parts of being a trial lawyer – giving speeches, examining witnesses, making arguments – but with none of the high-stakes pressure of a real trial.
Nick: The other important thing about Mock Trial is that it's a competition. Harvard's team competes against other law schools all around the country, in California or Texas or Puerto Rico or downtown Boston. I find Mock Trial to be a great competitive outlet as well as a chance to travel with friends.
How is Mock Trial different from Moot Court?
Nick: Moot Court competitions simulate appeals court arguments, so they are mostly focused on the technical issues of law and doctrine. Mock Trial simulates a trial court, so we are more focused on learning evidence, handling witnesses, and telling stories that would be convincing to a jury.
Tiffany: You can definitely do both! Harvard's internal Ames Competition, run by the Board of Student Advisers, is a great chance to practice legal writing and oral arguments. Many of our team members do both. A lot of it comes down to what you're passionate about.
What kind of person joins the Mock Trial team?
Tiffany: You! Anyone who enjoys competitive public speaking, learning how to become a better advocate, and working with a super fun group of people. One of my favorite parts of the team has been leading the executive board with Nick and the friendships and memories we've made along the way, from our invitational tournaments to Regionals and even Nationals.
Nick: There are about twenty competing members on the team every year, and we have all types of people. Some people come from theater and acting backgrounds, some are working on their public speaking skills. We have competitors who have been doing mock trial since high school and people who are just starting in law school. What we all have in common is that we want to stand up in court some day and argue for our clients.
What do you like about Harvard's team?
Nick: Many law schools have full-time coaches who run the school's Mock Trial team, but our team is entirely student-coached. That means we pick our own members, choose our own case theories, and write and edit our own material. I think that makes Mock Trial here a much more enriching experience, since you learn about all parts of trial practice.
Tiffany: At many schools, only 2Ls and 3Ls can compete on the team. At HLS, 1Ls can compete. In fact, some of our best competitors are crushing it both as 1L students and as 1L mock trial competitors. Being student-run has given us a lot of freedom, and we still get great advice from attorneys and Mock Trial alumni.
How can I get involved?
Tiffany: Come talk to us and join the team! You can read more about us at https://orgs.law.harvard.edu/mocktrial/ – we have tryouts every fall, so look out for us at the Student Activities Fair.
Nick: You can also email hlsmocktrial@gmail.com with any questions! We're always happy to chat.