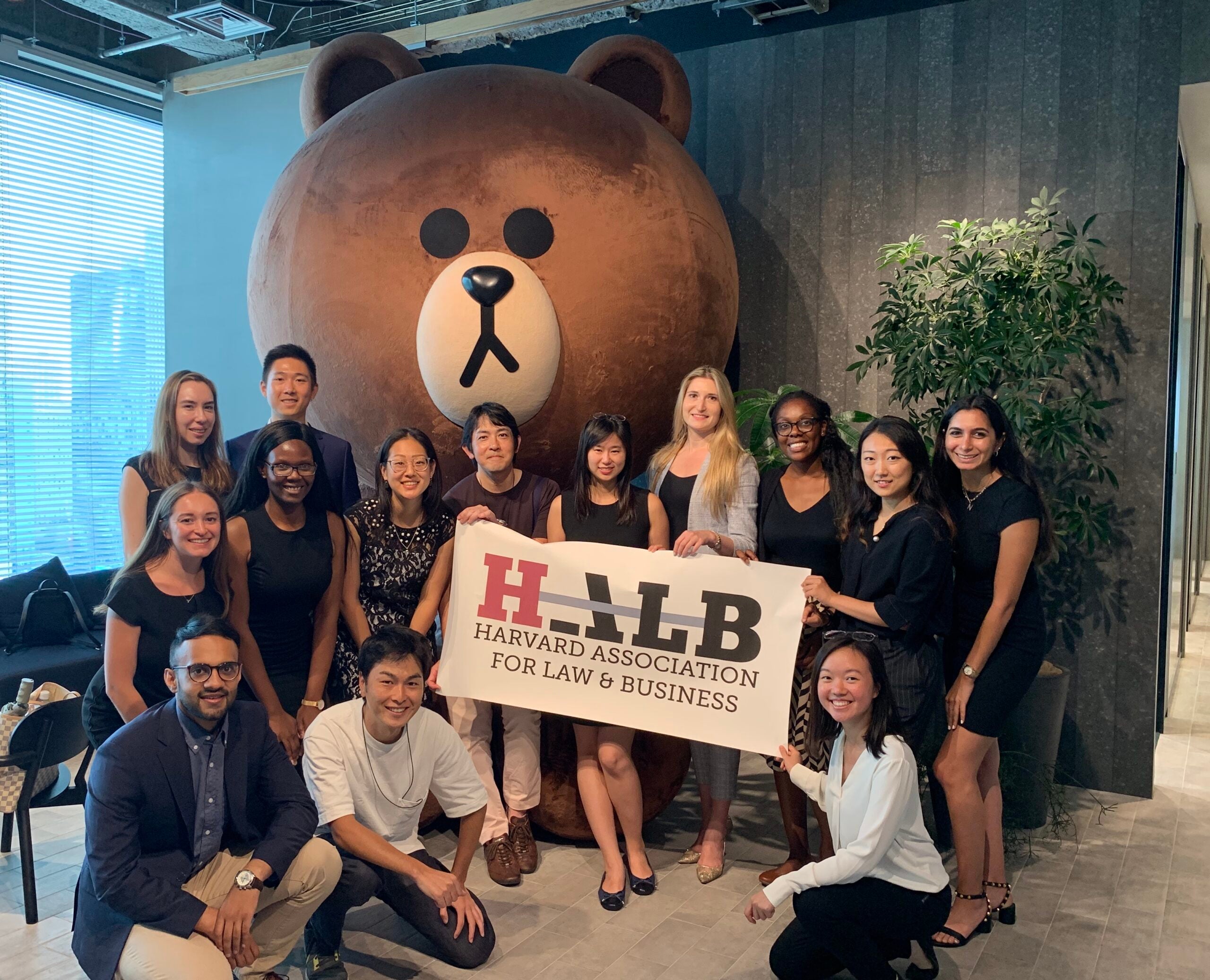 The Harvard Association for Law and Business (HALB) recently went to Tokyo, Japan on their third annual International Trek. A team of twelve HALB members spent the last week of August meeting leaders in business and government, including at SoftBank's Vision Fund, LINE Corporation, NTT Docomo, Bank of Japan, Japan Financial Services Agency, Personal Information Protection Commission and the United States Embassy in Tokyo.
We sat down with Ope Adebanjo '20, Genevieve Antono '21, Leo Ding '20, Elizabeth Ferrie '19 and Caroline Shinkle '20 to learn more about their trip.
We saw your Instagram (@harvlawbiz) updates from Tokyo and it looked like you had a fun and productive trip. How did this opportunity come about?
Genevieve: This was HALB's third annual International Trek. Our club went to Europe (London and Brussels) last year and to China the year before. The HALB Japan Trek was generously sponsored by a law firm, Morgan Lewis. Participants had to fund our own air tickets to Japan, but everything during the Trek—hotel, food, local transportation—was covered.
I'm a big believer in "don't ask, won't get" and I think this partnership with Morgan Lewis illustrates how, with a bit of initiative, moxie and luck, HLS students can dream up and create opportunities for themselves and others. Our amazing former HALB Co-President, Elizabeth Ferrie, met the Chair of Morgan Lewis, Jami McKeon, at a HLS event a few years ago. They started talking and, long story short, we got Trek funding! But Elizabeth I'll let you speak for yourself.
Elizabeth: During my 2L year, HALB hosted Morgan Lewis chairwoman Jami McKeon, along with the chairwoman of Akin Gump, Kim Koopersmith, as a feature event in HALB's Women's Leadership Speaker Series. Unfortunately there are less than half a dozen women running top 100 law firms, and it was a unique opportunity to hear from Jami and Kim.
I had the privilege to attend a private lunch with these two powerhouse women. I told Jami about HALB's first-ever HALB International Trek to China in 2017 and what an eye-opening experience it was for students to meet business, legal, and government leaders in Shanghai, Hangzhou, and Beijing. Jami was not only keenly enthusiastic to hear about my positive recollections of the China Trek, but also expressed her interest in having her firm sponsor a future HALB International Trek to Europe. After that lunch and over the following months, I coordinated trip and sponsorship details with Lisa Barton, Managing Partner of their Boston office.
Getting Morgan Lewis as the International Trek sponsor was a great lesson in leadership for me. My philosophy is also that if you don't ask, you don't get. After all, the worst thing that can happen is getting "no" for an answer.
Speaking of taking initiative to ask, the meetings arranged on the Trek exemplify teamwork and vision. Meetings are organized by Trek members. Most of the meetings arose simply from cold emails. For example, Leo has a great story of how he landed us a meeting with the legal team at SoftBank's Vision Fund.
Leo: We didn't have any contacts with SoftBank in Japan so I tried to cold email people on LinkedIn. One of my contacts at SoftBank's San Francisco office then referred me to the Tokyo investment team, who then referred me to the Tokyo legal team.
Genevieve: Caroline also secured really cool meetings with the Bank of Japan and JFSA for us!
Caroline: We wanted to visit Japan to understand the legal, financial, and technological spirit that has transformed the country into a flourishing economic and tech hub. I was particularly interested in organizing meetings with the Bank of Japan (BOJ) and Japan Financial Services Agency (JFSA) because I believe a deeper understanding of regulatory perspectives is crucial to understanding keys to economic growth. I am confident that our BOJ and JFSA meetings, in combination with our visits to private sector organizations, provided HALB Board members with a more robust picture of Japan's economic, legal, and business landscapes.
What was a Trek highlight for you?
Ope: One of the highlights of the trip for me was getting to know the other students on the trip. Our group spanned different class years and academic and career interests, so it was great learning more about the cool experiences other HLS students have had inside and outside of the classroom.
During walks between meetings and over lunches and dinners, I learned so much about different cultures and current events in international business from other students, as well as the attorneys at Morgan Lewis who graciously hosted us for two dinners during our time in Japan. It was great to step away from the classroom and see law and business in action, as well as make some amazing new friends!
Caroline: I really enjoyed each of our meetings and found that every leader with whom we met offered important insight that allows us to better understand Japan's unique position on the global business stage. I thought that our meeting at the U.S. Embassy was particularly exciting and highlighted some key political dynamics that Japan is facing in the region as well as the importance of the U.S.–Japan relationship.
We even received a few Japanese business etiquette lessons from Morgan Lewis—from how to properly present and receive business cards to the formalities of where attendees at business meetings should sit in the board room.
Genevieve: I especially loved meeting the in-house legal teams at LINE, SoftBank and NTT Docomo. I think I'm just very nosy. I find it super fun to learn what a business does, some of the business and legal issues they work on, who's in the team, and what their team culture is like.
I also arrived in Japan a few days early, so I had the weekend to explore. I got to watch the Koenji Awa Odori dance festival and check out some Edo-period warehouses and samurai-style architecture in Kawagoe. I was also delighted to discover that there's an entire neighborhood in Tokyo that's dedicated to cats!
Any final comments to current and prospective HLS students?
Genevieve: Remember that "don't ask, won't get." With a bit of initiative and a thick-enough skin, you can make cool things happen. And HLS is a fantastic place to make cool things happen.
Leo: Subscribe to HALB's mailing list using the link on our website! And follow HALB on Instagram, Twitter, and Facebook.