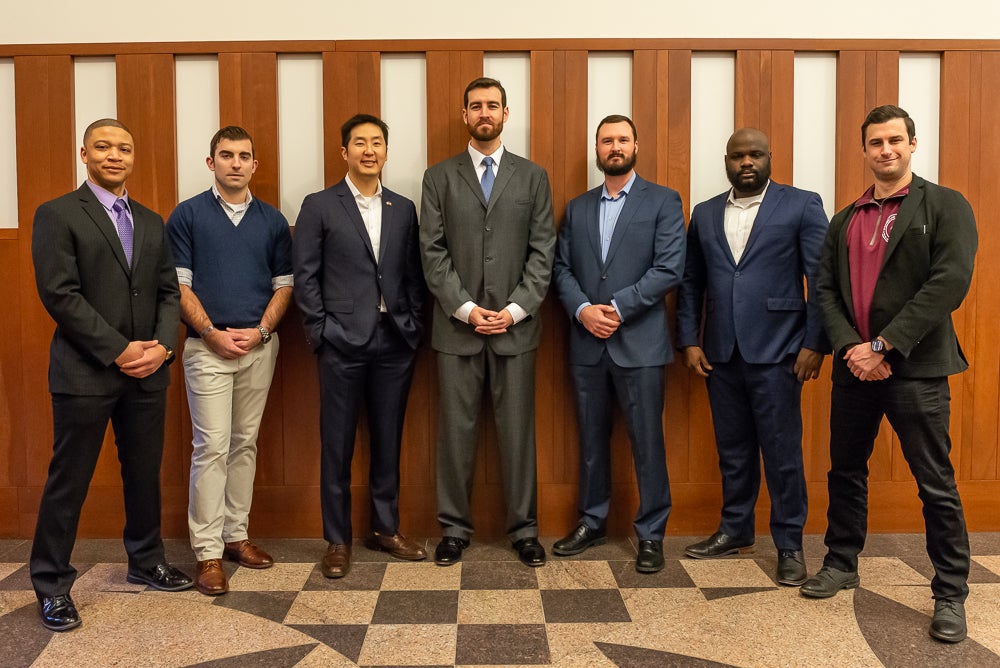 Hailing from all services and both the officer and enlisted ranks, veterans form an important and growing community at Harvard Law. In particular, the number of former enlisted students at HLS has grown significantly over the last few years. Use the links below to read about some of those student enlisted veterans, including reflections on the concerns they had when applying to HLS, what advice they have for veterans applying to law school, and how their military service has helped them thrive at HLS.
This post was developed thanks to the HLS Armed Forces Association (AFA). You can learn more about Harvard Law's veteran community online or on Instagram, and the AFA encourages you to contact them with any questions. To everyone considering applying, AFA would like to share: "Thanks for your service, good luck with your applications, and we will see you on the high ground."
Student Profiles
Below you will find profiles of many of our student enlisted veterans. To read their full profiles, as well as their reflections on the HLS admissions and student experience, please click on their names.
Branch/MOS: U.S. Marine Corps; 6531/Aviation Ordnance
"I always love a challenge. That is one of the main reasons I joined the Marine Corps. Once I decided to go all in with my applications to law school, I took a shot at the title and applied to the best law school in the country."
Branch/MOS: U.S Army. Armor (19D) 2004-2008; Special Forces (18B) 2008-2017; Special Forces (18Z) 2017-present
"It helps to know who you are before coming to HLS. Like any law school, there is a torrent of passion and energy here–ambitious young people struggling to climb somewhere and make an impact everywhere. Having been in the service and formed a pretty solid understanding of who I am and what's important to me, I'm able to simply be me."
Branch/MOS: U.S. Navy. Electronics Technician, Nuclear Field
"HLS in particular has been vocal in its intention to recruit more from the enlisted community. Don't self-select out of schools simply because you don't like your chances."
Branch/MOS: U.S. Marine Corps; Arabic Linguist, Special Operations Capabilities Specialist
"The real world experiences and leadership challenges you encountered are both remarkable and transformative. So try to reflect on how your service has shaped your perspective and enabled you to achieve your goals in and after the military."
Branch/MOS: U.S. Army. 91C, Utilities Equipment Repairer
"My advice would be to seek out other veterans at HLS and use these students as resources and a source of support during the application process."
Branch/MOS: U.S. Army, Infantry (11B)
"I find that the law challenges everyone, from PhD students to former paralegals. However, HLS, as well as the study of law more broadly, has made room for my strengths, which has allowed me to thrive in unexpected ways."