"Alumni Conversations" is an interview series initiated by Xiaoli Jin and Alice Chen, both of whom were admitted to Harvard Law School through the Junior Deferral Program. Xiaoli is currently working at a strategy and economics consulting firm and Alice is working at a financial sciences company.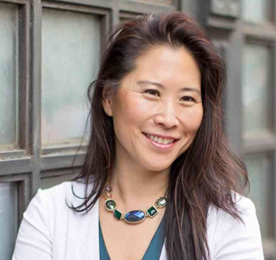 As Chief of Strategy and Capital Development of Sightway Capital, Two Sigma's private equity unit, Susan normally sits a few floors above Alice in Two Sigma's Manhattan office, which is three minutes' walk from Xiaoli's office. But since everyone is working from home nowadays, the three didn't grab coffee in SoHo and instead chatted on Zoom.
What inspired you to pursue a JD at HLS?
From an early age, I knew I wanted to have a career in both business and law. Like many immigrants, my parents came to the US in the 1960s for graduate school in the sciences. My dad was a research chemist who ultimately felt being an entrepreneur would be a better opportunity and left his job to start his own business. Both my parents were highly entrepreneurial and ran a series of small businesses, all of which my brother and I had exposure to. We learned "the customer is always right" even when they weren't but it was great experience. Like most Asian parents, hard work was a must but also they thrived at giving me many learning opportunities. Despite having no training, they always had me read legal contracts they needed to sign and to help them in negotiations since my English was better than theirs (or so they would say). I loved the experience of being an entrepreneur and also helping on the legal front. Combining that with the need to have a "practical" career as my parents repeatedly ingrained in me, I thought business law would be the perfect choice.
With that, I was very active in debate in high school, majored in economics at Yale (there wasn't a finance program then) while taking law-related classes and spending summers in law, generally on the pro bono side because that was the only type of jobs undergraduates could get. I spent a summer at the US Attorney's Office for the Southern District of New York when Rudy Giuliani was the US Attorney, and another at the Connecticut's Prosecutor's Office in New Haven. For me, the combination of getting practical experience in law and majoring in economics at Yale continued to push me towards the direction of a career in law and business.
How was your experience at Harvard? What did you love about it?
I don't think I fully appreciated it until I actually got there, but I loved the fact that Harvard is in Boston, and the fact that there were so many resources and options as a graduate student to expand your knowledge such as the Kennedy School of Government, the Business School, and the Medical School. There were all these other areas that I could explore while continuing to do what interested me, which was business law. I did my best to take advantage of all that Harvard University, and not just what Harvard Law School, had to offer.
Instead of sitting in classes, I would do clinics and do pro bono work in Boston. If I could get credit for a Kennedy School public policy class as opposed to a Law School elective class, I would take that class. If there was an interesting business school course, I would take that as well. Don't even get me started on all the great student-led organizations that one could join and play an active role in. And the friendships and network that I developed there were extremely valuable and helped to shape who I am today. Harvard was an exceptional place to be as a graduate student and I'm grateful for all the opportunities it afforded and all the exceptional and talented people that I met. Those three years were quite special and even today, when I run into someone who was there at the same time but whom I may not have known then, there is a special and immediate bond and kinship.
How did big law turn out for you?
Law school is a great training ground, but I realized I did not want to be a corporate lawyer, so then the question was, "What did I still like?" And the answer was obvious to me—the business aspect. While I started out at Cravath and had spent summers at Skadden Arps, I ended up moving to M&A at Bear Stearns, not as an attorney, but as a banker. Because I studied economics before, I knew some of the transactional aspects but had no idea about the others, such as Excel modeling, financial statements, company valuations, etc., and so I learned all those on the job. I had to be opportunistic and resourceful and convince people that my talent and skill set could apply to other areas. Fortunately the Harvard training and network helped a lot.
Interestingly, none of my friends who pursued JD/MBA joint degrees are practicing today; they all ended up going into finance. And many of my JD classmates have all gone on to the hedge fund or private equity space, either as an attorney, or more as a COO. Only a few have done what I've done, which is to move into the investing side, and then to marketing, and then back to strategy. But for all of us, the HLS background and training has been very valuable.
Given the global economic turmoil induced by COVID-19, many people's plans to attend law school, or any other graduate and professional school, may have changed. Should people still consider going to law school or graduate school in general given all this uncertainty?
It depends on what you want to do, but if you are undecided by the time you finish college, you can be assured that you'll get strong training by going to law school especially at a place like Harvard. You'll learn to speak publicly with confidence, you'll learn to focus on details and articulate your point, you'll learn skills that you can't learn going straight to work after college, and the relationships you form there will be invaluable. Maybe I'm old-school, but I believe you need to be as well-prepared as possible, and graduate school like Law School or Business School helps. Besides the training, the exposure to and relationships you build with people from different geographies and countries from a great institution like Harvard Law would make you more successful in the long run. We are a global economy after all.
Switching gears, we know you have been an active member of the Association of Asian American Investment Managers (AAAIM). Could you share more about your involvement there?
AAAIM has just hit its ten-year mark. Its central idea is to advance Asian American investors and managers across different asset classes, such as real estate, private equity, ventures and hedge funds. AAAIM does so by creating awareness, providing its members with networking opportunities and the ability to meet with the most sophisticated investors in the world, as well as advancing the important initiatives on diversity and inclusion.
AAAIM is not meant to be political, but it is critical that we get appropriate representation when it comes to diversity and inclusion. As we all have seen, Asians are not officially considered a minority in this field and therefore do not qualify for Emerging Manager Mandates. The reality is that Asians are probably one of the least represented groups, when it comes to investment management, and should be able to qualify for diversity mandates.
When I was at Perella Weinberg Partners (PWP), an investor friend of mine introduced me to Brenda Chia, one of the founding members of AAAIM. Brenda was at Harvard Business School around the same time I was at Harvard Law School and while we didn't know each other at the time, the Harvard connection was quite meaningful. If you haven't met Brenda, she is a powerhouse! We talked a lot about our experiences, what was important to us and the important role AAAIM played for the Asian investment community. After learning more about AAAIM's goals and what it had already accomplished along with an impressive existing Board leading the initiative, I knew this was something I needed and wanted to be a part of. I am honored that they let me join! My experience with AAAIM has been fantastic. I love the organization and its members and the important role we are playing for the Asian American investment community and hope to stay involved for many years to come. It should also be no surprise that we have a lot of overachievers in our membership (many who also spent time at Harvard!). I'm fortunate to be able to work alongside these talented folks to build awareness on the value and importance of diversity and inclusiveness. Further, I'm thankful for the education, the training, the relationships and opportunities which Harvard afforded me, such as being able to meet someone like Brenda through our Harvard connections!